The DigiPlate: A Rock Solid Laptop Stand for Photographers Shooting Tethered
There are plenty of products on the market specifically targeting the photographer who shoots tethered to a laptop. But when it comes to putting your laptop somewhere other than the nearest unoccupied chair or table, we haven't run into many accessories that offer a versatile, "attach anywhere" sort of solution — until we stumbled on the DigiPlate.

The DigiPlate is in a different category than products like the TriPad we mentioned in April or the many laptop tripod stands available, both in terms of cost and functionality. While the TriPad was a great solution for the casual photographer, the DigiPlate is made with the professional in mind.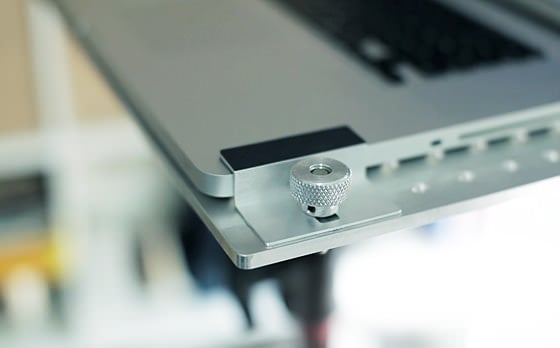 The plate allows you to lock your laptop down; it can be attached to many different photography stands, clamps and accessories using different adapters; and its designers are planning to add further functionality by allowing you to attach routers, hard drives and other accessories to the bottom of the plate.
The video below does a better job explaining what the DigiPlate is and how versatile of a product it can be than we can, so take a look if you wan't more details. The project is currently still in the funding stages over on Kickstarter; where a minimum pledge of $225 will get your own once the funding ends 42 days from now.
DigiPlate [Kickstarter]