Virtual Photo Walks Make Photography Accessible to People with Disabilities
The last time C. Corey Fisk walked was in 1992. She has multiple sclerosis, an incurable disease that affects the central nervous system and gradually took her ability to walk and leave her bed.
But early February, she went on a photo walk with photographer John Butterill in the woods behind his house in Ontario, Canada — all from her own home in northern California.

The two met only virtually through Google+ when they happened to connect in a Hangout. Butterill said he was impressed by her energy and he invited her on a photo walk.
Butterill used a simple combination of tools: his iPhone, Google+ Hangouts and a modified hotshoe mount for a Gymbl iPhone case to sit atop his D7000 and stream the virtual photo walk to Fisk.
Thousands of miles away, Fisk guided Butterill through snow, trees and by a frozen lake.
"Here's a rope hanging down the kids swing on in the summer. That's kind of a cool shot," Butterill said at one point during the walk, of which Butterill uploaded portions to YouTube.
"Go get it," Fisk said as Butterill flipped the camera for a vertical shot. "Right about now."
Butterill clicked away.
Later on the walk, Butterill paused in front of a building on the lake.
"That's just an ugly old boathouse," he said.
"I like ugly old boathouses," Fisk fired back.
"You got it," Butterill said.
"Take the damn picture," Fisk recalled ordering him when he questioned her photo choice. "We were arguing the whole time."
Fisk has been bedridden for more than four years now. She leaves her house only every few weeks for visits to the hospital — and always in an ambulance, she said.
But as she directed Butterill to take photos of simple things that inspired her: a gnarled tree, tangled brush and that old boathouse, she said her mind was far from her own physical limitations.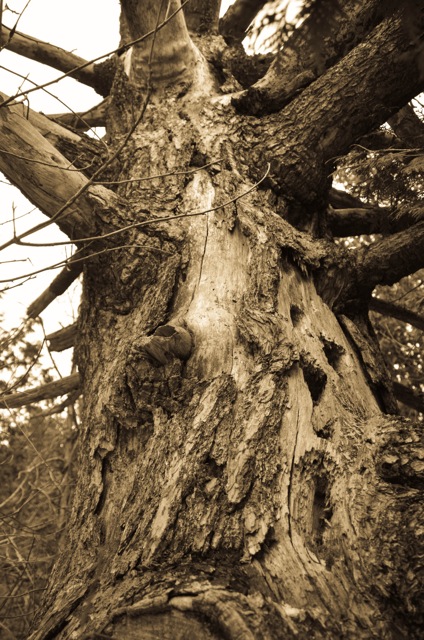 "I wasn't thinking anything," she said, "I was so excited. I wasn't thinking thoughts, I was just feeling — like I had my hands and feet back."
"I'm really disabled," she added, "But I'm also really active."
Fisk takes photos from her bed, often looking out of her window, oftentimes of hummingbirds perched at a bright red feeder and her wooden backyard fence. She said she also enjoys tinkering with editing photos her friends and family send to her.
After her photo walk with Butterill, she said she felt overwhelmed with gratitude.
"He brought me the outside world and that was an amazing gift," Fisk said. "I'm completely unable to process it."
The concept of photo walks could have a wider impact than her own life, Fisk noted. By showing a wider audience the results of photo walks, she said: "It will humanize the disabled … as a person not as a cause or thing to be pitied."
Within days of his photo walk with Fisk, John Butterill began thinking of other ways to expand the virtual photo walk experience to a larger audience.
"Photographers are fantastic people and once they mobilize they get things done," Fisk said.
Butterill connected with Frank Garufi Jr., whose 7-year-old son Dominic has Crohn's colitis disease. To manage the symptoms of Crohn's, a chronic disease that affects the gastrointestinal tract, Dominic has to receive a monthly six-hour infusion at a hospital.
After Dominic's photo walk, Garufi wrote a post on Google+ about Butterill: "He brought a TON of joy to my son today, of what otherwise would have been, another excruciating day for him!"
"(Garufi's post) was just over the moon, glowing about how great it was to have his son distracted from the process," Butterill said.
Butterill sees a larger picture emerging from these hour-long encounters.
"It's going to revolutionize the way people interact. You don't need to be a photographer," he said. "You need a Gmail account, a Google+ account and the will to do it. And maybe spend 15 – 20 bucks of your data plan or make sure you're in WiFi."
Butterill also noted that commercial photographers could use a similar setup, using a smartphone and video chat to stream live, first-person photo shoots to off-site clients.
For now, Butterill hopes to use the tools to help connect volunteer photographers all over the world with others who could benefit from the experience of photo walks. Within weeks of his walk with Fisk, he's already worked to coordinate walks guided by photographers in Amsterdam, Rome, Germany and New Zealand.
Butterill created a G+ page called Virtual Photo Walks to find photographers interested in volunteering their time, along with a how-to guide for setting up the streaming rig. The tag line for Virtual Photo Walks, Butterill emphasized, is "To Know, To Care, To Act."
"I'm on a mission to spread that," Butterill said.
---
Image Credits: Outdoor photos by C. Corey Fisk. Screenshot of photo walk with Dominic courtesy John Butterill and Frank Garufi Jr.