Nikon 1 Mirrorless Cameras Crunch Data 5x Faster Than the D3X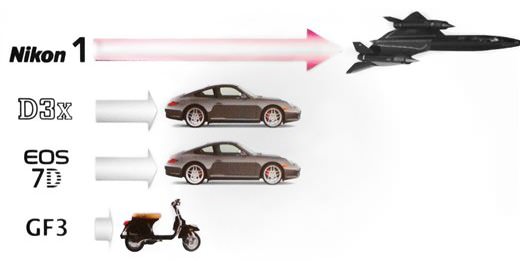 Nikon included the above illustration when announcing its new mirrorless cameras in the UK. The company's new EXPEED 3 image processor, which is supposedly "the fastest in the world", can process data at a whopping 600 megapixels per second. That's equivalent to 24 frames per second with a 25MP sensor!
In an interview with The Imagine Resource, Nikon General Manager Masahiro Suzuki says that the processor is five times faster than the company's current flagship DSLRs by using 24 channels of digital readout instead of 12 channels of analog readout. Regardless of whether or not the Nikon 1 System succeeds, the fact that this kind of technology is making its way into consumer cameras is pretty exciting.
(via dpreview)