People Magazine Uses Photo without Permission, Receives Cake Invoice
This is probably the strangest story you'll read today. When Neil Berrett quit his job in 2009, he sent his boss a kindly written resignation letter written on a cake. The photo of Berrett and his cake become widely circulated, and received hundreds of thousands of views.
Last month, Berrett received an email from People Magazine asking for permission to use the cake photo in an article. Berrett replied asking that the magazine license the photo, but never received a response. The next day, he suddenly found that the magazine had gone ahead and used his photo in an article titled "Take This Job and Shove It! 8 Memorable Quitters".


Berrett responded by sending the magazine a cease-and-desist letter. Six days later, the magazine removed the photo and offered him $75 to use the image. Berrett writes,
That may have been reasonable if my photo's copyright had not been willfully infringed and used for six days.
Today, Berrett decided to put an ironic twist on this whole story by sending an invoice for $500 to the photo director… on a cake: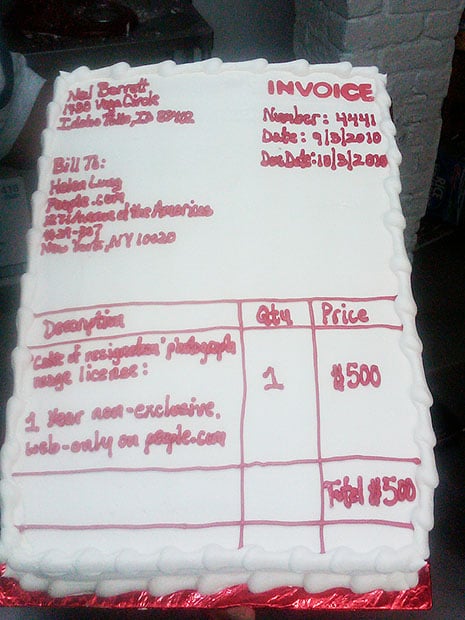 Brilliant!
---
Thanks for the tip, Jim!
---
Image credits: Photographs by Neil Berrett and used with permission