Photo Pulitzer Prize Winners: Mary Chind and Craig F. Walker
Photojournalists Mary Chind of The Des Moines Register and Craig F. Walker of The Denver Post won Pulitzer Prizes this year in photography.
Chind's photo of a harrowing water rescue photo won as the Best Breaking News Photograph. The photo, published July 1, 2009, shows a construction worker dangling above the rapids of a dam, in an attempt to reach a victim in the water. The Pulitzer board say the photo captured "a heart-stopping moment."
The victim and her husband had gone over the edge of the dam on a boat. Rescuers could not reach the pair with a crane. According to the National Press Photographer Association, Chind took the photo from a nearby bank crowded with rescue workers and firefighters. A worker in a makeshift rig was lowered down towards the water and managed to save the woman after several attempts.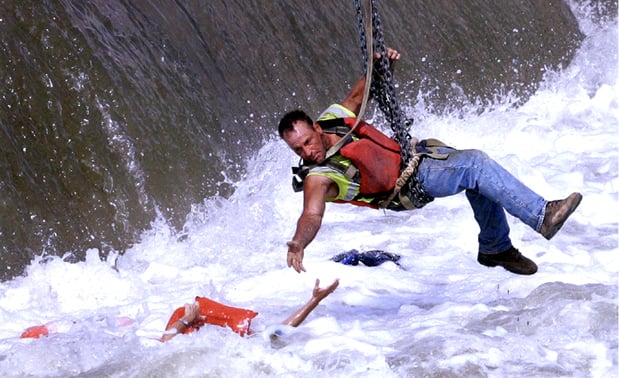 Walker won the Best Feature Photography for his intimate photo essay of a teenager, Ian Fisher, as he entered the Army. Walker documented the young man for 27 months, following him as he recruited, trained, was deployed to Iraq, and finally returned.
The Pulitzer board described Walker's work as "an intimate portrait of a teenager who joins the Army at the height of insurgent violence in Iraq, poignantly searching for meaning and manhood." Color versions of Walker's essay can be seen on the Pulitzer website and the multimedia package can be seen on the Post's website.
---
Image Credits: River Rescue in Downtown Des Moines by Mary Chind and American Soldier by Craig F. Walker