ViaU Offers Madison Avenue Photography for a Low Flat Fee
ViaU is a new photography service by Mariano Pastor, a 25-year veteran of the Madison Avenue photography industry whose clients include L'Oreal and Lancome.
What sets it apart from other services is the flat rate it charges for photography regardless of who the client is or what the photograph is used for. Clients simply create a layout for the photo via ViaU's web interface and ship the product to the studio. The photographs are created within 24 hours, and the product is shipped back free of charge.
Now here's the kicker: the photography is free, and you only pay the flat fee of $224 if you decide to buy unlimited rights to the photograph. On the website Pastor states,
The truth is that great photography doesn't really have to cost that much. It's a simple idea, but also a big idea.

Simple enough, that is, to create your layout online and escape all negotiations. You know what you'll get before you start. Great original photography, to use as you wish, at an affordable price. After twenty-five years of shooting for Madison Ave. I believe Via U! is my most creative accomplishment.
Rob Haggart over at A Photo Editor thinks this model is a bad idea:
Can't say I'm complete surprised by this. I know product photography was one of the categories hit hard early on when companies started doing the shots internally so maybe this is just the natural progression of a photographer competing for the bottom dollar there, except something doesn't feel right to me. Doing this kind of thing for small companies seems like a smart play, delivering the same price to billion dollar companies seems rotten.
What do you think about this business model for photography?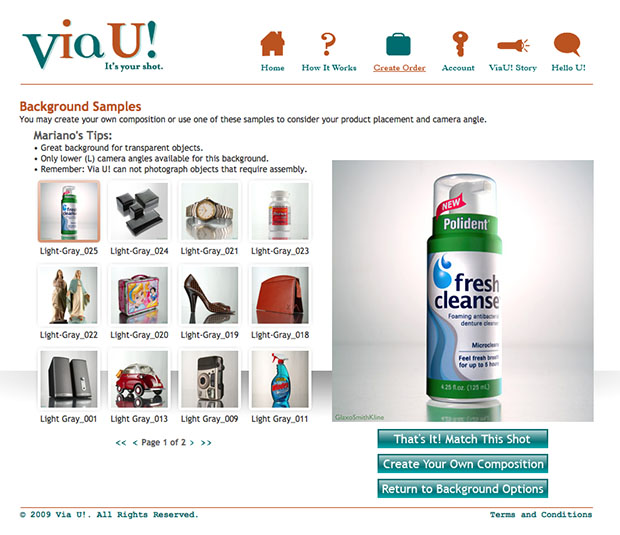 (via A Photo Editor)