Interview with Dean Blotto Gray, Burton Snowboards Principal Photographer
Dean Blotto Gray of BLOTTO PHOTTO is the Burton Snowboards Principal Photographer.
If there's one small joy in life that I look forward to every year, it's probably the Burton product catalog, which always features an eye-catching mix of creative product photography, cutting-edge board and page design, and breathtaking location photos.
Burton outfitted gold medalist Shaun White and the USA Olympic Snowboard Team and is one of the biggest snowboarding brands worldwide.
If you've snagged a copy of this year's catalog, The Good Book, Blotto's shots are featured in some of the spreads.
With so many riders on the mountain, snowboarding photography is also an integral part for individual riders to stand out from the crowd and get mainstream exposure and street cred.
Snowboard and ski photography are perhaps the most physically demanding types of sports photography, oftentimes set in the dangerous and extreme weather locations. At the same time, it's got a youthful style and high energy culture that is very apparent in Blotto's work.
---
PetaPixel: Can you give us some background about yourself; what you do, where you're based, and how you became a photographer?
Blotto: I grew up in Arizona and Texas during my younger years, but Phoenix became my home starting in Grade 6. By this time I was consumed with riding BMX bikes, which led to racing at the local tracks until my mid-teens. Around this time I found skateboarding and that took over until this day. Once college entered my life, snowboarding did to. After the very first run I ever took on a snowboard, I knew this was what I wanted to do because it was like skateboarding on the mountains, total freedom to adventure.
I eventually moved to Colorado, Utah and Oregon to pursue a life in the snowboarding industry, but not as a professional rider. My friends and I started a small snowboarding company selling t-shirts, hats and bindings, so out of necessity I picked up the camera because we needed to produce our own images for our marketing materials. In 1999, I took a position at Burton Snowboards, which eventually led to this Principal Photographer role. My home base is Burlington, Vermont, which happens to be the world headquarters for Burton.
My official job title is Burton Snowboards Principal Photographer. It's a year round position that keeps me on the road documenting their professional snowboarding team as they compete, film and tour. The photographic materials are used for Burton's advertisements, catalogs, editorial purposes plus my website, photo shows and books.
PP: How do you get around the mountain/locations while you shoot? Do you ride, too?

B: A snowboarding background is ideal to document the life and times of the athletes because you're in the mountains about seventy-five percent of the time. Everything we do is one-hundred percent team work based…picking locations, traveling, building the features out of snow, accessing alpine zones, getting home safe at the end of the day and being able to relate to your subjects around you.
When shooting in the alpine environment, we access mountain areas via chairlifts, hiking, snowmobiles and helicopters. Your mode of transportation is dependent on where you are in the world and what your snowboarding goals ultimately are. I prefer hiking to snowmobiling, but I also spend as much time as possible shooting from the helicopter so I can document the snowboarder's action from above…it makes for a very unique perspective not always seen in action sports. We also spend a great deal of time in any given city that has seen significant snowfall. Using cement, metal and architecture is a treat because it differs so much from the alpine regions.
PP: Which did you start first: riding or photography?
B: Started snowboarding in 1992, picked up a Canon 35mm SLR in 1997.
PP: How do you bring your gear on a photo shoot? Do you have a special photo bag you prefer?
B: Burton Snowboards is very flexible and enthusiastic when it comes to research and developing travel bags and camera packs. I've been using the Burton F-Stop Camera Pack and Double Deck Travel Bags since the year 2000. It's the ultimate combination for checking in luggage during airline travel and the most reliable and comfortable bag to have on your back while shooting. Burton has listened to our needs as traveling snowboarders and photographers and produced reliable, smart luggage.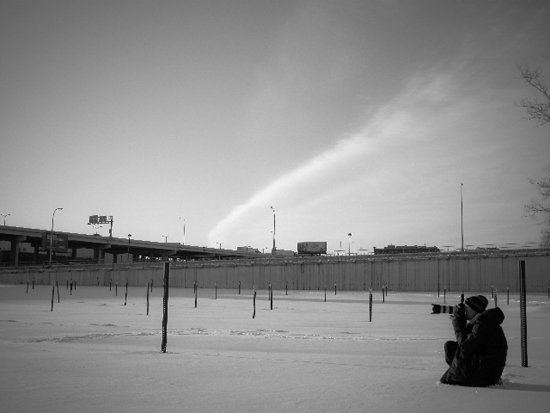 PP: What gear do you usually bring on a shoot?
B: Canon 1Ds, assortment of Canon lenses, Pocket Wizard remotes, ProFoto Strobes, SunPak Flashes and a point and shoot camera. There's an assortment of safety equipment, proper outdoor clothing and of course a laptop and hard drives.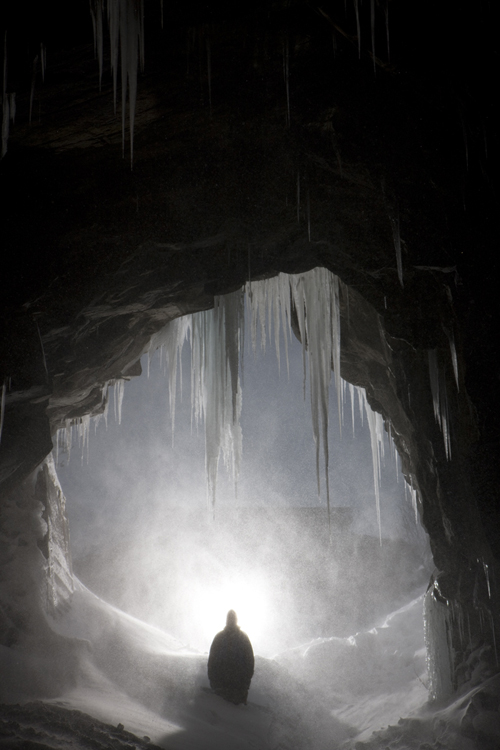 PP: Can you tell us about the most extreme or difficult weather or mountain conditions you've shot in?
B: Shooting in the alpine environment has the inherit risk of snow avalanches. It's something you always have to think about, prepare for and be ready. If you plan your route and personnel properly, most situations will never get out of hand. My equipment of choice has never let me down during any winter condition. It's comforting to know your equipment will perform right along side you, so you don't have to focus any energy worrying about camera failure.
PP: How do you protect your gear from the elements and the cold?
B: I've found that the equipment I use has been weather sealed enough to stay protected in any snowy condition, no matter how wet or dry the snow is. I don't use any aftermarket covers for the body or lenses, they only inhibit the use of the device.
The key to equipment longevity and reliability is a proper dry out and cleaning every time after shooting. It's a big no-no in snowboarding to show up to a shoot with gear that doesn't function properly. Athletes are risking their lives to progress and document snowboarding, so you need to be on point as the photographer.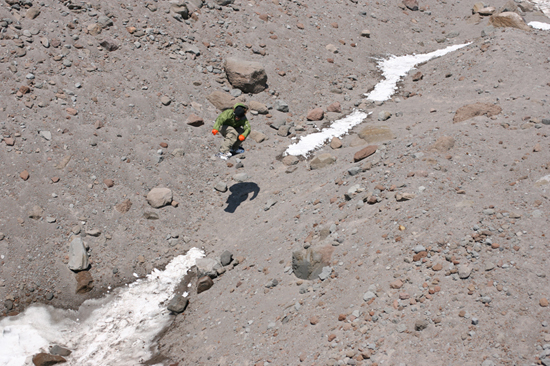 PP: Have you ever broken equipment while riding/shooting?
B: I've dropped my share of lenses and cameras, there's no doubt about that. If this situation occurs in the field, you must do what it takes to continue shooting and not hinder the flow of the session.
PP: How did you land a job as the Principal Photographer for Burton?
B: I was brought into Burton as a Team Manager with specialized skills in photography, cinematography, photo editing, marketing and travel. I was always taking photos during my team management days, so it was natural for me to graduate to the role of photographer.
PP: Your bio on your site says you travel 290 days out of the year. Where do you travel most often?

B: My travel schedule of 290 days per year is a result of Burton's endless photographic needs from their riders. Our shoot locations are dependent on the latest snowfall reports, so when an assignment comes up, it could be New Zealand in August or Newfoundland in January. During the springtime, we set up man-made snow features at ski resorts (with the proper manpower in place) to create our vision.
Over the last couple of North American summers, I've found some time to document the track bike revolution in various cities. It's a dream come true to photograph where it all started for me…bicycles.
PP: Do you have a favorite location to shoot at?
B: If I had to pick three locations I would never give up shooting it would definitely be Japan, Alaska and Central Europe. Each place offers such a unique vibe and backdrop for snowboarding and photography…from the type of riding that happens to the images you'll capture.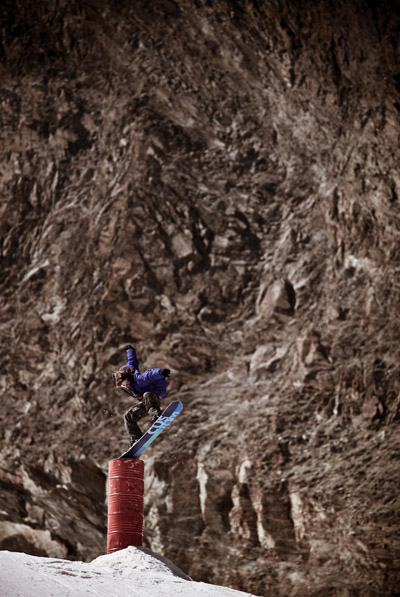 PP: How would you say snowboarding photography is different from general sports photography?
B: The biggest difference between snowboarding and general sports is location, but more specifically dealing with the threat of avalanches in the alpine. A common thread is most of snowboarding's photographers and cinematographers are snowboarders themselves, many of which are former professional riders.
---
Image Credits: Blotto portrait by Laura Austin, Blotto 1 and 2 by Jeremy Jones, Blotto by Gabe L'Heureux, all other images by Dean Blotto Gray