Awesome Photo Prank at the Louvre
Paris Photo is an annual international photography fair held at the Louvre, with attendance in the tens of thousands. At Paris Photo 2009 this year, photography Fabien Breuvart decided to make things a little more interesting.
Enlisting the help of numerous friends, Breuvart dumped trash bags filled with thousands of vintage photographs into a giant heap at the entrance of the fair, offering them to the fair's visitors for free.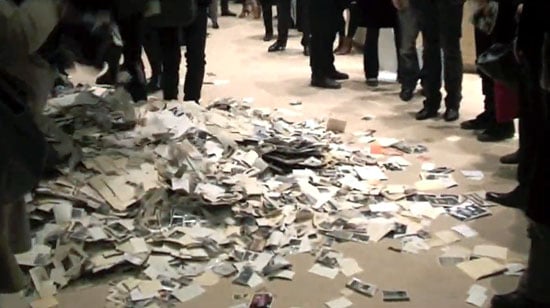 Attendees were thus torn between viewing the "works of art" inside the fair and getting on their hands and knees to sift through the mass of photographs lying before them.
It became quite a chaotic scene, and an interesting dichotomy. Priceless photographs versus photographs with no price. Strolling and quiet viewing versus crawling and hoarding. Breuvart also filmed a documentation of what happened:
To find out more about this, you can visit its official website or check out photographs of the event.
(via lensculture)
---
Image credits: Still images are from screen captures of the YouTube video.