Posts Tagged 'crosssection'
Photographer Carl Pendle created this clever stop-motion titled "The Cut" that offers an interesting perspective into different fruits and vegetables.
Read more…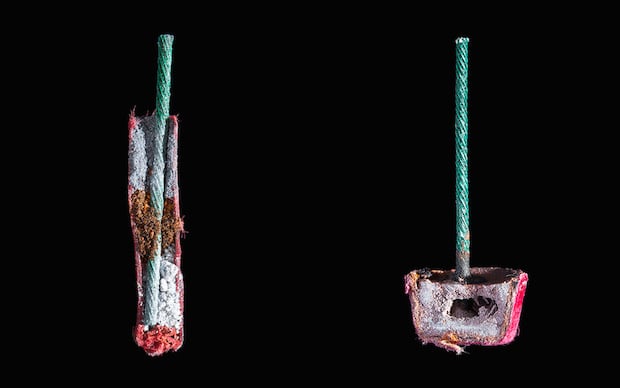 It's the fourth of July (on the off-chance didn't know), which means your Facebook feed is about to get flooded with firework photos from friends, family and professionals alike. But the firework photos in photographer Andrew Waits' series Boom City are unlike any others your likely to come across.
While most people take pictures of fireworks right after they explode, Waits took a different approach: he cut them open ahead of time to give us a peek at the insides. Read more…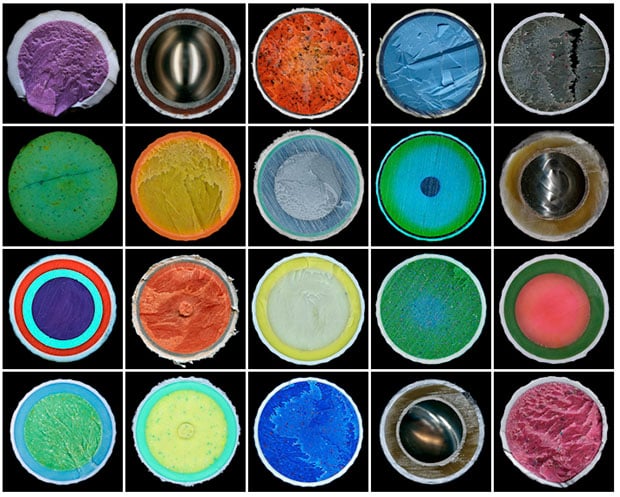 Photographer James Friedman doesn't play golf, but he had a collection of golf balls lying around. One day, he began to wonder what the guts of the golf balls look like, so he cut a ball open to take a peek at a core. Then he sliced open another, and another; after cutting open over twenty different types of golf balls, Friedman found a strange sort of beauty that he began to document through photographs. The resulting project is titled "Interior Design".
Read more…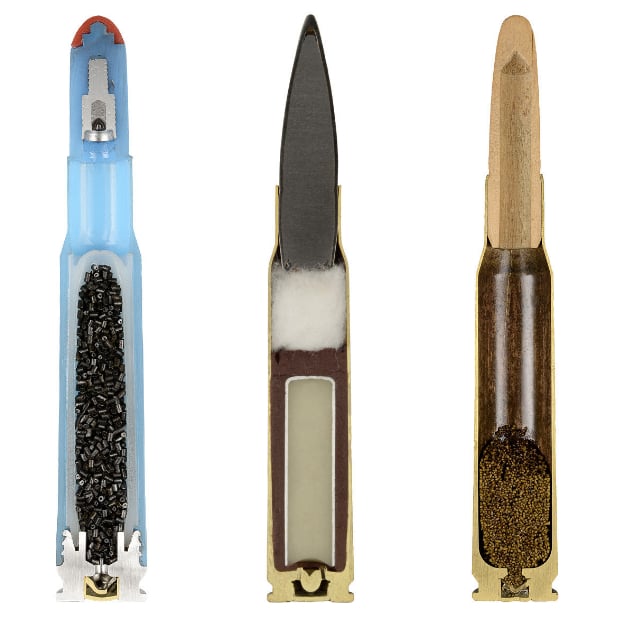 In October of 2012, LA-based photographer Sabine Pearlman found herself ensconced in a Swiss WWII bunker photographing 900 different "specimens" of cross sectioned ammunition. Her resulting photo series, AMMO, shows the beauty and craftsmanship that went into creating these destructive little pieces of engineering.
Read more…
We've shared a few pretty cool cross-section light painting projects before, but none of them were ever very… shall we say… cheery. Both projects — 21:31 and Andy Leach's hologram photo — were created using the same eerie video of human slices from the Visible Human Project. But for those who wanted to toy around with cross-section light painting and re-creating 3D light objects in their photos, that's all they had.
Well, not anymore. Photographer Hugo Baptista has put together a Vimeo group called "Cross Section Objects for Light Painting". It contains a number of videos that you can load onto your tablet or smartphone and use to create 3D light painting objects.
Read more…
Lytro's groundbreaking light field camera is finally landing in the hands of customers, and to give people a better idea of how the camera works, the New York Times has published an interesting diagram that shows what makes the camera tick. Here's what DPreview has to say about the camera:
The Lytro LFC is so unlike any conventional camera that it doesn't make sense to score it in comparison to them. Ultimately, though, we're not convinced that the Lytro either solves any existing problem or presents any compelling raison d'etre of its own. If it were higher resolution or allowed greater separation or could produce single lens 3D video it might generate a lot more excitement. As it is, it feels like a product arriving before the underlying technology is really ready.

All of which is a great shame, because Lytro has done a great job of making a credible consumer product out of a piece of fairly abstract scientific research. It's quite possible that in the hands of the right people it will result in some interesting creations but we just don't yet see it as a mass-market device.
The New York Times came to the same conclusion — that the technology is revolutionary, but the product isn't game-changing… yet.
Here's a cross section view of the consumer light field camera unveiled by Lytro yesterday. Many people have been wondering about the camera's output resolution. The official specs are enigmatic in this regard, as the resolution isn't listed in megapixels (it boasts "11 Megarays"). If the diagram is to scale, however, we can learn a little about the sensor's size. The camera is listed as being 41mm tall, so the sensor appears to be between 7.5×7.5mm and 10.5×10.5mm — roughly the size of a Fujifilm X10 sensor.
---
Update: Photographer Jim Goldstein did his own calculations can guesses that the photos are equivalent to 1-2 megapixels.
Leica and Sony aren't the only camera companies that slice their cameras and lenses down the middle to give the world a peek at their guts — Canon does it too. On the first floor of one of its headquarter buildings in Japan is a small museum that has a cross-sectioned Canon 1Ds DSLR and 400mm f/4 DO IS USM lens on display. Back in the day, the camera had a price of $5,500 and the lens cost $8,900, meaning Canon sliced nearly $15,000 of gear in half for this display.
Read more…
Camera innards are often shown in cross section diagrams, but here's a Sony Alpha camera and lens that were actually sliced cleanly down the middle (we're guessing a lightsaber was involved). The build quality of the lens definitely looks cheaper than the sliced Leica lenses we shared last week (as it should). Brownie points if you can identify both the camera model and the lens.
---
Image credit: Alpha Cross-section by Global Hermit and used with permission
If colleges offered camera equipment anatomy classes, this Leica lens cutaway might be one of the things you'd be examining in the lab. It's a Leica Tri-Elmar-M 28-35-50mm sliced cleanly down the middle, revealing all the glass and pieces inside that go into making the lens.
Read more…