One of the draws of Urban Exploration photography, or Urbex, is the chance that you'll discover and photograph something truly strange and unique. A building abandoned for so long that nobody realizes the treasures hidden within. Or, in this case, a 'train graveyard' with over 70 dilapidated subways, trains and busses in the middle of a North Carolina forest.
This particular find belongs to 24-year-old Urbex photographer Johnny Joo of UrbanExplorationUS, who stumbled across the trains on a snowy day 5 months ago, and ended up spending the entire day there.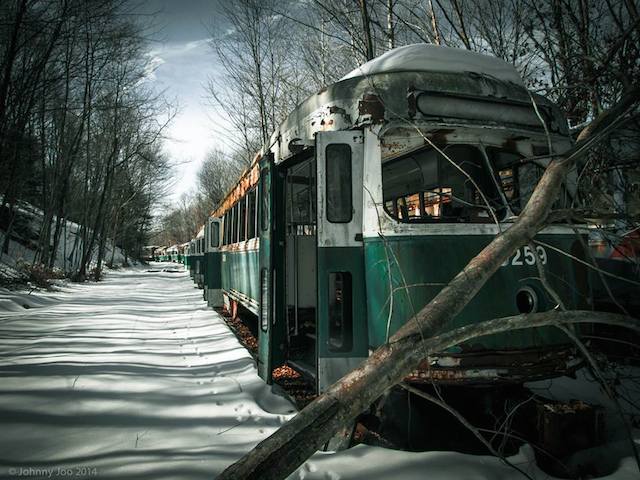 The trains come from everywhere — from Philadelphia to New York City — and if you're wondering how they all arrived in North Carolina, Joo has the answer for you. Speaking with the Daily Mail, he reveals that they were collected by a man who once fixed them.
Over the years, he explained, certain trains were no longer needed and so the mystery repair man allowed nature to do its thing.
And in case there's any doubt, these photos should alleviate it: nature does its 'thing' very well… ruthlessly even.
"This is by far one of the greatest places I have had the chance to experience and I can't wait to go back in the spring/summer," wrote Joo wrote on the Urbex Facebook page. "Due to the nature of this location, I am keeping it near and dear to me."
And it's a good thing he is, because telling anyone about it might put them in danger. "Apparently they have been having some trouble with a scrapper recently," he explains, "which is what we learned when a dude startled us standing at the end of a train car holding a lead pipe…"
To find out more about this scary adventure or see more of the photos from the set, click here. And if you'd like to see more from Joo, head over to his website, check out the Urbex US Facebook page, or follow him on Facebook and YouTube.
---
Image credits: Photographs by Johnny Joo and used with permission