How to Contact Facebook Support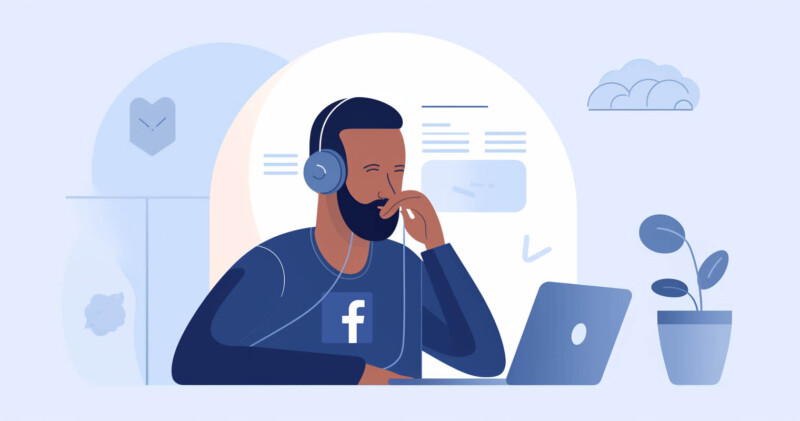 Facebook is one of the largest social media networks in the world, with about three billion active users. That equates to a massive demand for Facebook support. Like most prominent internet companies, Facebook tries to handle support with automated systems to reduce the burden on its representatives.

You can't easily find a phone number or email address that connects you to live support unless you're a business owner or a Facebook creator buying Facebook ads and using Facebook for work. There are solutions for the public, however, and a few tricks that might help, depending on your situation. In many cases, you can save time by solving the problem on your own or with community support before moving on with your busy day.
Do you Really Need to Contact Facebook?
Before attempting to contact Facebook about problems logging in or accessing certain features, it's a good idea to check with friends, family, or coworkers to find out if they are experiencing similar difficulties. There's no need to reach out if it's a problem for everyone. Facebook will already be working on a solution.
If the problem is specific to your account, try logging in from a different device. If you're using a phone, try a computer or a tablet. That kind of troubleshooting can save you the trouble of digging through support documents or trying to get through and explain your issue.
Facebook Support for Creators
If you are having trouble logging into Facebook because your account is locked, you might be able to start a live chat with Facebook support to resolve the problem. In 2021, Meta announced Facebook Creators have this option if they experience issues with their account.
Unfortunately, that option isn't available to everyone. To become a Facebook Creator, sign up for a new account or convert your personal account. If you're currently experiencing Facebook issues, you might not be able to
Meta Customers Get Facebook Support
One of the best methods of getting the attention of Facebook Support is to become a Meta customer. More specifically, if you buy or already own a Meta Quest VR headset or Meta Portal video calling device, you deserve special consideration. Ray-Ban partnered with Meta to make its Stories smart glasses, and owners will more likely get attention from Facebook Support.
Better support is about more than just the money. In truth, Meta earns very little profit on its hardware. Meta could add a paid support option if it were trying to make money, and some would happily pay to get assistance with Facebook problems.
Quest, Portal, and Ray-Ban Stories owners garner extra attention because these devices require a Facebook or Meta account. If you lose access to your Facebook account or have serious problems, your device could be severely limited. Meta might be obligated to solve your Facebook problem.
This workaround won't last forever. Product support ends for all products, eventually. At some point, customer service will no longer be available for discontinued and unsupported products. Then you'll need a new Meta device to qualify for Meta customer service.
For example, the Meta Quest 1 (launched in 2019) will no longer receive system updates in 2024, and some features will stop working. Meta could still help but might decline with a reminder that your Quest is too old and is no longer supported.
Meta is no longer selling the Portal, but you can still order it at retailer websites. Meta continues to support these devices, but it's unclear how long that will last.
Links for Meta and Ray-Ban customer service:
Can you Call Facebook on a Phone for Help?
While you might find phone numbers for Facebook or Meta, the social media network no longer provides support by telephone. Instead, you'll hear a prerecorded message informing you that phone support is unavailable and directing you to the Facebook Help Center.
The numbers frequently reported online are 650-543-4800 and 650-308-7300, but don't bother calling. It would be a waste of time.
How to Report a Post
If you are trying to contact Facebook support because of a troubling post, there's a better way. It's quicker and easier to report a post. That alerts Facebook to a potential problem and could quickly remove offensive content from your view.
To report a Facebook post that you think violates Community Standards, click the three horizontal dots in the top right and select Report post. Facebook will walk you through the process and allow you to note what was inappropriate. Many people will ignore it and scroll by even if they are offended. Taking this action helps you and the community.
Facebook Community Standards can change over time but are meant to promote authenticity, safety, privacy, and dignity. Harassment, violence, self-injury, hate speech, exploitation, dangerous organizations, crime, and fraud are not allowed. Nudity, graphic content, and sexual solicitation are also banned.
With Facebook and most other social networks, individuals are held to the common principles of society at large. It's a bit like we've all become publishers. If it doesn't belong in the Sunday paper, it probably shouldn't be on Facebook either. Even spam, misinformation, and misidentification can be grounds to report a post.
How to Block or Report a Person on Facebook
If someone is bothering you on Facebook, you can block them and, if you feel like it's necessary, report them to Facebook. This is an automated process, just like reporting a post, and it's much faster than trying to contact Facebook Support for help.
To block someone, hover over their profile image. A small card will appear with more details. Click on the three horizontal dots at the bottom right of the card and select Block from the menu.
A confirmation window will appear that explains what will happen if you block this person. They'll no longer see your posts and will be unable to message you, and if you block someone, they can't tag you, invite you to groups, or add you as a friend.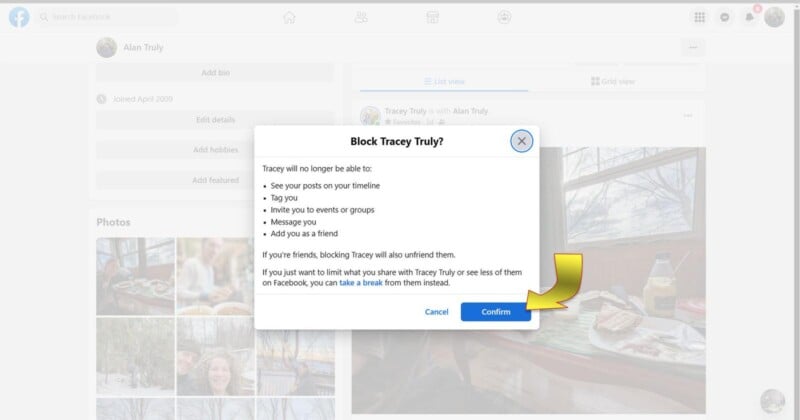 How to Report a Problem with Facebook
If Facebook is having some technical difficulties, there's probably no need to report that. Facebook engineers are continually monitoring the service and taking action to keep it responsive. When Facebook goes down, it's a big problem for Meta, and getting it back online is a priority.
That said, there could be smaller concerns that escape attention, and it's worth reporting little glitches that affect how you use Facebook. Screenshots are helpful, as well as any additional details about what you were doing or trying to do when you experienced a problem.
When you're prepared to send a problem report, click your profile picture, choose Help & support from the menu, then select Report a problem.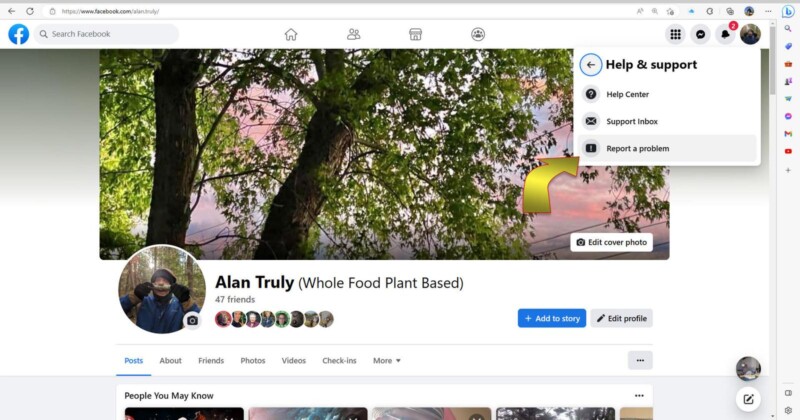 A small window will open, giving you the option of sending feedback or reporting Something went wrong. Choose the latter and follow the instructions. You'll be asked if you want to include diagnostics to help solve the issue. This is usually a good idea but could include personal information. Next, you are given a place to describe what went wrong in your own words, optionally share a screenshot or video, and choose an area where the problem occurred, such as Facebook Pay, Groups, the Home page, notifications, or Pages.
Facebook Wants You to Use its Help Center
It's clear that Facebook wants most people to solve their own problems or use automated systems, rather than speaking to a Facebook Support representative. This is annoying but makes sense given the vast number of users worldwide that are using this ad-supported service.
Solving any problem involving a computer is a difficult challenge for a remote support person since technical knowledge varies greatly from person to person. It might appear that Facebook isn't working because of a computer hardware issue. Perhaps, the operating system or browser needs an update. Wi-Fi connections could be causing trouble.
With so much uncertainty about the nature of the issue, Facebook Support could spend hours solving a problem completely unrelated to its social network. That's at least part of the reason it's so hard to contact Facebook.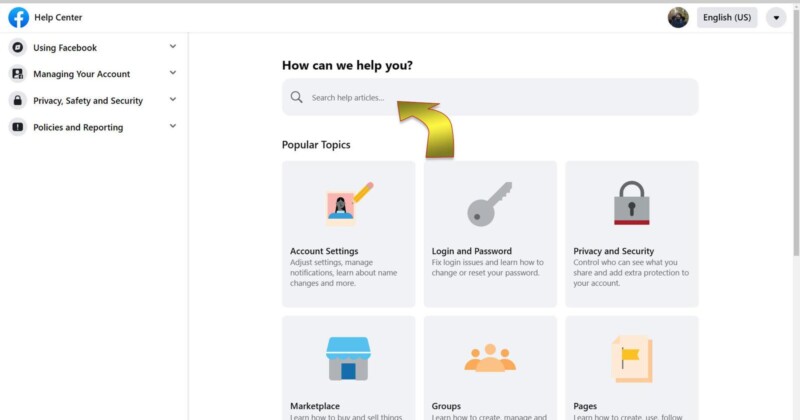 If you need assistance with Facebook, check the Help Center first at facebook.com/help. There are plenty of categories loaded with information that might help. There's a search box at the top of the page that lets you narrow down support topics with keywords. With a little persistence and varied searches, you can find a wealth of information about how to do things and solve problems on the world's most popular social network.