Do You Tip Photographers? (And If So, How Much?)
You've hired a photographer and they've delivered the photos. Now you come to a question: should you tip the photographer? Not every society has tipping as a common practice, and even in those that do, whether or not photographers should be tipped continues to be a much-debated topic.

There is no widely agreed upon standard for whether photographers should be tipped or how much to tip them if you
do
choose to. While it's perfectly acceptable not to tip, giving a photographer a tip can be much appreciated and convey how much you appreciated their efforts and liked the results.
In this guide, we will explore the topic of tipping in the photography industry.
Table of Contents
What is Tipping for Photographers?
Tipping, a form of gratitude to professionals in the service industry, is not expected in some regions of the world, like most of Europe, Asia, and Australia, but is a common practice in the United States and Canada. Even in countries where tipping is uncommon, professional photographers can take steps to introduce tipping in their client workflow, leading to potential extra revenue.
Clients will generally tip to show appreciation for the photographer's hard work and dedication. Other times, it's the photographer's thoughtful touches or the strongly built rapport between the photographer and their client that lead to tips. Every client who wants to say thanks will do it differently, based on what resonates with them and what resources they have available.
Should You Tip Your Photographer?
There are no hard and fast "rules" to tipping, which is why the subject is at the center of much controversy and debate, but a standard rule of thumb is that you should tip someone who performs a personal service for you. The recipient generally works in the service sector of the economy, meaning they produce and offer services to customers.
While some professions in the service sector have tipping as a widely established norm — waiters, taxi drivers, and barbers, to name a few — photography clients may not as commonly think to tip their photographer for their service. However, other workers in similarly artistic fields (e.g. tattoo artists) do typically receive tips from customers.
So when in doubt, do feel free to be generous and tip your photographer, particularly if they are working for a larger business and especially if you are very happy with their service and photos.
Reasons for tipping a photographer may include:
They went above and beyond in providing you with the best possible service during a job.
They bent over backwards to accommodate unexpected requests when they didn't need to.
You specifically like their work and want to make sure they prioritize your needs in the future.
They work for a large company that may pay relatively low wages to their employees.
You were particularly impressed with the results and wish to show your gratitude.
Because the environment or other subjects on the shoot were challenging.
How Much Should You Tip Photographers?
If you do choose to tip your photographer, how much you tip should mainly reflect your satisfaction with their services. Tipping etiquette in many service sector industries says that a minimum of 15% to 20% is typically an appropriate amount, and some people make a habit of tipping even more, but those suggestions may be more appropriate for services with lower prices (e.g. a haircut that costs $30).
For photography, where a photo shoot could cost hundreds or even thousands of dollars, a percentage of 15% could be a hefty sum and not something you would consider budgeting for the photo services ($750 for a $5,000 wedding package).
In that case, you may want to simply settle on a more reasonable amount that doesn't break the bank but does convey your appreciation for the photographer.
What Type of Tips do Photographers Receive?
There are more ways than one for clients to show their gratitude to the photographer. Some clients will pay extra on top of their invoices, while others may bring cash with them on the day of the shoot. Photographers and their clients may be more accustomed to cash payments in some areas than others, impacting their attitudes toward gifting cash or paying extra on an online invoice without additional face-to-face interaction.
It's not all monetary appreciation, either. Some photographers receive gifts or gift cards after the shoot – food and drink hampers, flowers, retail or hospitality gift cards, and more.
While tips are appreciated by most photographers, they should not be expected, nor should photographers count on them when planning their business finances. It's rarely a reliable source of income, but it can be a great confidence booster and contribute to revenue targets.
Who is Likely to Tip Photographers?
Overall, social photography, like weddings, families, and portraits, will likely see more clients tip compared to commercial, advertising, and product photography. Social photography allows clients to build an emotional connection with their photographer.
During weddings and events, photographers can also leave a good impression on other guests. The additional exposure to more family members and friends of the couple can lead to individual sales and, consequently, tips.
Charleston, South Carolina-based lifestyle and portrait photographer Erin Rose Raduazo regularly works with tourists visiting the area, who often feel tipping is customary. However, even her local clients tip – either by choosing a set 15%, 20%, or 25% extra or entering a custom amount when paying via the online payment service Square.
"Cash clients typically round out their balance, say they owe $749, they usually would bring $800 when paying cash," she says. "And for the Square invoices, I would say most people input a custom amount for a tip, and I've received anywhere from $20 to $200 as a tip on a family session. However, I try not to make anyone feel like they have to tip, which is why I don't mention it and let them pay their invoices on their own without the pressure of me being right in front of them."
The reason for tips, Raduazo believes, is her commitment to cater to her clients' every need and question. She sends them as much information as possible to help them prepare before a photo session and gets to know them throughout the shoot. Clients attend the shoot feeling confident and taken care of and leave the session having built a connection with Raduazo.
While social photographers may get more tipping opportunities, commercial photographers may receive tips, too. The benefit of working with larger brands and marketing departments can be businesses thanking for a successful project with a gift card, a physical gift, which may be branded, and sometimes, a monetary tip.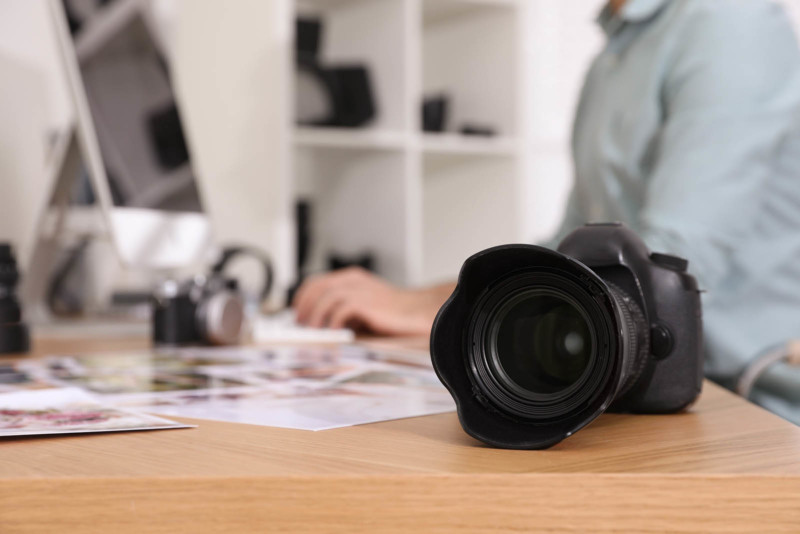 How Can Photographers Encourage Clients to Tip?
Professional photographers of most genres can benefit from learning how to encourage clients to tip in addition to the contracted payments. A few changes in the client journey can lead to higher revenue without resorting to pushy or unethical sales practices.
A few small changes in how you approach your client workflow, invoicing, and your customer service can help encourage clients to tip you. It's not guaranteed, especially if your region doesn't have a tipping culture. However, simply making tipping a simple, accessible option for your clients can lead to unexpected additional income.
A word of warning, though: encouraging tipping could backfire and come across as tacky for some customers. While tipping is a little more common in some photography niches, such as wedding photography, encouraging tipping or even indicating that you accept tips could leave a bad taste in a client's mouth. To be safe, a better way to increase your earnings could simply be to increase your photography rates if you have the ability to do so.
If you do want to hear some ideas for possibly earning tips through your work, though, read on.
1. Provide an Excellent Service With No Expectations
Before you add any extra options to your invoices, it's essential to give clients a reason to tip in the first place. Wedding photographer Gary Pope from Connecticut doesn't encourage tipping in any particular way, he aims to "just do a great job throughout the planning process, show up, and be fun."
"It's totally normal now to not only get the planned tips but bonus ones, too, just because I'm active and fun to be around," he adds. His second shooters connect with the couples, too, which leads to bonus tips.
Being on the same wavelength as the couple and the guests helps. Pope becomes a "friend with a camera" and often takes a few drink shots during the reception, which encourages everyone to see him as an integral part of the day. This method may not work with everyone, but introverted photographers can also market services to similarly-minded couples.
2. Make Tipping Visible in Client Workflow
The simplest way to make tipping an option for your clients is to add it to your existing workflow. Some customer relationship management (CRM) platforms, like Honeybook, and online payment systems like Square, allow clients to add tips to their invoices. The tipping option is not always enabled by default, so it's worth considering if your current system offers it.
By making gratuity payments a seamless effort on the client's part, you don't even have to mention it to your customers. They will see it when they make payments for your services or when you sell products after the shoot, like prints or other upgrades.
Wedding photographer Tricia Michael from North Carolina has also seen some success thanks to some wedding planners who share resources, like a tipping guide, with their clients ahead of booking the photographer.
"Sometimes they are given expectations that couples only tip the second and assistants, but not the lead," Michael tells PetaPixel. "Sometimes we all get tipped. Sometimes we don't at all. I never expect it, nor ask for one, but am always grateful for it." For photographers wanting to communicate this to clients, Michael suggests creating "a tipping guide for all vendors either in their wedding guide or within tips shared throughout the process."
3. Use Tip-friendly Payment Terminals
Studio photographers who take sales on the day in-person can also make tipping an available option for clients, as did Jon Meadows of Making Bank with Photography in his headshot business.
"The Square terminal is a game changer," he says. "You turn on the tipping function, and the terminal allows them to more easily swipe, tap, or insert their cards themselves. That means you're not handing over the phone to them with the tip screen which is too weird, or tapping no tip yourself before handing it over."
Meadows set tipping percentages at 5%, 15%, and 25%. Clients with smaller budgets may want to add an additional gratuity, and 5% can be a small enough commitment to tip. Meadows has seen plenty of customers also go for the higher percentages, and in 2022, he reportedly made $10,514 in tips using this method.
4. Enter Different Client Markets
Less of a client encouragement, but more of a change of business direction can help lead to more tips, too. Nashville, Tennessee-based fine art wedding photographer Christina Dix noticed an increase in clients tipping after she moved towards high-end clients who hold weddings at luxury venues.
When she first started out and worked with lower-budget clients, they rarely provided a tip, and Dix never expected them to. Understandably, anyone on a stricter budget will have limited expenses. "Some might say these specific clients didn't value you or your work enough to give you a tip, but possibly it's truly only because they couldn't afford to give one," she explains.
"I personally believe that the clients that I serve today can simply afford the luxurious price and expect to pay a higher price. But I also know that these clients expect and anticipate a more luxurious experience. With a more luxurious service comes a heftier price tag and more than likely a tip at the end of their service," she adds.
While not every method will work for photographers in different regions and serving different client markets, it's worth enabling the feature. At the very least, it's a passive income opportunity that photographers can forget about while they put all the focus on delivering an exceptional customer experience.