The Best Monitor Stands in 2023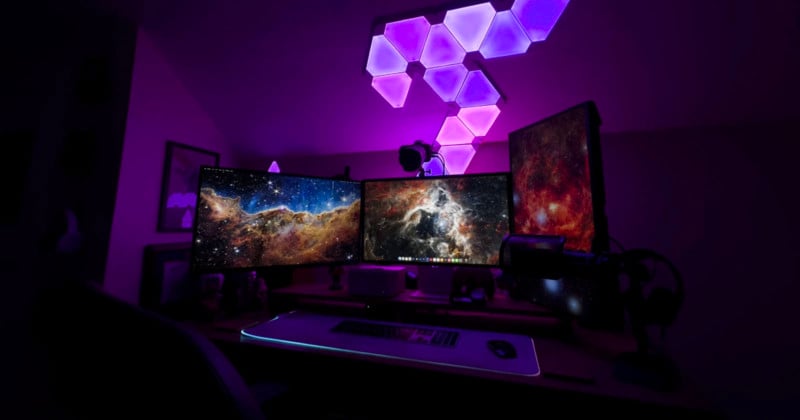 While there are many things to consider and every desk is different, having a great monitor stand is a must-have for photographers and content creators. Not only will they help make your setup more ergonomic, but they can give users the extra space and maneuverability needed for all of their other accessories as well.
Choosing the right monitor stand can help keep your desk better organized and can make it look a lot better, both of which can help with productivity. With that in mind, there are a few important things to keep in mind when choosing a monitor stand for your workspace:
Additional/Flexible Height – Can it be moved to the left/right, up/down?
Optimized Space/Function – If you're going for a stand and now arms, does it have drawers or shelves for additional storage space?
Durability and Strength – Are the materials strong enough to last long?
Design/Materials – Does the stand/riser look good while doing its job?
Since almost everyone has a different preference in design, we have put together this list of the best monitor stands we have tested for a range of setups.
At a Glance
Best Single-Arm Monitor Stand: Ergotech Single Freedom
You will be hard-pressed to find a better single-monitor arm stand that is as flexible, sturdy, and easy to use at the price of the $97 Ergotech Single Freedom Arm Monitor Stand. This articulating monitor stand can support displays up to 17.8 pounds and 27 inches in size, and offers a height adjustment of up to 14 inches with a horizontal extension range of up to 23.4 inches.
Designed and shipped as just two main pieces, the clamp-type monitor mount is fast and easy to install since users will not need to do any drilling to secure anything to their desk/workspace. Users can mount the stand to desks and tabletops ranging from five millimeters to 55 millimeters by tightening the clamp on the base of the stand with the heavy-duty knob. The clamps themselves are covered with rubber and foam coatings to prevent any scratches and indents on the table surfaces as well.
The minimalistic designed monitor arm from Ergotech gives users the ability to complete 360-degree rotations and tilt up and down at 90 degrees and 45 degrees respectively.
Best Dual-Arm Monitor Stand: Wali Dual Monitor Desk Mount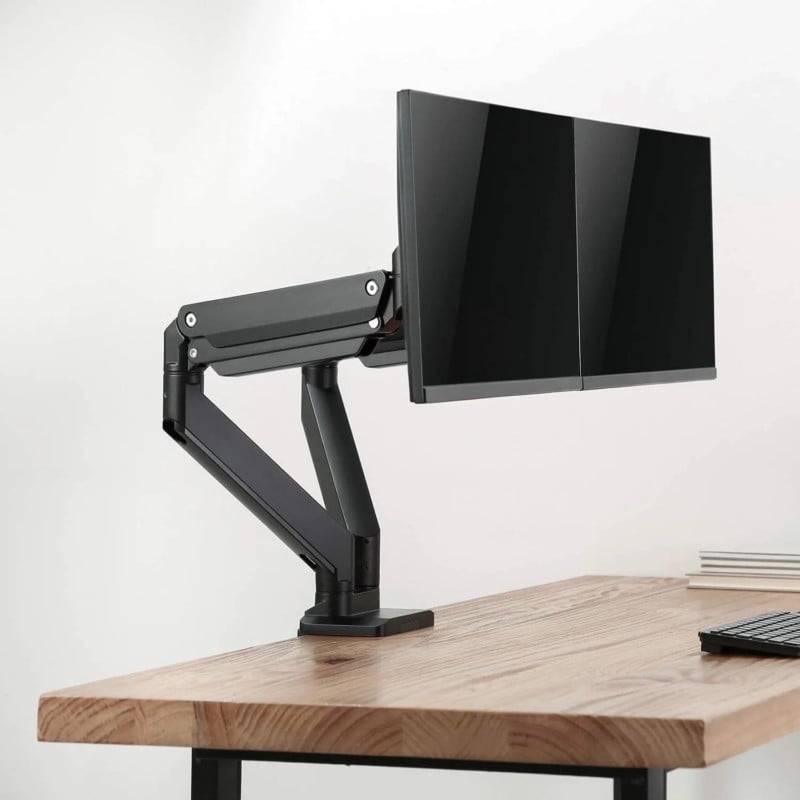 You've probably never heard of this brand before (much like many of the brands on this list), but the $135.99 Wali Dual Monitor Gas Spring Desk Mount is one of the most popular heavy-duty and affordable Monitor Stands out there, and for good reason: in our testing, it's proven to be studry and reliable. It is capable of holding up to two 33-pound displays with a maximum size of 35 inches each, this adjustable fit desk-mounting monitor stand outshines nearly every other stand in its class.
Each arm has built-in cable management to keep things tidy and has dynamic height adjustability that is capable of going up to 23.03 inches high and extending 20.71 inches forward all while remaining incredibly sturdy and secure thanks to a gas spring tension adjustment built into the "elbow" of the arms.
The $135 Wali Dual-Arm monitor stand is built with high-grade heady-duty aluminum and pneumatic gas spring arms, the system can extend and retract at +45°/-45° tilt and +90°/-90° swivel to change reading angles, and 180° rotate from landscape to portrait mode to double efficiency and productivity.
Best Triple Monitor Stand: Huanuo Triple Monitor Stand
When two displays isn't enough, look no further than the $139 Huanuo Triple Monitor stand. The best part about this particular stand is that the center section can be easily repurposed to hold a mirrorless camera and be used as a webcam, as shown in the photo above, and it will stay remarkably stable since it connects directly to your desk.
Since it is designed to hold three 32-inch monitors, the Huanuo Triple Monitor stand is extremely robust. Each arm is capable of holding up to 17.6 pounds, has a gas spring height adjustment system, supports screen rotation of 360-degrees, and screen tilt between -90 and 85 degrees. As expected, the arms support VESA plates and have a simple and easy-to-use quick-release system.
As is common for monitor stands, the Huanuo supports either a C-clamp or grommet installation and the attached displays can be arranged in a variety of ways. Each arm is easy to move and adjust but once in place, stay there firmly.
Best Laptop Riser: Nulaxy C3
To be honest, there are a lot of options online that look exactly like the Nulaxy C3 Laptop Riser, but this is a solid option that we've had in place for more than two years and it shows no signs of wear or degradation.
The versatile C3 Laptop stand raises the screen of your laptop by six inches to help improve visibility as well as improve users posture and productivity. The riser is made from durable 5mm aluminum alloy and can support up to 8.8 pounds (4kg) of device weight. The C3 Riser from Nulaxy is compatible with laptops ranging from 10 to 16 inches in size with rubber pads placed along the top arms to help secure the laptops in place when in use, as well as protect it from scratches or sliding.
The open arm design and downward tilt offer users better ventilation for their devices, helping keep their laptops cool when under a heavy workload, while the aluminum alloy acts as a thermal pad to help keep the systems cool. The tilt angle also helps angle the screen slightly forward keeping it closer to your eyes, while the open space below the laptop allows users to add an external keyboard and mouse comfortably.
What makes this $18.99 riser great is it's not just incredibly affordable, but can also be easily disassembled into three parts for compact storage and travel.
Best Desktop Monitor Riser: HumanCentric Desk Shelf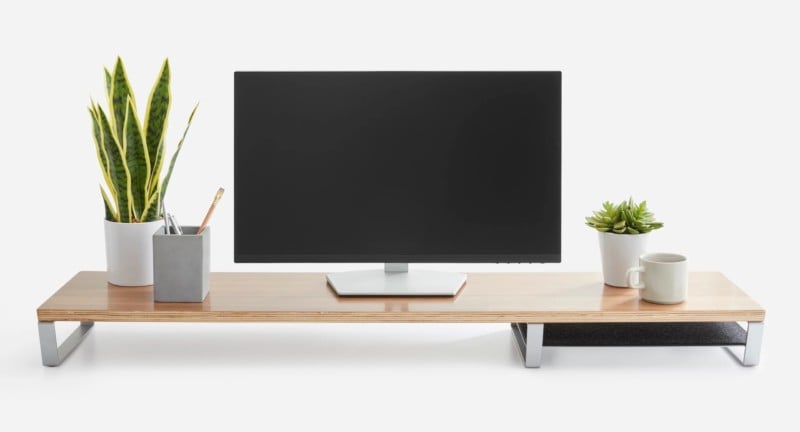 For users looking to add a splash of fashion to go along with some impressive function, the $220 Desk Shelf from HumanCentric stands out as one of the best monitor risers on the market. Made with natural plywood and a black walnut veneer finish combined with a sturdy anodized aluminum frame, the stylish monitor riser adds a modest four inches to the hight of your monitor for better ergonomic viewing, and 46 by 10.25 inches of table-top space to help make the most out of some smaller desk spaces.
This heavy-duty monitor stand gives users plenty of space to position their keyboard, tablet, mouse, and other workday essentials in comfortable positions and even has a felt-lined shelf with an optional drawer to place your phone, wallet, keys, and more in a discreet, yet easy-to-reach corner of the workspace. The minimalistic riser provides users with a subtle and highly functional elevation for their monitor(s) while adding more storage and workspace to their desks.
---
PetaPixel will update these results periodically as we obtain and evaluate more options, so make sure to bookmark this story and check back when you're ready to make a purchase.