Shimoda's First 'Everyday Carry' Backpack is for City Adventures
Shimoda Designs is best known for its high-quality adventure-style camera backpacks, but a new crowdfunding campaign breaks with that mold and introduces the Urban Explore, the company's first "everyday carry" style backpack.
The company's adventure bags are perennial members of PetaPixel's best camera bags guide for good reason: they're one of the few options that can provide the substantial support and rugged design necessary for backcountry photography.
Shimoda is bringing that expertise to a segment that has a lot more customers but a ton of competition to go along with it. The company says that the Urban Explore is a light-duty adventure camera bag designed for everyday carry, slotting into a segment that is even more crowded than the adventure bags space and competes against the likes of Gura Gear, Peak Design, and Nomantic.
"The Urban Explore Series was designed for today's creator; whether you're into photo, video, or other creative pursuits, our new series has the function, form, and comfort to have you carrying this bag everywhere," the company says on its Kickstarter campaign.
"Urban Explore's features were designed to accommodate today's most commonly used creator tools including the latest cameras, 16-inch laptops, Capture Clips and more. All ready to travel and packaged in a beautiful recycled Cordura shell."
The bags don't feature the sheer volume of heavy-duty straps that Shimoda's adventure bags do, but a lot has been carried over including durability and attention to detail.
Shimoda is offering the bag in three sizes: 20L, 25L, and 30L. The 20L can hold up to a 14-inch laptop while the two larger sizes can handle up to a 16-inch notebook with differing levels of space for cameras and lenses. Sized for U.S. and international carry-on regulations, the bags feature separate hidden AirTag and passport pockets, access on one side and tripod pocket on the other, and many of the design touches that make Shimoda's adventure bags so popular like rear camera access, multiple handles, and numerous adjustment points.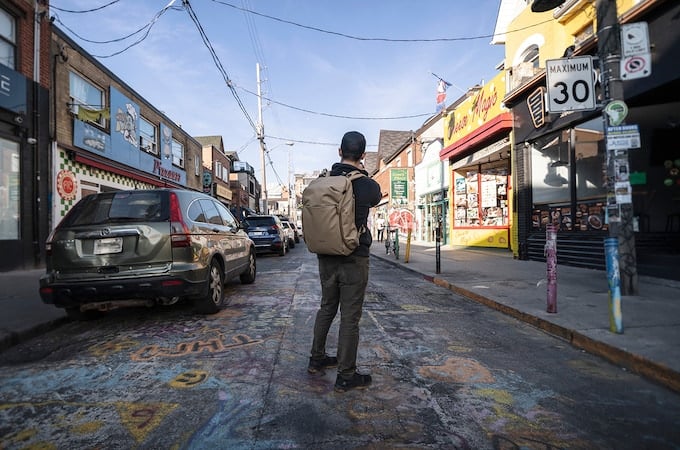 All the bags ship with a removable camera cube insert so the bag does not always have to be for camera equipment and backing options range in price from $210 to $255, depending on size; that's a sizeable discount from the $280 to $340 the bags will eventually retail for.
The company intends to deliver finished bags by February 2024.
Shimoda's reputation means the Kickstarter campaign has already garnered significant interest and at the time of publication it had already eclipsed $280,000 in funding with 25 days to go.
---
Disclaimer: Make sure you do your own research into any crowdfunding project you're considering backing. While we aim to only share legitimate and trustworthy campaigns, there's always a real chance that you can lose your money when backing any crowdfunded project.