Yul Brynner's Leica Cameras Headline 43rd Leitz Photographica Auction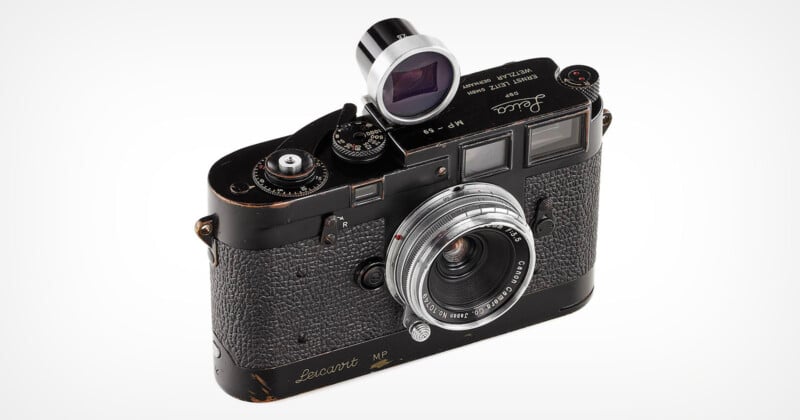 There are some very interesting lots in the upcoming 43rd Leitz Photographica Auction on November 25 in Vienna, Austria.
For example, lots 186 and 187, a pair of Leica MP black paint cameras, start at €400,000 each, or $426,878 at current conversion rates. The Leica MP "Yul Brynner" cameras were made in 1958 and are numbers 59 and 60. Both cameras were owned by the legendary actor Yul Brynner, who was considered an exemplary photographer alongside his acting chops.
Leitz Photographica expects both of Yul Brynner's cameras to sell for up to €700,000, which is nearly $750,000. While this would not reach some recent auction prices, such as the rare 1936 Leica 250 GG Reporter camera that sold for just under $1 million earlier this year, Brynner's cameras could rank among the most expensive ever sold.
The late Brynner's cameras are not the only lots with a connection to an actor. As part of the Leitz Photographica Auction's charity lots, which contribute to the Committee to Protect Journalists (CPJ), Jason Momoa has donated his custom Leica M10 Monochrom for auction. During online pre-bidding, Momoa's camera has received some interest and is currently up to $3,400, which would be an absolute steal for a Leica M10 Monochrom camera. It is estimated to sell for upwards of $7,000.
While the two Yul Brynner-owned Leica MP black paint cameras are expected to fetch the highest prices, other lots are anticipated to command six-figure bids, including lot 78, a prototype Telyt 6/80cm lens, the only known example. The lens was previously housed at the Leitz Museum and could sell for as much as €300,000 ($320,001).
A Leica M3 Prototype camera (no. 0025) and Summicron 2/5cm lens, lot 80, is currently sitting at €100,000 in online pre-bidding, and Leitz Photographica thinks the kit could fetch up to €240,000 ($256,000).
Two other cameras are also currently at €100,000 thanks to online bidders, a Leica M4 olive Bundeseigentum (lot 222) and a Leica M3 owned by German industrialist Günther Leitz (lot 82), the fourth and youngest child of the famous Ernst Leitz, founder of Leitz optical company. Günther joined the family business in 1937 and took the reins as managing director in 1954. Under his stewardship, the company developed numerous new products, including the famous M3 series. He also played a vital role in establishing the Leitz Photographic Society and was a significant proponent of photography as an art.
There are many exceptional pieces of photographic history in the upcoming auction. There are 422 lots, and the products range from cameras and lenses to fun decorative items such as advertising materials and even a Leica dealer sign.
The 43rd Leitz Photographica Auction will take place at Hotel Bristol in Vienna on November 25 at 11 A.M. CET. From November 22-25, an exhibition at the Leica Store in Vienna will show some of the available auction lots to the public and prospective buyers.
---
Image credits: All images courtesy of Leitz Photographica Auction