Really Right Stuff's New Universal L-Bracket Fits Almost Any Camera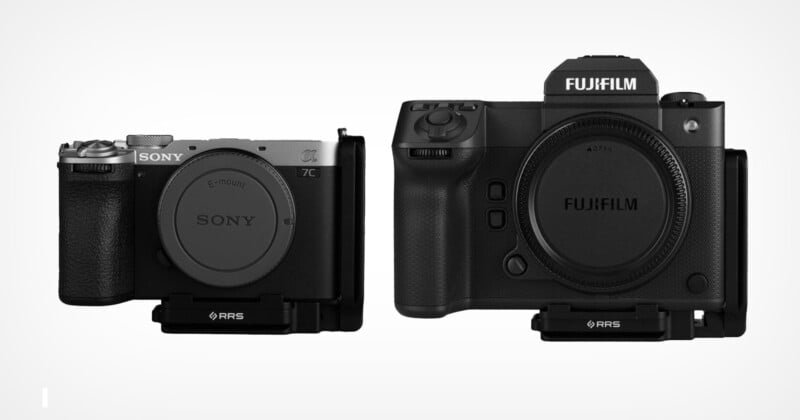 Really Right Stuff announced a new L-bracket called the MC-LS that is designed to work on basically any camera with the classic SLR design with a perfect fit thanks to five levels of adjustment.
The MC-LS is described as a premium universal L-plate that can securely accommodate "most" camera body sizes used by photographers. Really Right Stuff says that the MC-LS offers five levels of adjustment through its sliding L-Component (it has a side-port access window width of 28.1mm and a forward and back slide capability of plus or minus 5mm), reversible Anti-Twist Flange Plate (a minimum of 2.95mm and a maximum of 29.89mm), and fore-to-aft positioning on these elements, which allows it to perfectly adapt to a specific camera's shape. Really Right Stuff adds that the camera socket to the L-component can be adjusted between 43mm and 76.2mm.
"The MC-LS, or Multi-Camera L-Set, is designed to be the one plate that seamlessly fits your camera. It is the ultimate choice for photographers who demand the utmost in versatility, durability, and performance. Whether you're a professional photographer or an avid enthusiast, the MC-LS is here to elevate your photography to new heights, providing unparalleled confidence in every shot," Really Right Stuff says.
The company is marketing the plate with the phrase, "one plate, many cameras, any time."
While it probably won't fit on any camera, it should reliably adapt to any camera that uses the classic SLR design that has become basically the unspoken "standard" for photo and hybrid cameras. Really Right Stuff shows it attached to cameras as small as an a7C to as large as a Fujifilm GFX medium format body. Of note, the company stipulates that it doesn't work on cameras like the Nikon Z9 as taller bodies like it would have their ports blocked by the bracket. The same can be said for cameras equipped with a battery grip.
Once on a camera, it can attach to a wide range of Arca-style accessories (like tripods, gimbals, and monopods) thanks to its use of the Really Right Stuff Dovetail Standard.
"The MC-LS: Universal L-Set is a game-changer for photographers," Rob Steffen, Product Manager of the Camera Division at Really Right Stuff, says. "Its versatility and precision design make it the ultimate companion for photographers seeking the perfect shot. With the MC-LS, photographers can trust that their gear will perform flawlessly in any situation, leaving them free to focus on their creative vision."
The MC-LS L-bracket is designed and manufactured in the United States and is available directly from Really Right Stuff for $140.