Never-Before-Seen Mug Shot of Tupac Shakur Expected to Fetch $35K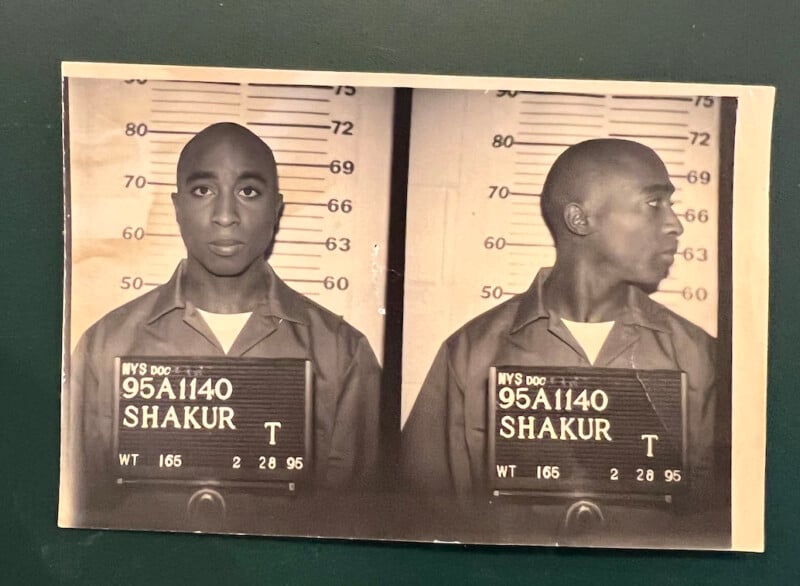 A never-before-seen mug shot of rapper Tupac Shakur is expected to be sold for $35,000.
The black and white photos was taken when Tupac was serving time at Clinton Correctional Facility in New York in 1995 for sexual abuse charges.
The sale, held by Moments in Time, also includes the rapper's prison identification which is expected to sell for $75,000. The prison ID includes his photo, name, ID number, height, and eye and hair color.
However, it is not Tupac's original ID; it is a replacement after he lost the original one. But the buyer will get the form Tupac filled out to get a replacement ID, which reads: "I lost my ID and need a new one. Thank you."
The original prison ID was apparently found and in 2019 was auctioned off for $30,000 — which at the time was the world record for the most expensive piece of Tupac memorabilia ever sold.
That was until this year when fellow rapper Drake bought Tupac's crown ring for $1 million making it the most valuable artifact in hip hop.
According to NME, the documents currently for sale were given to a family member when the artist got out of prison and they later wound up in the hands of a private collector.
Earlier this year, PetaPixel reported on a photographer seeking compensation in a court of law after alleging that the cannabis website Leafly used his photos of Tupac Shakur.
T. Eric Monroe claimed the website unlawfully published and displayed his photography on a Leafly post featuring a side-by-side portrait of Tupac and Snoop Dogg that contained a caption explaining that it was Tupac who taught Snoop how to make blunts.
Last month, PetaPixel reported on a series of rare and valuable photographs capturing John F. Kennedy's assassination that were auctioned off after being discovered in a garage. The photos were sold for $11,970.
---
Image credits: Moments in Time.