Film Brand CineStill Swarmed by an Angry Mob Stoked by Misinformation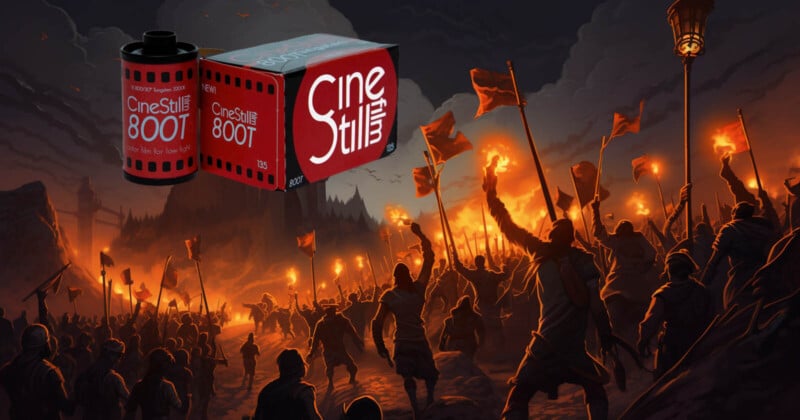 CineStill has sold motion picture film and analog photography equipment to still photographers for over a decade, including the company's popular CineStill 800T high-speed color film. The company now finds itself embroiled in a major controversy within the analog community, and the situation has devolved into allegations of intimidation and harassment.
---
The end of this article has been updated with a new section.
---
The Context: Reddit Post Goes Viral
PetaPixel first heard about the CineStill controversy this past weekend on Reddit's r/analog subreddit. A post by u/ReachIntelligent519, a self-described solo film seller with a 23-year history on eBay, alleges that they were intimidated by CineStill.
The seller says that the issue began in May when they were selling Reflx Lab 800 film, which at the time was called 800T. CineStill applied to trademark "800T" in 2021 and was officially granted the mark in 2022 following an initial rejection during the application process. CineStill claimed that the Redditor had violated its brand, and eBay acted per CineStill's claim.
CineStill tells PetaPixel that listings can be automatically flagged on specific e-commerce platforms to correspond to CineStill's trademark claims for "CineStill" and "800T." The listing referenced showed up in a search for CineStill's product identifiers. If no infringements are found upon inspection, eBay, for example, will contact the trademark holder, CineStill, for an explanation. In this case, CineStill says it cautioned the seller about trademarks, including ones like Kodak, which Reflx Labs does not use to describe its film.
"We only contacted sellers who used our trademarks in product titles or descriptions and turned up in searches looking for our trademarks," says CineStill.
"In that communication, we made suggestions on how they can change the listing so they won't turn up in those searches anymore but could still be found by people looking for an ISO 800 speed tungsten-balanced film. This was not us sending out Cease and Desists, but emails directly to sellers offering to work with them on solutions," CineStill explains concerning the Reddit post.
The seller in question says that they spoke to Reflx Lab, who told them that it had changed its packaging and product name in response to CineStill contacting the company.
The seller took down their listing and relisted the items with the updated product name and packaging. However, the listing still turned up in a search for "800T film," which led to eBay issuing what the Redditor refers to as "a final warning," which threatens the person's ability to sell on eBay.
"I feel intimidated by CineStill in its actions," writes ReachIntelligent519.
The comments on the original post largely support the original poster and attack CineStill. Some users claim that CineStill is harassing competition to get a competitive advantage, others suggest taking legal action against CineStill, and many more explain that they will no longer purchase from CineStill.
Counterfeit Knockoff CineStill Products Appear
CineStill tells PetaPixel that sometime last year, a "wave of generic, knockoff, and counterfeit CineStill products started to pop up in China." The company began purchasing samples to perform market research. After testing, it says it found various issues including chemical contamination, rem-jet embedded into the emulsion, staining, reduced film sensitivity, and fogging. The company also found that while multiple knockoffs used different materials and designs, they all shared a damage pattern, suggesting they were modified by the same machine.
These films made their way throughout different markets, including in the United States and Europe, and some of the products undermined CineStill's registered trademarks. Resellers sold some of these films under new names and unique product identifiers, which is entirely acceptable.
In contrast, others, per CineStill, were sold using a variety of statements, such as "Same as CineStill," "better than 800T," and using CineStill's unique product identifiers for search engine optimization (SEO) purposes, which resulted in some of these listings appearing when customers searched for CineStill 800T film.
CineStill's legal counsel advised the company that it must do "the minimum required" to protect its trademarks. CineStill has a trademark policy on its website that goes into further detail.
At this point, it is worth noting that CineStill indeed has a trademark for 800T. It is registered with the U.S. Patent and Trademark Office. The application was available to be appealed by anyone for more than a year and no opposition was filed. Arguably, there was no reason at that time for anyone to feel compelled to challenge the trademark.
Further, any company with a registered trademark in the United States must defend and protect its trademark in order to maintain a legal claim to that trademark. Although there are people who believe that if CineStill's trademark were appealed now, it would be overturned, that has no bearing on the company's ongoing obligation to enforce its trademark.
"Throughout the life of the registration, you must police and enforce your rights… the USPTO will not engage in any separate policing or enforcement activities," says the United States Patent and Trademark Office.
The Law Offices of David H. Schwartz, Inc., adds, "Failure to adequately police the unauthorized use of your mark or similar marks that may be confusing to the customer or client will result in the unauthorized use of the mark degrading the value of your exclusive right. Ultimately, failure to police unauthorized use can result in your losing the legal right to enforce the mark against unauthorized third-party users."
If a company like CineStill has a registered trademark, it must defend it. It is worth noting that competitors are free to challenge a trademark, even after it has been granted. That has not happened yet in this case.
CineStill's Approach to Resolutions
"Our approach has been to reach out to our dealers to try to find out how to contact the parties responsible for the counterfeit films, while requesting privately that they do not use our trademarks without permission and suggesting alternate unique identifiers and descriptors to avoid confusion for consumers and encourage fair competition," CineStill explains. "We were essentially asking our colleagues to play by the same rules we are, by not using product source identifiers that are currently in use without permission."
PetaPixel asked for additional details concerning the nature of CineStill's communications with retailers and sellers found to violate CineStill's trademarks, and the company says that it sent "courtesy notices" from its team — not lawyers — and that its initial communications consisted "mostly of requests and explanations." CineStill says that "most people" were appreciative and understanding and worked alongside CineStill to reach a resolution.
Some knockoff film products are still offered under unique names, which CineStill points to as evidence that, contrary to some claims on Reddit and elsewhere, it is not interested in squashing competition but only in protecting its trademark and ensuring that customers are not confused. CineStill argues that it has a reputation to defend and that counterfeit film sold in a way that could confuse the typical consumer about the nature of the product poses a genuine risk to CineStill.
A Holdout
Alongside Reddit posts, an analog specialist retailer, CatLABS, has made inflammatory claims in a blog post on its site. The post, titled We got Sued by CineStill :(, alleges that CineStill sued CatLABS "and many other small businesses around the world."
"Some of these businesses that got sued are as small as one person entrepreneurs just scraping by through sales of film directly to their communities. They sued us for what they see as an infringement of the trademark '800T,' which they only registered late in 2022, just a few months before launching this global legal 'assault.' Now, it turns out that all of this effort was to try and stop a company from selling a product that competes with CineStill's own, by threatening legal action against any stores and small businesses who carried this competing product, going as far as putting some sellers at risk of being banned from platforms they sell on due to direct complaints from CineStill to these platforms on the grounds of trademark violations," writes CatLABS.
:(
Read all about it here:https://t.co/Pcioqjjm4A

What can you do?

The film community has shown time and again that it is supportive, collaborative and welcoming. It opens doors and allows so many to experience the magic of film. 1/4

— Cat LABS (@CatLABSinc) October 11, 2023
CineStill is adamant that it has not "sued" or pursued any legal action against any seller or retailer.
"We have never been pushed to the point where we've had to consider entering into litigation, and we hope we never have to," CineStill tells PetaPixel. "There is no lawsuit involving CineStill. We have not sued anyone. Any statements suggesting otherwise are simply false and misleading."
CineStill also says that the cease-and-desist letter its counsel sent to CatLABS was only delivered because CatLABS' lawyers requested it. Further, a cease and desist is neither legally binding nor a lawsuit. CineStill claims that its interaction with CatLABS is the exception, not the rule.
CineStill's Relationship with CatLABS Has Been Full of Strife
"For CatLABS specifically, we have always tried to do business and share the market with him, but to no avail," CineStill tells PetaPixel.
"He has deliberately spread unfounded rumors within the industry, and instigated a conflict by infringing on our trademarks and forcing us to talk to his lawyer when we reached out with a courtesy notice to inform him of how to resolve the issues without cost or business interruption. Now he is claiming that we sued him and many other small businesses around the world, which is completely false. He and others with a similar jealousy are fabricating stories and participating in unfair competition in order to hurt our business and have made up claims of behavior that we have not actually engaged in, in order to tarnish our reputation. It is illegal. And ethically wrong," CineStill continues.
CineStill and CatLABS also disagree about the nature of CineStill's interactions with Reflx Lab.
CatLABS asserts that CineStill "decided to hurt Reflx by attacking and threatening many of their dealers and resellers" because Reflx Labs, a company based in China, does not have U.S. representation. The claim is that it would be "prohibitively costly" for CineStill to take on Reflx Labs directly, so CineStill instead went after smaller targets — resellers who offer Reflx film products.
That is not how CineStill sees it.
"Until recently, Reflx Lab 800 was marketed as 800T or 800Tungsten film. After reaching out to them directly, and to resellers that carried their product, the film's name was changed to Reflx Lab 800 and the listings online and the displays in film shops. Our issue is not with other '800-speed tungsten balanced' films existing. We have no ill-intent towards others providing more film to more photographers. Those films that exist just cannot use trademarks we established to unfairly market their products," writes CineStill.
Reflx continues to sell Reflx Lab 800 film, offering customers an alternative to CineStill 800T. CineStill describes its interactions with Reflx Lab as respectful and mutually beneficial.
David vs Goliath Characterizations Are Unfounded
At the heart of a significant portion of the outrage online is the belief that CineStill is a large company that is afraid of competition and is leveraging its size and resources to stamp out small businesses.
This claim is a mischaracterization. CineStill has "just over a dozen people," which is itself a "small business."
"At CineStill, this accusation of us attempting to crush other small businesses is one that hurts the most. Since the very beginning, small business and mom'n'pop brick and mortars have been a priority. Without retail stores, there is no community. They are and have always been the hub and the beating heart of the industry, where people can gather and ask questions and learn. Retail stores are incredibly important no matter how small. It's how people discover film, like CineStill Film," CineStill tells PetaPixel over email.
CineStill also emphasizes that aside from the rebranded Reflx 800 film, there are "other motion picture film-based products" on the market with distinct branding. The company also believes that there is value in customers being able to purchase what it considers to be lower-quality, cheaper films that are similar to its 800T product, so long as it is obvious to customers that the product is wholly distinct from CineStill 800T.
More on Trademarks
To that end, CineStill believes its prominence in the market over more than a decade offers the company a common law trademark claim to "800TUNGSTEN," another issue that has been heavily discussed among the online analog photography community.
Some people believe that CineStill has no legal claim to "800T" or "800TUNGSTEN." As for the former, the United States trademark registrar agrees with CineStill. The latter, "800TUNGSTEN," is more complex.
CineStill claims that until last year, when counterfeit film started popping up, no other company used "800T" when selling photographic film. Until CineStill registered "800T," it was a common law trademark based on its established use in commerce. If a company claims to own a common law trademark but does not register it, it will not be in the U.S. trademark database.
A common law trademark depends upon acquiring a "secondary meaning" among consumers. CineStill says that a mark acquires secondary meaning with extended use.
"Another reason justifying the trademark of '800T' and '800TUNGSTEN' is that these terms have acquired secondary meaning over the past 10 years in the market thanks to CineStill. Consumers now specifically associate these marks with CineStill's photographic film products, indicating unique recognition and a positive reputation. These other '800-speed tungsten balanced' films will continue to exist with distinctive product identifiers. We have no ill-intent towards others providing more film to more photographers," CineStill explains, adding that it has used 800 and T together to consistently sell distinct products for over 10 years.
"We think the so-called controversies are unfair and unfounded. These actions and false accusations could have lasting effects on not only CineStill's goodwill and reputation — but also our business and the community. As a small business ourselves, we do not have unlimited resources and our small team works hard to support the analog photography market day in and day out. We are made up of just over a dozen employees who are passionate film photographers and enthusiasts ourselves, so we can't help but feel these accusations personally. We are proud to have products that are made here and work closely with our partners to help solidify and stabilize the analog photography market for decades to come."
Pattern of Aggression or Misunderstanding?
There are a lot of allegations being levied against CineStill right now, and many of them appear unfounded or the result of misunderstandings.
As for the claim that CineStill is being aggressive and trying to limit competition, that is somewhat left to individuals' subjective beliefs. Based on what people are saying on Reddit, it is very easy to conclude that CineStill is behaving nefariously and bullying small companies.
Then again, CineStill, also a small company, maintains with firm conviction that it has not been going after people with animosity.
Unfortunately, in a situation like this, some claims made by either side of a disagreement cannot be independently verified. There is a degree of people needing to read contrasting accounts and determine which one holds more water.
However, other claims are easier to verify or disprove, including the one that CineStill is actively suing CatLABS or anyone else. CineStill is not suing anybody. It has not instigated any binding legal action against anyone selling ISO 800 Tungsten color film. There is also no evidence as of yet that CineStill threatened anybody.
CatLABS has not responded to PetaPixel's request for comment. This article will be updated if CatLABS replies.
No lawsuit concerning CineStill, Inc. and CatLabs of JP is available in public records. As of now, the claim that CineStill has instigated legal action against anybody concerning 800T film appears false.
As for whether CineStill ought to have been able to trademark "800T," that is slightly convoluted. On the one hand, the company did trademark 800T and following a hiccup where CineStill had to explain why it had legal grounds to the requested trademark, the registration was approved.
On the other hand, someone could make the argument that 800T is not deserving of trademark protection. CineStill certainly disagrees with that notion, but anybody is entirely within their rights to challenge the trademark registration now and were free to appeal it during the registration process itself.
The idea that "800TUNGSTEN" is a common law trademark of CineStill is relatively shakier, insofar as it has been established through extended use and prominent market position, rather than official registration.
A solo seller or business even smaller than CineStill may not feel able to take on that sort of battle in the courts. However, that is not CineStill's responsibility, and if someone wants to construe that situation as bullying or some sort of power imbalance, that is their prerogative. There is certainly room for debate on that topic.
It is also evident that there is general misunderstanding among some of the loudest of CineStill's critics concerning a company's obligation to protect its trademarks. Just because CineStill sent courtesy notices to retailers selling products labeled as 800T or 800TUNGSTEN, that does not constitute aggressive practices or even threats of legal action.
Relatedly, it's also the case that CineStill is demonstrably harmed by counterfeit or knockoff films being sold in a way that makes the product seem to be either directly from CineStill or otherwise associated with the company, especially if these knockoff products are cheaper — and therefore attracting customers on that basis — and worse. If a customer wants to purchase a more affordable film, they should — and can — do so.
Someone could reasonably buy "800T film" on eBay thinking that it is related to CineStill, receive the product, and be dissatisfied with its quality. At this point, if someone concludes that CineStill is responsible for what they purchased, it is obvious how that could damage CineStill's reputation.
The Dangers of Echo Chambers and the Permanence of Harm
CineStill's reputation — the very thing that the company believed it was fairly protecting by sending courtesy notices to sellers in accordance with CineStill's trademark ownership — has taken a massive hit in the past week.
With people up in arms on Reddit and Instagram, including launching a boycott campaign and making unsubstantiated and damaging claims against CineStill, it is evident that the company is in extremely hot water.
While some of the heat seems motivated by past personal issues with CineStill, which PetaPixel is not here to litigate, quite a bit of the ongoing outrage is reactive and based on accepting every claim people make at face value.
A quick look through the comments on recent Instagram posts by CineStill shows that the damage done to the brand is extreme. This sort of harm cannot be easily undone.
Much of the vitriol relies on the false belief that CineStill is suing companies smaller than themselves to preserve a competitive advantage. Even when CineStill replied to a comment on Instagram saying it had not sued anyone, the instant response was that the company was lying. What can a company do when an echo chamber of hate turns against it, and its explanations are immediately dismissed?
If, after sincerely considering both sides of the situation, someone wants to stop buying from CineStill, that is their decision and right. Therein lies the double-edged sword of a mostly free market.
However, if someone elects to believe everything someone says, hook, line, and sinker, perhaps they should carefully consider the potential damage they can cause by taking up a proverbial pitchfork and joining the mob.
---
Update
As some readers have rightly pointed out, the U.S. Patent and Trademark Office originally rejected CineStill's trademark application for "800T" on the grounds that it was too generic and was simply descriptive. CineStill appealed this decision and was awarded the trademark. The original text has been updated to reflect this additional context.
PetaPixel reader Dylanger Gutierrez has created a highlight on Instagram that recaps the situation as he sees it, including information about CineStill's trademark application process.
From CineStill's perspective, the U.S. PTO eventually "ruled that the mark has become distinctive of CineStill's goods through substantially exclusive and continuous use of the mark in commerce for at least five years."
There remains healthy debate among the analog photography community as to whether CineStill deserved to have its trademark application granted following the company's appeal. Ultimately, that is a matter that is open to being contested. The appeals process exists for good reason.
However, the very fact that the trademark application was originally rejected and then approved following additional explanation does not serve to undercut the legitimacy of the trademark itself. No trademark is inherently less legitimate just because it required the filer to provide additional explanation in order to be granted the trademark.
Despite evidence that completely undermines the headline and hook of CatLABS' article, that CineStill has not actually taken any legal action toward CatLABS or anyone else for that matter, it appears that for many photographers, the issue is not that CineStill did not actually do what it is accused of having done. The issue for some is that CineStill has defended a trademark that many people think it does not deserve to have, regardless of how CineStill defended the mark.
That is a fair position to hold, and it is unfortunate that the legal system can make matters of litigation prohibitively expensive for many people who believe that they have been wronged or that a company is acting in a malicious way.
Perhaps the best-case scenario would be litigation to settle the matter once and for all, because clearly, a sizable portion of the analog community that CineStill says that it cares deeply about is incensed that CineStill is the registered owner of the "800T" mark and acting as the common law trademark holder of "800TUNGSTEN." So long as CineStill continues to act to defend its trademark, as it the company's legal right and obligation, the relationship between CineStill and at least a portion of the analog community seems poised to remain fractured.
What is also evident is that there is a strongly-held conviction among part of the passionate analog community that CineStill has behaved in an intimidating and aggressive way. At this point, PetaPixel has yet to see direct evidence of threatening behavior by CineStill against any sellers. The request at the bottom of this article is sincere: Any readers with evidence related to this story should reach out. If there is proof that CineStill has been antagonistic, behaving in an intimidating fashion, or threatening anybody, PetaPixel wants to know.
At this point, the evidence suggesting that CineStill has been intimidating small and independent sellers is exceedingly limited. There is a Reddit post from someone who says that they felt intimidated but did not show any threatening correspondence from CineStill and a false claim from CatLABS that it, and others, were sued by CineStill. If anyone can corroborate CatLABS' claim about lawsuits, please email PetaPixel. CatLABS has still not responded to PetaPixel.
As for someone feeling intimidated, their feelings are valid and it is really unfortunate that they felt that way. But without evidence that suggests a pattern of threatening behavior by CineStill, theirs is only an isolated claim and it is irresponsible to extrapolate it to reflect CineStill's behavior at large.
Nonetheless, there is sentiment among a vocal group that CineStill has behaved in a way that is outright wrong, either legally or morally.
Alleged legal wrongdoing must be dealt with in a court of law, which costs money and time that not everyone has to spare.
However, moral mistakes can be adjudicated in the court of public opinion and through the free market.
It is worth noting that some believe that the legal matter at hand interferes with the operation of the free market. The matter of power dynamics within capitalism are fascinating but beyond the scale of this article.
Nonetheless, photographers can still vote with their wallets and purchase 800 tungsten film other than CineStill 800T. The rebranded Reflx 800 is an option, among others. Somewhat lost in the shuffle is the idea that CineStill has actively prevented anyone from selling 800-speed tungsten-balanced film. There is no evidence to support that notion.
Concerning the court of public opinion, it is puzzling that some people are content to ignore that the allegations that CineStill has sued, filed lawsuits, or taken any legal action against anyone are false. Whether someone believes that CineStill has no legitimate claim to its trademark, and as a result, ought not do anything to defend it, that an unsubstantiated claim made by one of CineStill's competitors has become a significant talking point within public discourse is concerning and warrants very careful consideration.
---
If you have any evidence to confirm or contest any of the information contained in this article, please send relevant information to the PetaPixel Tip Line.