Sideline Photographer is Hit in the Groin by Errant Football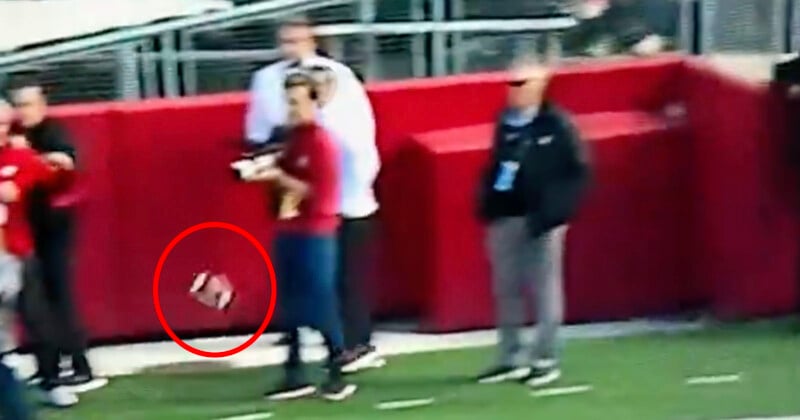 A sports photographer shooting a college football game from the sidelines had a nasty incident when an errant ball hit him in the groin area.
Sports photographers are often in the firing line with a well-documented recent run of incidents. Now, Wisconsin Badgers video producer Ethan Bacon can add his name to the wounded list.
While covering a Big Ten game between Wisconsin and Rutgers, Rutgers quarterback Gavin Wimsatt threw an out-of-bounds pass that hit the ground and bounced into Bacon's groin.
Bacon immediately hits the deck and keels over with the video footage being widely shared on social media. However, the cameraman was praised for protecting his Sony FX6 Cine camera with a 70-200mm lens attached — gently placing it on the floor as he fell.
Can we get an injury update for the sideline photographer at the #Badgers vs #Rutgers game? Thinking of you dude. 🙏 pic.twitter.com/XX9YhVb5Vu

— Badger Steve 🧀🍺🦌 (@UW_Steve) October 7, 2023
Bacon later revealed himself to be the stricken photographer and even shared the footage he was filming which impressively shows how he did not flinch despite being in the firing line.
"The shot > everything," writes Bacon after Dan Katz of Barstool Sports praised his "incredible" focus.
Stayed with the shot the whole way! @ehbaconyt pic.twitter.com/JxqjKyDMwL

— Jeff Eisenband (@JeffEisenband) October 7, 2023
Bacon says that he is now "recovering" but appears to be just fine.
And while some jokes were made about this incident, being a photographer at a football game can be deadly.
Photographer Linda Gregory died last month after an accident at a junior varsity game in Kansas when two players were engaged in a block that carried on out of bounds where they collided with Gregory. The crash sent Gregory falling backward and she hit her head on the concrete apron.
And in May, the XFL championship game was delayed for 10 minutes after photographer Tony Morano was taken out by one of the players.
Morano was knocked backward, the fall made worse by the fact he was holding a hefty telephoto lens. Morano was carted off the field and taken to hospital with a minor concussion.