Photo Series Captures the Spectacular Beauty of the Icelandic Wetlands
A photographer has captured a largely unseen side of Iceland's landscape in an attempt to raise awareness for the restoration of Icelandic wetlands in the process.
Ellert Grétarsson, based in Iceland, is a nature and landscape photographer and the author of two photography books. His current project documents the Iceland wetlands from an abstract aerial view with the aim of promoting the importance of preserving and restoring this ecosystem.
Grétarsson tells PetaPixel that it is estimated that up to two-thirds of all greenhouse gas emissions in Iceland come from drained wetlands. Thankfully, the restoration of wetlands in Iceland is a considerably fast and cheap way to reduce greenhouse emissions, which in turn is set to have a positive effect on the biosphere, birdlife, and also will improve aquatic resources.
Having already photographed Iceland for many years, Grétarsson longed to capture it from above to showcase the beauty of nature and the land, and began shooting with a drone well before aerial photography had become as commonly used as it is today.
Over the last few years, the topic of wetlands restoration had risen in importance in Iceland, which has resulted in the establishment of the Icelandic Wetland Fund, which caught Grétarsson's attention. The concerned areas hadn't been photographed much at the time — "maybe because generally people find them kind of repellent and believe there is nothing to see there," he says — which further fuelled Grétarsson's devotion to the matter.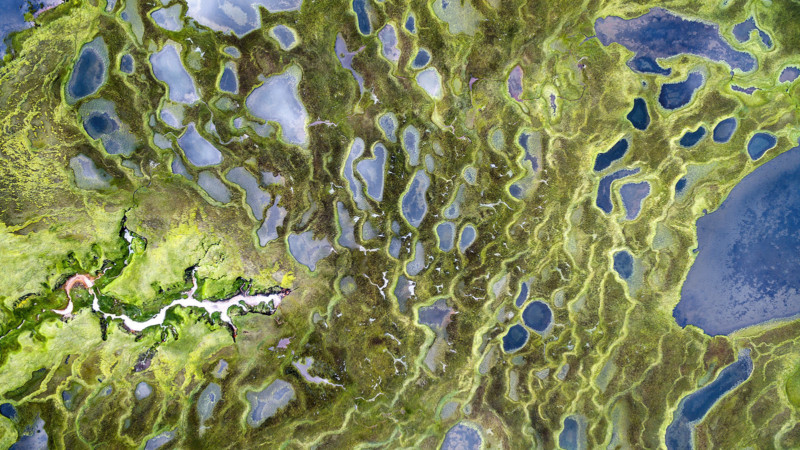 The more he explored these areas, the more he realized that they possess spectacular natural beauty and are filled with "abstract and all kinds of forms and patterns." Not just interested in photogenic locations, Grétarsson also considers himself a conservationist, after having worked in this field for many years.
With his work, Grétarsson wants to evoke emotions in people and remind them about the relationship and connection that humans share with the living world.
"It is important to understand what a privilege it is to be able to enjoy clean air and escape into pristine nature without going far from home," says Grétarsson. "This unspoiled nature is constantly under threat because of the acts of humans and their short-term thinking. Pristine nature, however, equips us with valuable resources which we are morally obligated to preserve for the coming generations. We must distinguish between waste and utilization."
With this particular wetlands project, Grétarsson used what he describes as his "old, faithful" DJI Phantom drone, which he says he hasn't upgraded to the smaller Mavic model because Phantom can withstand stronger winds.
"And, we have a lot of wind in Iceland!" says Grétarsson.
His latest camera of choice is the mirrorless Canon EOS M6. As a photographer who also regularly photographs caves, Grétarsson opted for the smaller and lighter mirrorless camera instead of carrying heavy equipment and can still utilize his older Canon lenses, he says.
Although the overarching goal of the project has been to raise awareness and start a discussion of wetlands restoration, Grétarsson is also open to the idea of turning the body of work into a photography book — the third one under his belt — or an exhibition.
"It depends on the reaction I get from my work," explains Grétarsson.
More of Grétarsson's Iceland-based work can be found on his website and YouTube channel.