Google Pixel 8 Pro Features Pixel's Best Camera System Ever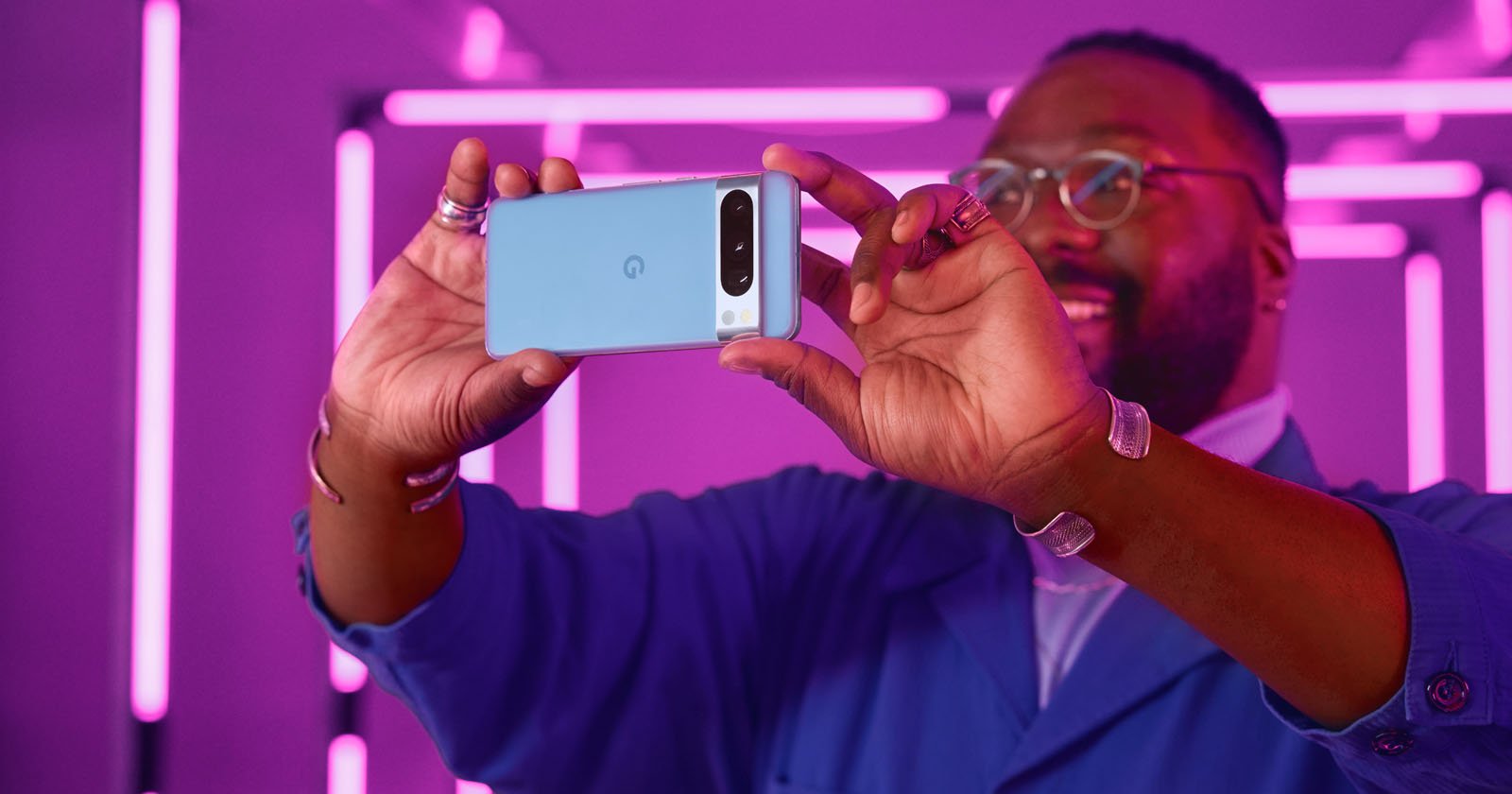 Google has announced its new flagship smartphones, the Pixel 8 and Pixel 8 Pro. Each smartphone sports the new Google Tensor 3 chip, Google's most powerful chip, and includes upgraded cameras. Google says the Pixel 8 Pro offers "the best Pixel camera yet."
Google Pixel 8
"Meet Pixel 8. The helpful phone engineered by Google, with upgraded rear cameras, powerful security, and an all-day battery," says Google.
The Pixel 8 and 8 Pro include sleeker designs that are more modern and include softer silhouettes, new finishes and colors, and upgraded materials. The smaller Pixel 8 handheld has a satin metal frame and polished glass back and has been made using recycled materials.
The Pixel 8 offers IP68 protection and is protected against "slips, spills, and dust." The device is 5.9 inches tall, 2.8 inches wide, and 0.4 inches thick (150.5 x 70.8 x 8.9 millimeters) and weighs 6.6 ounces (187 grams). The Pixel 8 is slightly thicker than the Pixel 7 but a bit narrower and about 10g lighter.
The phone has a 6.2-inch (157-millimeter) display with a 20:9 aspect ratio. The "Actua" OLED display has a 1080 x 2400 resolution, which works out to 428 PPI. It includes Google's Smooth Display technology, which varies the refresh rate from 60 to 120 Hz. The HDR display offers peak HDR brightness of up to 1400 nits and peak daytime brightness of 2,000 nits.
The Pixel 8's display is the same size and resolution as the Pixel 7's panel, but the Pixel 8 is brighter by 400 nits (HDR) and 600 nits (peak). The 7's display's refresh rate also tops out at 90 Hz, so the Pixel 8 should deliver smoother motion, primarily when gaming.
As for the Pixel 8's camera, there are some significant changes, although much comes down to improvements to the software. The upgraded rear camera includes advanced image processing, which promises vivid colors and improved details across varied lighting conditions.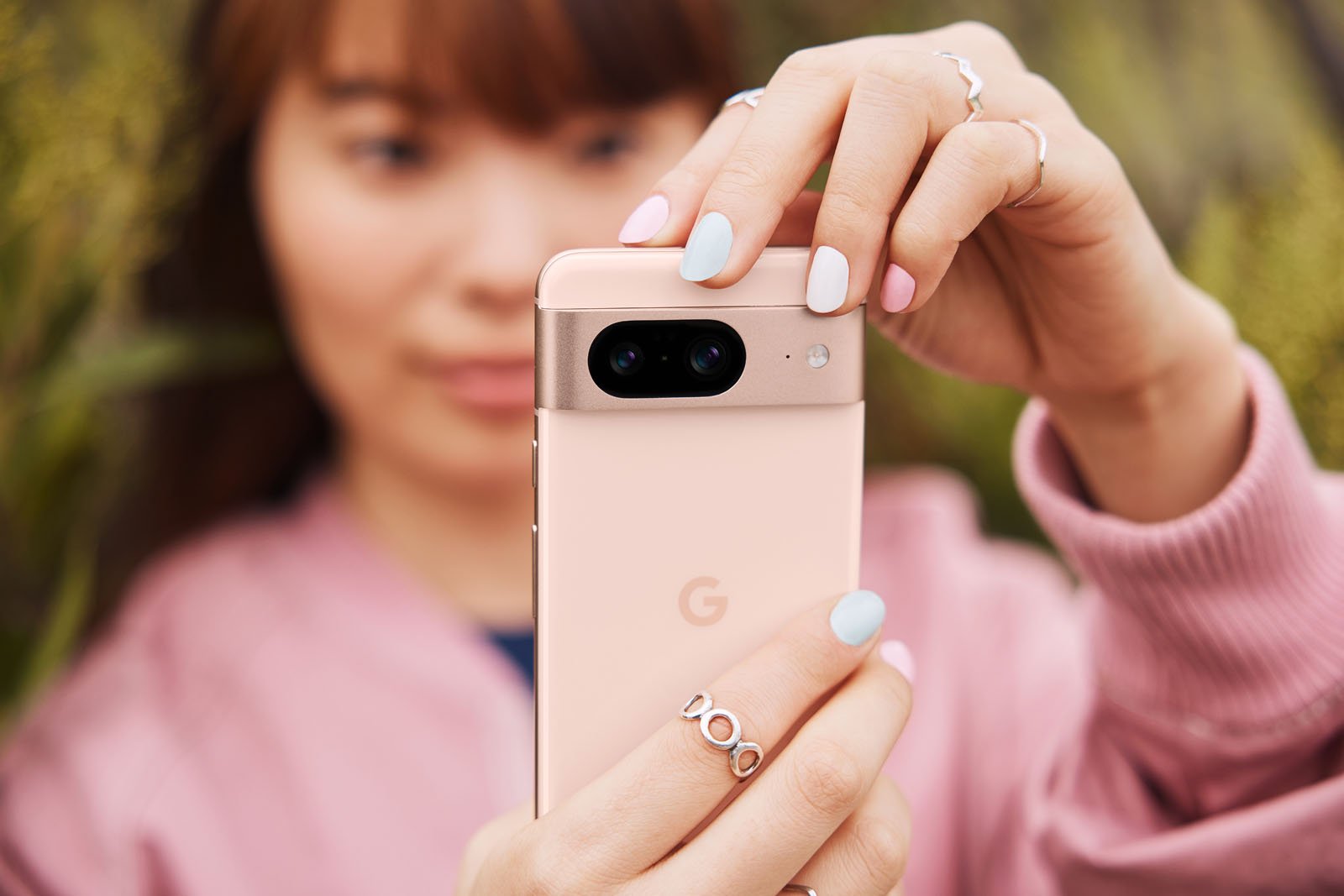 The primary rear camera remains a 50-megapixel Octa PD Quad Bayer module with 1.2 μm pixel size and a Type 1/1.31-inch image sensor. However, the lens has changed from f/1.85 to f/1.68, which should result in slightly improved low-light performance.
The standard Pixel 8 model also has a 12MP ultrawide camera with an f/2.2 lens. This is the same image sensor as its predecessor, but the lens is wider, having gone from 114 degrees to 125.8 degrees.
Although the changes to imaging specs are not especially dramatic, the Pixel 8's software is improved across the board, resulting in better images. Alongside existing modes like Ultra HDR, Magic Editor, Magic Eraser, and Photo Unblur, the Pixel 8 includes new features like Macro Focus and Best Take. Best Take combines similar pictures into one where everyone looks their best, ideal for group photo scenarios where it can be challenging to have everyone bring their A-game in the same frame.
Plus, Audio Magic Eraser for video and Magic Editor for photos helps users capture the perfect moment. Speaking of video, the Pixel 8 records 4K video at up to 60 frames per second using its rear and front cameras. Macro Focus for photos is also available for videos, and the device can record 10-bit HDR and slow-motion videos at up to 240 fps.
The Pixel 8 includes Wi-Fi 7, Bluetooth 5.3, and 5G connectivity. The device has 8GB of RAM and is available in 128GB and 256GB storage sizes. The device ships in three colors: obsidian, hazel, and rose. The Google Pixel 8 starts at $699, a $100 increase over the Pixel 7's starting price.
Google Pixel 8 Pro
"The wow of Google. The whoa of Pro," Google says. While each new phone release sees its fair share of hyperbolic marketing, the Google Pixel 8 Pro represents one of the most significant upgrades ever to the Pixel lineup.
Headlined by the new Google Tensor G3 processor and a fully upgraded professional-level triple rear camera system, the Pixel 8 Pro promises high-end performance. The device also sports a fresh design, including a polished aluminum frame and matte glass. Like the Pixel 8, the Pro is IP68-rated and suitably protected against water and dust. The Pixel 8 Pro includes Corning Gorilla Glass Victus 2, which promises high scratch resistance.
The large 6.7-inch (170mm) Super Actua display is an LTPO OLED panel with 1344 x 2992 resolution (489 PPI). It also offers a variable refresh rate from 1-120 Hz. Like the Pixel 8, the Pixel 8 Pro's display is brighter than its predecessor, offering 1,600 nits of peak brightness for HDR content and up to 2,400 nits of brightness overall, which is up from 1,000 nits (HDR) and 1,500 nits (peak) on the Pixel 7 Pro.
While the Pixel 8 shaved a bit of weight compared to its predecessor, the Pixel 8 Pro weighs practically the same as the Pixel 7 Pro. The dimensions are also essentially unchanged, although the Pixel 8 Pro is 0.1mm thinner.
Looking at the camera, the 8 Pro's primary rear camera is identical to the wide camera on the standard Pixel 8. It is a 50-megapixel Octa PD wide camera with an f/1.68 lens. The Type 1/1.31-inch sensor has 1.2 μm pixels.
The ultra-wide camera is where the Pixel 8 Pro truly separates itself from the Pixel 8 and the Pixel 7 Pro. The Pixel 8 Pro's ultrawide camera sports a 48-megapixel Quad PD sensor, an f/1.95 lens with 125.5 degrees of field of view, and a 0.8 μm pixel size. This is a big jump from the 12-megapixel ultra-wide camera on the standard 8 and last year's 7 Pro smartphone.
The telephoto camera is mainly unchanged from last year. It is still a 48-megapixel sensor with 0.7 μm pixel size and an f/2.8 lens that offers 5x optical zoom and Super Res Zoom (digital) up to 30x. Google adds that Pixel 8 Pro offers "Pixel's best zoom" yet.
Google promises a similar for the smartphone's video performance. Pixel's new Video Boost technology, coming soon, will deliver HDR+ and enhanced color grading for professional-looking videos. Further, the phone will add Night Sight Video for the first time post-launch.
In total, the list of camera features is impressive. Beyond Pro controls and High-resolution images, which are exclusive to the Pixel 8 Pro, the smartphone also includes Ultra HDR, Magic Editor, Best Take, Macro Focus, Magic Eraser, Photo Unblur, Motion Mode, Real Tone, Face Unblur, Panorama, manual white balancing, a locked folder, Night Sight, astrophotography shooting, Top Shot, Portrait Mode, Portrait Light, Super Res Zoom, Motion AF, Frequent Faces, Dual exposure controls, and Live HDR+.
The handheld offers Pro controls to ensure that users can access advanced settings and easily take advantage of high-resolution camera modes. And like its smaller sibling, the 8 Pro includes new features like Magic Editor, Best Take, and Audio Magic Eraser. It appears that pixel binning will be utilized when users do not specifically seek out high-res modes, putting the main, ultrawide, and telephoto cameras at 12.5, 12, and 12.2 megapixels, respectively.
The 8 Pro records 4K video at up to 60 fps. It will offer Video Boost and Night Sight Video after its launch, and shoots 10-bit HDR video and includes Cinematic Blur and Cinematic Pan modes. The device also shoots 240p video in Slo-mo mode and has 4K and astrophotography timelapse modes.
The Google Pixel 8 Pro starts at $999, a $100 price hike compared to last year's flagship Pixel phone, and is available in Bay, Porcelain, and Obsidian colorways. The 8 Pro includes 12GB of RAM and comes in 128GB, 256GB, 512GB, and 1TB capacities.
Lots of AI, Superpowered Software
As has been the case since the first Google Tensor chip debuted in the Pixel 6 series in 2021, Google has relied heavily upon its integrated hardware and software to deliver impressive, powerful features and a lot of AI that makes everything on the phone smarter and easier to use, whether it is clearer-sounding calls, voice assistance, or photo editing.
Tensor chips have rarely been about pure power, instead relying on efficiency and clever software to strut their stuff. However, early reports show that the Tensor G3 is a bit different — and extremely fast.
Google says that its AI capabilities have significantly improved with the Pixel 8 series. The largest machine learning model on the Pixel 8 is 10 times more complex than the largest ML on the Pixel 6. It may seem like "AI" is just a buzzword these days, showing up here, there, and everywhere, without necessarily meaning that users will receive any real benefit. However, with Pixel phones, AI is an integral part of the device's appeal and a unique selling point for Google. AI is at play across nearly every aspect of the smartphone, and Google is very thoughtful about how the AI is used.
Another vital aspect of Pixel is longevity and software support. Google has upped its promise for OS and security updates, ensuring the Pixel 8 series will receive the latest operating system updates for seven years. That is a long time. Power users may upgrade much more regularly than that, but for some people, the idea that they can use their Android smartphone for the better part of a decade without missing out on new software updates is very appealing.
---
Image credits: Google