Influencer Claims 'Mewing' is Secret to Taking Good Side Photo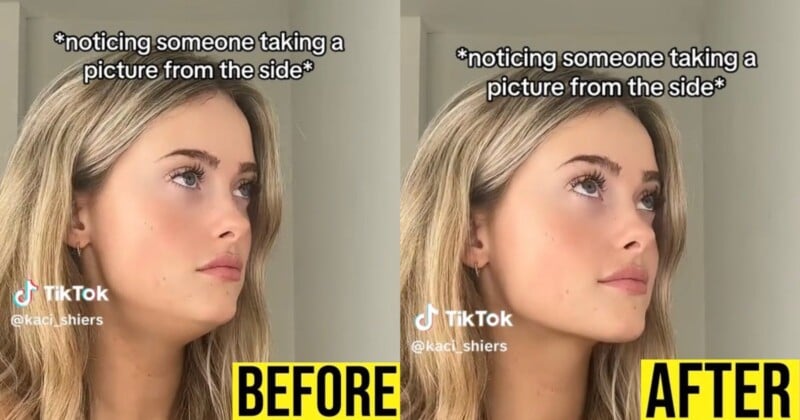 An influencer claims that "mewing" is the secret to getting a good photo from the side — and photographers may want to learn about the latest viral TikTok posing trend.
In a TikTok video, which has amassed 43.1 million views in the last month, influencer Kaci Shiers revealed how she always mews when she notices a photographer shooting her portrait from the side.
What is Mewing?
Mewing is a technique in which the tongue is placed on the roof of the mouth while the lips are closed and applying pressure to cause bony changes in the jawline.
The exercise, which has been widely shared on TikTok, is purported to temporarily give a person a defined jawline and a more flattering face shape.
Distractify reports that mewing is a posing technique often used by celebrities on the red carpet to look better in photos.
In the clip, Shiers shows how she immediately mews and presses her tongue against the roof of her mouth when she notices "someone taking a picture from the side."
As the influencer mews for the camera, her face shape appears to become visibly more defined for her side portrait.
The video received over 5.1 million likes on TikTok and Shiers showed viewers exactly how to mew in a highly-requested follow-up clip. Viewers praised Shiers: "Mewing has saved me in photos."
Why Photographers May Want to Learn About Viral Poses
Influencers often encourage fans to rehearse their poses in a mirror in the weeks leading up to a big event or wedding so that can achieve more aesthetically pleasing photos.
In addition to mewing, TikTokers often recommend individuals practice their "soft smile" for photos. Soft smiling is a technique that is used to simulate a more flattering smile in photos.
Soft smiling has been loosely defined by influencers as one in which a person's lips gently curl at the corners of their mouth, on occasion exposing a slight showing of teeth.
On TikTok, several viral videos have centered around brides complaining about how they accidentally ruined their wedding photos because they did not soft smile for the pictures.
Social media users have even argued that wedding photographers are not doing their jobs properly if they do not advise the bride on how to pose for pictures. So photographers may want to educate themselves on the latest viral posing trends on TikTok.
---
Image credits: Header photo via TikTok/@kaci_shiers.