The Free Orion App Turns Your iPad into an HDMI Display
Lux, the company behind the pro camera app Halide, has just released a new app that turns iPads into external HDMI displays. Called Orion, the app is free and works with any camera, video game console, or even VHS.
The app came about as part of Lux's investigation into Apple's external webcam support that came this past summer. While the company didn't find that what the new features enabled were a fit for Halide, it did discover that it gave them the ability to do something unique.
"We did discover that a ton of companies sell tiny, inexpensive adapters that convert HDMI signals into webcams. 'What if you could use an iPad as a portable screen?' Hmm! Intriguing. We had an idea, and we got to work. We wrote the first line of code on August 6th, we're shipping September 20th — 45 days later," Lux says.
The company says that it might sound out of place for a camera app company to make an HDMI app, but it did so because it wanted to "scratch a few itches." Lux says that it does still have a direct connection to its core competencies, however, since it is common for photographers and filmmakers to use an external display connected to HDMI.
"Orion not only gives you a bigger screen, but you can even share screenshots with your crew with a couple of taps," the company says.
"We also built this for… pure fun. When traveling with a Nintendo Switch, it's a delight to play games on a bigger screen, especially alongside friends."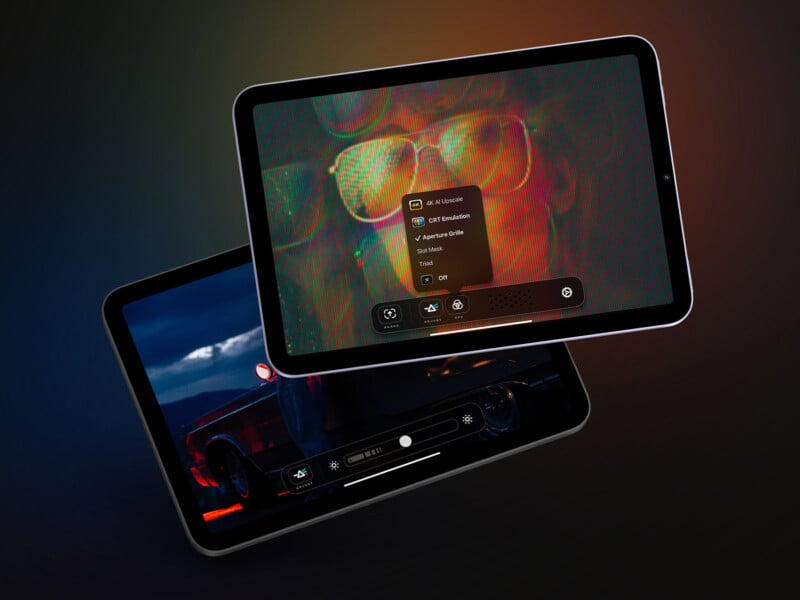 Lux says that Orion is designed to be more than just a display and actively makes images look better than they otherwise would. For example, by default, inputs can look "fuzzy" on the iPad's Retina display (the company points specifically to the Nintendo Switch again, which runs at 1080p resolution, and even if it ran higher than that, most adapters will only output 60p in Full HD).
Orion actively addresses this through its ability to sharpen low-resolution inputs using an AI-powered upscaler. The app can also allow control over the brightness of images beyond the iPad's screen brightness.
"If you're trying to view video in daylight, crank up brightness to HDR range for extra help. If you're on a late-night flight and don't want to bother anyone around you, make things darker than the iPad's darkest," Lux says.
The basic HDMI functionality is free, so it's easy to try it out to see if it's something that will work for specific use cases. Lux does charge extra for that aforementioned AI-upscaling, but it's not a high price: a $5 one-time fee. That also includes CRT emulation and image adjustments at launch, but Lux does hint it might add more down the line that those who pay the $5 would get access to.
The only "catch" with Orion is that it won't work on its own — it does require that users purchase a USB-C capture card. These aren't terribly expensive though — they run about $15 — and are certainly a lot more affordable than purchasing a dedicated external monitor, especially one the size of an iPad. All in, were someone to purchase Orion and a capture card, the total investment to get a high-quality, external HDMI display is about $20 (in addition to the iPad, of course).
Orion is what Lux describes as a "b-side" project, one that won't distract it from its flagship apps like Halide, but are fun, small, focused projects that appeal to the general interests of its users.
The Orion App is available to download now for free and is fully unlocked for a one-time $5 fee.
---
Image credits: Lux