Skydio's New X10 Drone Looks Amazing, But You Can't Buy It
Drone manufacturer Skydio has announced the X10, a drone that features "the best sensors ever" in a compact drone, resists rain, and can fly in very low light. It has all the features that would make it stand up to DJI, but Skydio won't sell it to you.
In August, Skydio bowed out of the consumer drone market to shift its focus to enterprise and public sector products. It was already making products for those segments, but its consumer-oriented Skydio 2+ Starter, Sports, Cinema, and Pro drone kits weren't carrying enough weight to rationalize keeping them around, so the company chose to shutter that end of the business and focus its efforts.
The first major release since that decision is the X10, and as The Verge notes, it includes basically everything a pilot would want in a compact drone and more. Unfortunately, due to its aforementioned decision, Skydio won't sell it to you.
"It packs more capability and versatility in a smaller and easier-to-use package than has ever existed," Skydio claims.
The X10 promises "the best sensors ever in a drone this size," which includes a 640 x 512 radiometric thermal imaging camera that promises maximum sensitivity, a Type-1 50-megapixel sensor with a custom wide-angle lens, and a 64-megapixel "narrow-angle" camera. It can read a license plate from up to 300 feet away and identify cars from three miles away.
The camera is fast to deploy, too. The company claims it can be taken out of a bag and put into the air in under 40 seconds. The X10 is IP55 rated, described as "quiet," and resistant to electromagnetic interference, allowing it to fly close to power stations, electrical transformers, or high-tension wires.
Similar to Sony's Airpeak, the X10 is a "modular platform" that can be expanded upon with various sensor packages and attachments.
Skydio says that the drone can be commanded from up to 7.5 miles away with an "ultra bright" controller, uses a multi-band option for operations in "contested" environments, and an optional 5G connection allows it to work anywhere that gets a cell signal and can be controlled from a computer via an internet browser.
The X10 can even fly autonomously in extremely low light thanks to what Skydio calls "NightSense."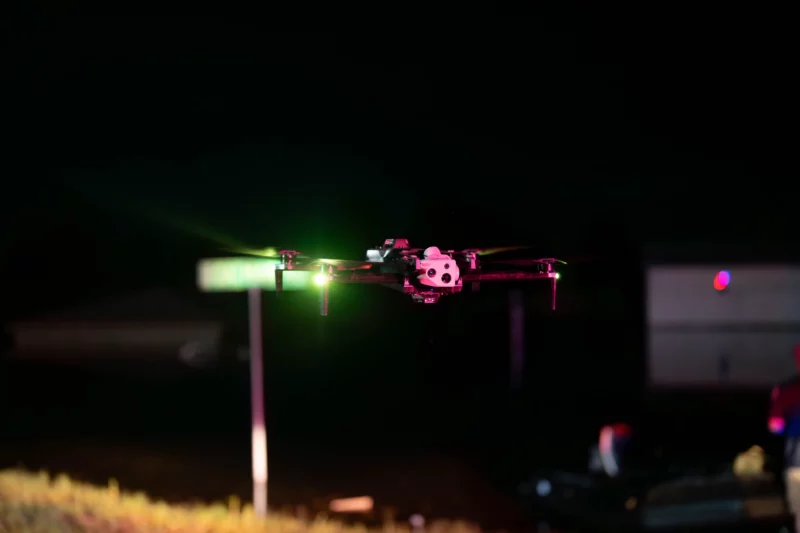 "We built these capabilities because we envision a world where drones themselves become basic infrastructure, providing a perfect digital picture in real time of the things that matter most to those who need it," Skydio says.
All of this capability is being provided to the police, the military, and other public service organizations, which is a shame because a lot of this technology would be very useful to photographers and filmmakers. Alas.
---
Image credits: Skydio