Infrared Photos of New York City Show the Big Apple in a Different Light
Like Paris, where I live, New York is one of the most photographed cities in the world. Creating an original photo series is therefore a major challenge.

I spent 15 days working to create original, photojournalistic images of New York City without depending solely on the infrared photography look that I specialize in.
INFRA NYC: Back to the World-City
After my stay for a few days in June 2019, I had to wait three years before being able to return to New York due to professional reasons. But this time I had no other obligation than to take pictures while walking the streets of New York. I still, however, had to go through a phase of "digital planning" to put together a daily program for documenting this immense city.
After the essential planning and organization phase was completed before my departure, I only had to choose the program of my choice every day based on the weather that day… and my exhaustion level. Even though NYC has a dense metro network, walking remains the best ally of urban exploration. And with nearly 118 miles (190km) to be covered during my two-week stay, my legs were in for a lot!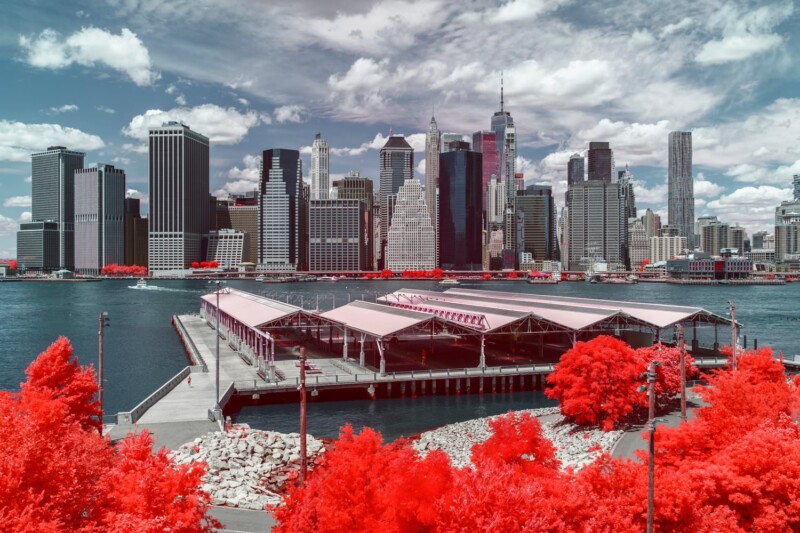 The Choice of Optimal Photo Equipment
The most important choice I had to make before flying to New York was for what equipment to bring. You naturally don't want to miss any subject, so it can be tempting to bring as much gear as possible. However, I wanted to keep it simple and straightforward by only taking three lenses: a 20mm shift, a 35mm, and a 100mm paired with my Canon R5C.
My choice to be restrictive in what I carry pays dividends in practice, by reducing the weight of my camera bag and therefore helping me to conserve more energy. Then, by keeping my eyes focused on framing the world, I can make choices quickly and get straight to the point.
The choice of lenses also allows me to cover the majority of subject matters that are of interest in New York City: architecture, street photography, urban details, and panoramas.
Photography is a sum of choices to be made quickly so as not to miss the moment. The faster the equipment choice is made, the longer you can take to build your images behind the viewfinder.
My camera bag therefore consisted of:
Canon R5C converted full-spectrum + RF-EF drop-in adapter
Laowa 20mm F/4 Shift
Canon EF 35mm F/2 IS USM
Canon EF 100mm F/2 USM
550nm infrared drop-in filter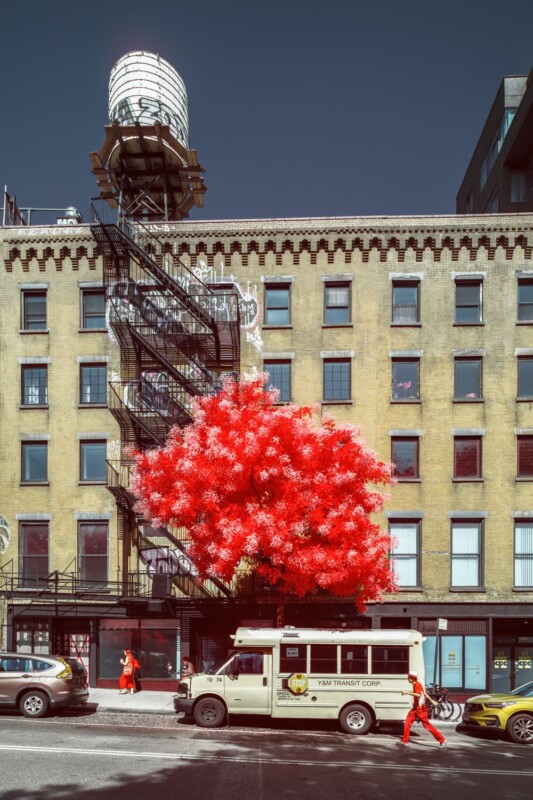 New York in Infrared: Beyond the City, Nature
The main objective of my INFRA NYC series was to offer points of view as varied as they are original by including as much nature as possible in the frame.
Even though Central Park ranks at the top of the city's iconic places, nature in New York is not limited to those 340 hectares planted in the middle of Manhattan. So I had to take a step back to go beyond easy compositions and do real research around natural locations. Those locations help justify the use of the infrared technique, which beyond the simple pictorial aspect gives vegetation a look that raises it to the same level as the skyscrapers in my images.
I also sometimes enjoyed just focusing on urban areas or human activity rather than on nature, to accentuate the contrast of scale and as a reminder of how New York continues to command our attention.
---
About the author: Pierre-Louis Ferrer is a professional infrared photographer who aims to reveal the world beyond the visible. The opinions expressed in this article are solely those of the author. To learn more about infrared photography, you can take his infrared workshop in Paris. You can find more of Ferrer's work on his website, Behance, Facebook, and Instagram.