Leica's 4K Projector is Coming to the US in September Starting at $8,995
Leica's first-ever home entertainment system, the Leica Cine 1, is coming to the U.S. market this September starting at $8,995. It is the first in a new product category that the company says it is committed to expanding.
As PetaPixel previewed at CES earlier this year, the Cine 1 incorporates three lasers — one each for green, blue, and red — to broaden the color space compared to a standard TV. The result is not only a very large picture (100 or 120 inches depending on the model) but also the promise of bright and color-accurate projection with a lifespan of 25,000 hours.
Leica first hinted that it would be entering the home entertainment space about a year ago when it announced that it had partnered with Hisense to expand into the laser TV market. While Leica is no stranger to licensing its brand name out for use on products, the Cine 1 is actually a true partnership with the Chinese television manufacturer, and the company is actually involved in the manufacture of the Cine 1.
Laser TV is a fancy term for a projector and the Cine 1 is what is known as a short-throw projector, meaning it sits fairly close to the wall where it projects an image rather than on the other side of the room, such as the case with movie theater projectors.
Leica says that the Cine 1 uses its own image processing (called Leica Image Optimization, or LIO) to assure picture quality is optimized via "special algorithms" that allow it to achieve natural color reproduction, detail color gradations, and excellent contrast.
The Cine 1 is an entertainment system that anyone who has used a modern smart TV would be familiar with. It runs Google TV, which is expected given Hisense televisions also use that operating system, and supports Dolby Atmos sound. It has the typical run of ports as well, including HDMI (caps at 4K 60p) and USB.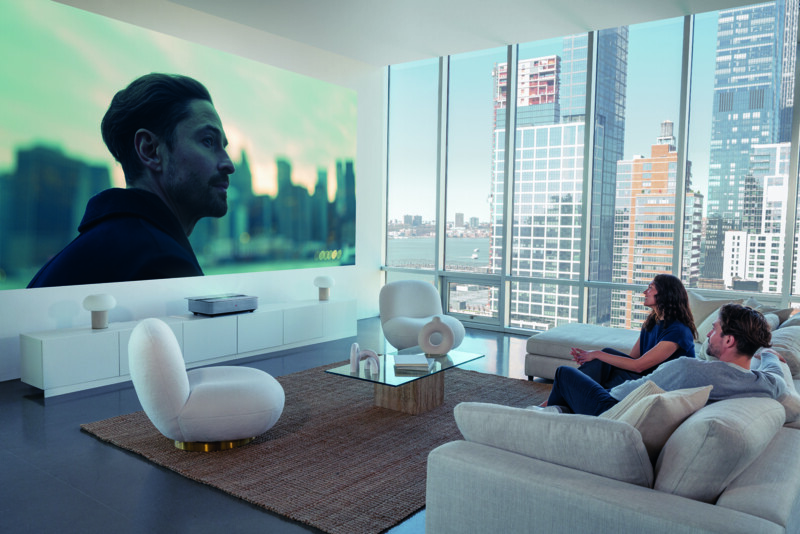 Leica claims that watching a projector is less fatiguing than a conventional television, which allows for longer watching sessions at home. Beyond that, the German camera company says that it consumes significantly less energy than other high-end televisions like an OLED, especially against those of comparable size.
The Leica Cine 1 will be available on September 6 in two sizes: 100-inch and 120-inch. The 100-inch model will retail for $8,995 while the larger 120-inch model will cost $9,495.
---
Image credits: Leica