Revered Landscape Photographer John Fielder Dies After Cancer Battle
Respected Colorado nature photographer John Fielder has died aged 73 after a long battle with pancreatic cancer.
In January, Fielder donated almost 6,000 of his photos to the public domain, entrusting it to History Colorado.
His daughter Katy Fielder confirmed his passing to the Summit Daily and Governor of Colorado Jared Polis released a statement.
Colorado's Most Famous Nature Photographer
John Fielder prided himself on having traveled to each of Colorado's 104,984 square miles over a career spanning 40 years.
According to the Denver Post, Fielder began taking photos with a Kodak Brownie Box camera before emarking on a professional photography career in 1982 when he published his first book, Colorado's Hidden Valleys.
By the end of his career, Fielder had published 50 books selling one million copies. PetaPixel recently reported on an interivew he gave reflecting on his career.
"My goal was always to reveal and preserve the essence of the place that I think is the most beautiful on Earth: Colorado," Fielder said.
"I am humbled that these photos have inspired others and spurred the passage of numerous environmental."
We are heartbroken by the passing of our dear friend John Fielder. He passed on Friday, August 11th surrounded by his loving family at his home in the Gore Mountain Range of CO.

Learn more at: https://t.co/JzFfbQvv6A

Image: Reflections at the Uppermost Pond in Sunlight Basin. pic.twitter.com/X37Mui2cbb

— History Colorado (@HistoryColorado) August 13, 2023
After his remarkable contribution to the public domain, the History Colorado Center opened an exhibition of his work not long ago and he gave Gov. Polis a personal tour of his work.
"His unique talent allowed him to showcase our state to millions and he will be dearly missed," says Gov. Polis.
"My condolences to his family and friends. I hope that we can all follow his example to appreciate and care for our outdoor lands."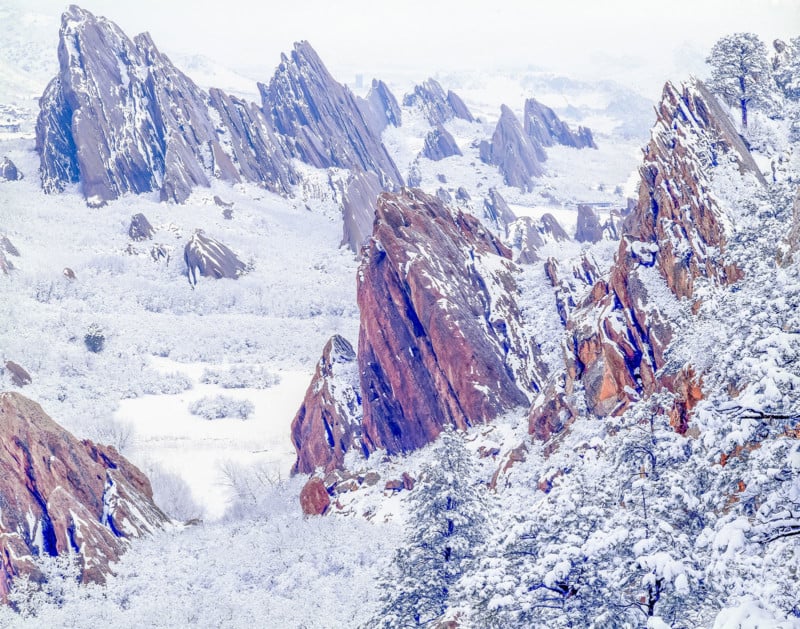 In his lifetime, Fielder showed that photography can be a powerful influence. In 1993, it was his pictures that helped pass the Colorado Wilderness Act which created 36 federally protected Wilderness areas that amounted to 660,000 acres.
Fielder, who lost his wife Gigi to Alzheimer's disease in 2005, is survived by two daughters, Ashley and Katy, as well as six grandchildren.
"[He] left this world very peacefully, looking out at his beloved Gore Range with our family by his side," adds Katy.
---
Image credits: Photos by John Fielder.