Using Manual Focus on a Commercial Photo Shoot: Try It At Your Own Risk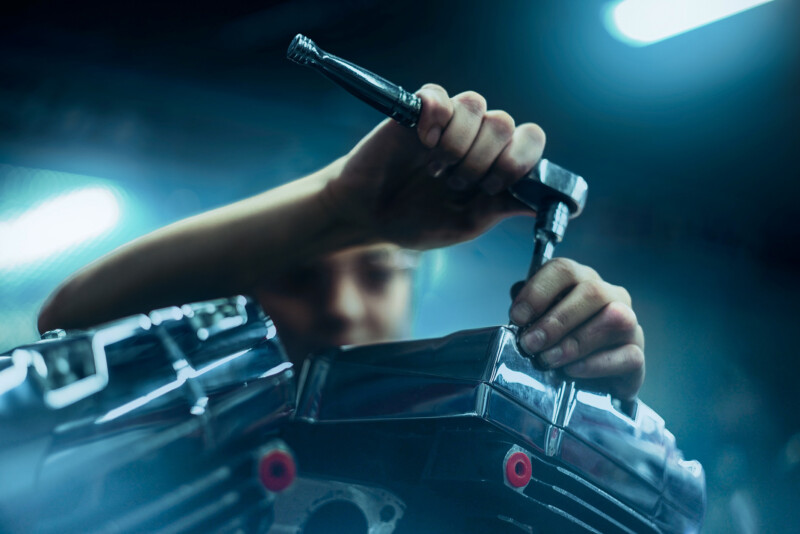 There's something about the passion that exists between a mechanic and a motorcycle. Their hands and tools are their paintbrushes, and their grease-stained nails are their paint. I was fortunate to witness them create their art and document it all while creating my own.
Truth be told, I have never been one to fix or repair any type of automobile (motorcycles included). Yet watching and photographing the mechanics work on the bikes was like witnessing somebody speak a different language. There was purpose and intent, and even though I didn't understand it, it was beautiful.
The photoshoot took place at locations across the country, and even found me in the paths of not one, but two hurricanes during the production. This is just one example of what went into creating a successful photoshoot. In many ways, it was beneficial for me not to know what was going on, as it let me focus on the form and the art that existed before me rather than trying to force mechanically correct images.
We knew that within the environments of a mechanic shop, or even an educational setting, depth of field and lighting would be our strongest adversaries. For that reason, most of the campaign was shot with prime lenses (usually at some of their widest apertures). At the same time, the lighting was a balance between ambient and strobe, as this campaign did not allow for an extensive setup— we delivered over 200 images, all fully produced. To call this a feat is an understatement.
One of my favorite things about this shoot, and any other, is going home (or back to the hotel) after each day completely exhausted. I take pride in knowing I've given everything I could, mentally and physically, to a shoot. I can still remember one of the nights that we were in New Jersey — I got back to the hotel late, started backing up files, and laid down at the foot of the bed. As if I'd only blinked, I woke up to my alarm the next day needing to return to the set.
Being so focused on production and execution is the ultimate use of energy that leaves me drained at the end of each day in the most rewarding sense. I remember hitting over 15,000 steps on my Apple Watch throughout this campaign. While it was exhausting, I absolutely loved it.
Shooting manual focus lenses for such an extensive campaign is taxing, but the character and depth they produce makes the images that much richer. What matters most for a commercial photographer is that we create art and the client gets the shots they deserve. In many ways, this is the contract that exists between a creative director and a photographer. Ultimately, we are there to execute the vision they have created in their mind and storyboarded for the campaign.
Bringing ideas to life through the images I get to make is one of the most rewarding parts of my job. And this is one of the reasons using a manual focus lens is worth it, too—even though it requires more time and precision, it ultimately creates images that really speak for the subject matter. For a story that is a mechanic and his craft, capturing the details was important and something I really wanted to bring to life in photos. Honing in on the specifics, as well as the relationship between the mechanic and motorcycle, produced images that really brought the experience to life.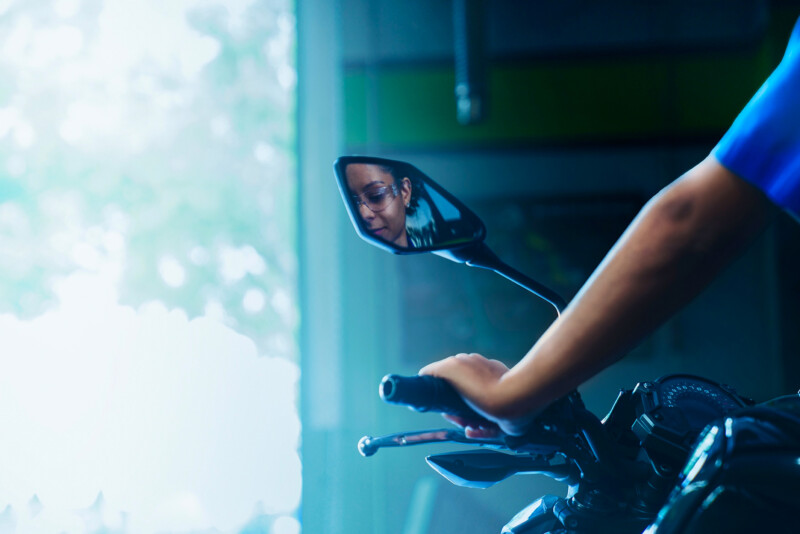 Whether during practice for a photoshoot or on a large campaign, I challenge you to slow yourself down and shoot a manual focus lens. It will allow your eye to see the world differently and less algorithmically than a current autofocus lens will. You explore the form and light on a subject differently when you can push and pull the focus ring through the plains that exist in the image. What results is nothing less than art; a balance of soft light sources blurred from the depth to your subject, and complex lens character that will set a campaign at a higher level.
Creating images of mechanics through the lens of such shallow depth was as if two musicians were playing music together. Their work on the motorcycles lived as the beat, while how we photographed them existed as the harmony. It was an expressive dance that resulted in many pieces of absolute beauty, and as with any successful photoshoot, the time and energy put into creating these images was incredibly rewarding.
Now that you have a bit of backstory behind the campaign, I hope you're inspired to play with your lenses and see what details come to life in a way you wouldn't expect. The practice that goes into it will be worth it, and it just might be the rhythm you've been looking for.
---
About the author: Blair Bunting is a Phoenix commercial photographer. You can see more of his work on his website, blog, Facebook, and Instagram. This story was also published here.