Popular Photo and Video Editing App Darkroom Integrates with Leica FOTOS
Leica's FOTOS app, the company's free and universal smartphone app that works alongside Leica cameras, is now integrated with the popular macOS photo and video editing app Darkroom.
Darkroom Collaborates With Leica
Per 9to5Mac, the integration between Leica FOTOS and Darkroom is "seamless" and wireless. Darkroom version 6.4 allows users to select FOTOS as their preferred Camera app and jump directly to FOTOS during an editing session. Similarly, the developer says photographers can instantly jump from previewing a photo in FOTOS to editing it in Darkroom with one tap.
Alongside the new Leica integration, Darkroom has introduced new app icons, including one inspired by Leica's iconic logo.
"To celebrate the occasion, we also included three new app icon variants available to our Darkroom+ members for their textural enjoyment: Red Dot pays homage to the craft of Leica, Highlight pairs with our previously released Shadow, and Macintosh is a nostalgic and skeuomorphic nod to the granddad of modern computing," says Darkroom.
"As admirers of Leica's passion for creating unique images and commitment to quality and expert craftsmanship in both digital and analog cameras, we are honored to collaborate with them to provide an even better mobile photography workflow for photographers," the company explains.
Photographers can seamlessly send images from FOTOS to an Apple device's photo library, which, if synced with iCloud, could also be accessed from macOS, where users can edit images on Darkroom on their Mac.
Darkroom includes many powerful image editing features, including 16-bit RAW photo editing, AI-powered Depth Editing and Smart Object Detection, a comprehensive digital asset management suite, 4K video editing and color grading, and more. Its developers view Darkroom as an alternative to Adobe Lightroom, PicsArt, and Canva.
Darkroom's Incredible Origins
Darkroom won one of Apple's prestigious 'Design Awards' in 2020. However, while its performance and features are impressive, the story behind the app's creation is also incredible.
Syrian-born developer Majd Taby created Darkroom. After launching the app in early 2015, Taby joined friend and photographer Sara Kerens on a trip to document the ongoing Syrian Refugee Crisis.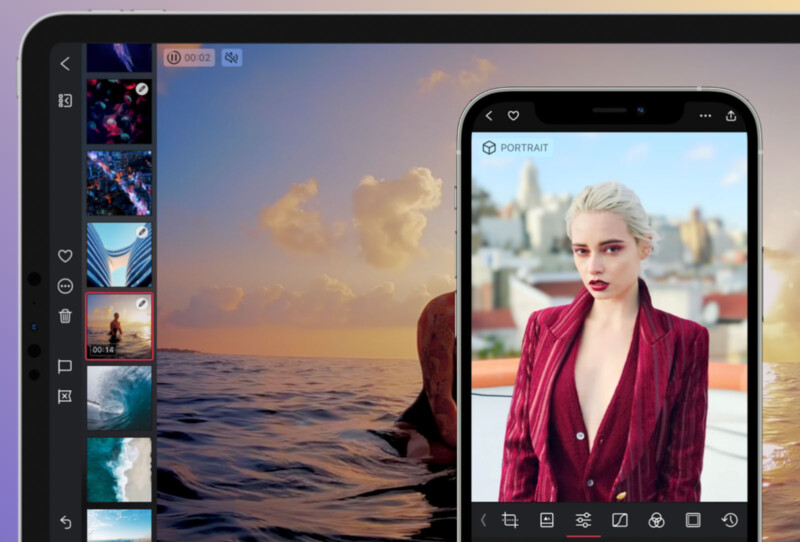 "We spent 10 weeks documenting the crisis at its peak across all of Europe, and upon returning, I had tens of thousands of RAW files that needed to be culled down into 250 of the best ones for placement in [a] book," Taby told PetaPixel in 2020. "That experience gave me a really deep and personal understanding of the workflows of professional photographers and editors, and provided the insight that allowed Darkroom to grow into mobile photo editing powerhouse it is today."
While it's easy to take good mobile photography software for granted now, back in 2015, Darkroom was groundbreaking for its ability to provide lossless photo editing with genuine editing tools, not just filters.
Introducing Mask Previews
Beyond the Leica FOTOS integration, Darkroom has also announced Mask Previews. After launching Masks last year, Darkroom has heard from users that there are some pain points when working with multiple mask adjustments on a single photo, so the team has completely revamped its Adjustments tool, "the one with all the sliders," as Darkroom describes it.
On Mac and iPad, masks are available in-line, whereas they used to be shown with a menu popover and thumbnail previews. On iPhone, there's still a mask preview thumbnail. "This update will improve the efficiency when editing photos with multiple masks. Previously, if you added more than one linear mask for instance, you had no clear visual way to differentiate between them, leaving you to hunt around for the right one," Darkroom explains.
Masks are a powerful way to perform local edits and adjustments to images. They're an essential tool for many photographers, and with today's update, masks are much easier to work with in Darkroom.
What's Next for Darkroom and How to Get the App
Long story short, since then, Darkroom has continually grown and evolved, and many other exciting new features are in the works for the rest of 2023, including improved syncing, a new render engine, interface improvements, and more AI-based tools.
Darkroom is a free app, although Darkroom+ is a paid upgrade. Darkroom+ is a membership program that provides access to the app's premium editing features, including color grading, local adjustments with AI-powered masks, video export, flagging, watermarking, curves, more robust color editing tools, premium presets, and more.
Darkroom+ is available as a monthly or annual subscription for $6.99 or $2.75 per month, respectively. Users can also buy Darkroom+ forever with a one-time purchase of $74.99. Additional information is available on Darkroom's website.
---
Image credits: Darkroom