Photographer Captures Gorgeous Photos of Fall Colors in Patagonia
OM SYSTEM Ambassador and travel photographer Frank Smith has been capturing the diverse beauty of the world for decades. Whether it be through his photographs of people, cultures, or nature, Smith is a passionate and accomplished storyteller. However, documenting the fall colors in Patagonia had been one story that had eluded Smith for years.
---
Full disclosure: This article was brought to you by OM SYSTEM Cameras
All photos were captured with the OM SYSTEM OM-5 camera unless otherwise noted.
---
That all changed in April of 2023 when the opportunity presented itself for the Pennsylvania based photographer to join a last minute expedition to one of the most photogenic places on the planet, during its most dramatic season.
Mindful of the rugged and hard to access terrain that Patagonia is known for, Smith packed his compact OM SYSTEM OM-5 camera and boarded a flight to the southern shores of South America.
Patagonia is not a country, but rather a geographical region that spans over 400,000 square miles at the southern tip of South America. The area includes land that lies in both Argentina and Chile, as the southern Andes Mountains give way to countless lakes, fjords, glaciers, and temperate rainforests in the west and desert and steppes to the east.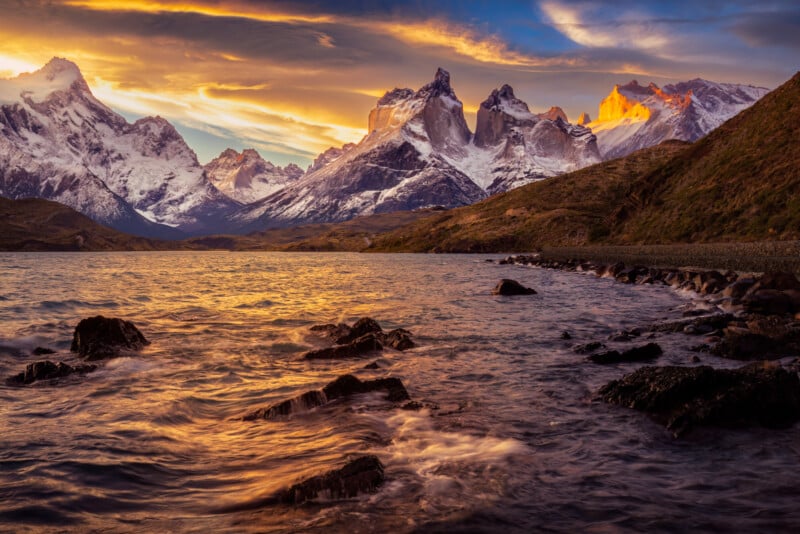 While all of Patagonia is worthy of an extended road trip, most photographers and hikers flock to two specific locations: Chile's Torres del Paine National Park and the Argentinian village of El Chaltén. This small village serves as the basecamp for adventure seekers who wish to visit the Perito Moreno Glacier and the mountains of Cerro Torre and Fitz Roy, the latter of which the clothing company Patagonia displays in their logo.
A 250 mile drive to the south leads visitors to Torres del Paine National Park, which is regarded as one of the most stunning National Parks in the world. In 1978, the park was declared a biosphere reserve by UNESCO, and it's easy to see why. The scenery includes massive vertical granite peaks, rivers and lakes filled with vibrant blue water, and wildlife consisting of guanacos, foxes, and pumas.
While almost anyone can capture exceptional photos from the park's main roads, the most spectacular views require a fair amount of hiking, and this is where Smith began his photography adventure.
"I had never been to Patagonia before, but I have studied the region extensively," Smith tells PetaPixel. "I knew I should expect harsh weather, but it was even more crazy then I could have imagined. One minute it's blue skies and sunshine, the next minute you are in a blizzard, before it eventually turns into sideways rain. And it feels like a constant windstorm. But I learned quickly, if you lean into it, roll with the punches, and be patient, the rewards are well worth the pain."
For Smith, many of those rewards came in Torres del Paine. "While it's true that you can travel to Patagonia in more comfortable seasons, I had two goals in mind for my first visit to Patagonia," Smith says. "The first was fall colors, and the second was snow capped mountains. April is the perfect time to find both of these together."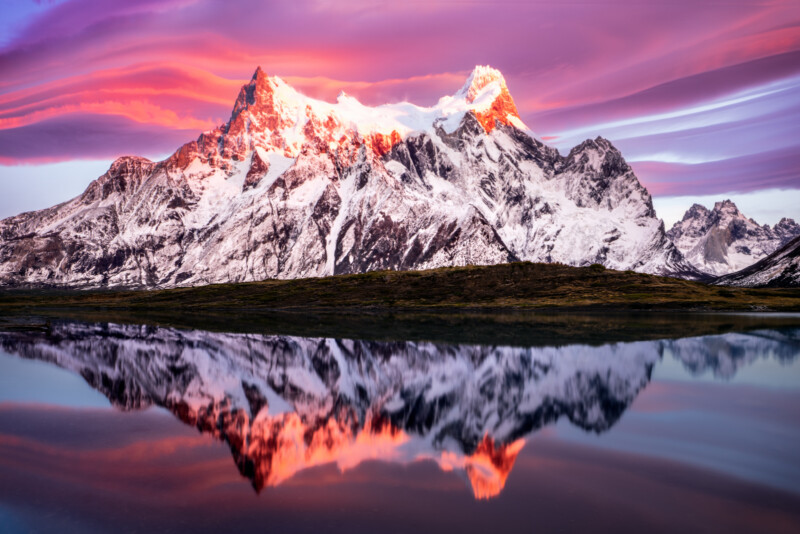 Smith arrived in Torres del Paine and checked in to his hotel, which would be home for the next four nights. As with most things in Torres del Paine, even the hotel was incredible. "The first thing that blew me away during the trip was actually walking across a wooden footbridge to check into that first hotel," Smith describes. "There isn't much in this remote national park, but somehow there was this incredibly charming hotel that sat right on Lake Pehoé, with, arguably, one of the best views in the park. I knew right then that this was going to be a special experience. Little did I know that I was about to capture dozens of portfolio worthy images with my OM-5 camera in Torres del Paine"
For Smith, and most landscape photographers, dramatic weather leads to better images, and few locations bring the drama quite like Patagonia. "The contrast of weather that I experienced was almost unimaginable," Smith says. "Most normal people wake up in the morning, look outside, see dark clouds and grumpily go back to sleep. Us photographers jump out of bed and grab our gear, as we know that these are the conditions that can lead to vibrant sunrises and shafts of early morning light that contrast against the shadows of the landscapes."
It wasn't just the sunrises and sunsets that brought Smith to Patagonia. Being so remote, the entire region has very little light pollution, which, on a clear night, can lead to some of the brightest night skies in the world. "We set our alarms for about 3am to check the cloud cover. As is common in Patagonia, there were indeed clouds, but not enough to deter us from pressing our luck and heading out to photograph the Milky Way. After a hike in the dark, I set up my tripod and stared up at the sky above. Seemingly on cue, the clouds began to disperse and the Milky Way appeared. With the exception of Mongolia and the Atacama desert, I had never seen the Milky Way like this before."
With some of his favorite Milky Way photos now embedded on his camera's memory card, Smith began to pack up his backpack as the morning twilight began to overcome the small group. "All of a sudden, the local guide that we had with us told me that we weren't going anywhere," he says. "At first, I didn't know why. But as the light continued to brighten, I quickly understood his reasoning. We were standing on a beach, seeing a jaw-dropping landscape appear in front of us. Being that he was a photography guide, he knew exactly what was about to come. As the sun began to crest unseen over the far horizon, the sky absolutely exploded into a sea of pink and purple above the sunlight that hit the dramatic peaks in front of us."
"I was already excited to have some portfolio worthy Milky Way images, but to experience that sunrise from the same exact spot immediately after was absolutely nuts. Thinking back over my landscape portfolio, I have photos with dramatic mountains. I have photos with dramatic skies. I have photos with dramatic reflections. But to have them all come together in one scene was just magical."
Smith came to Torres del Paine with a specific goal in mind for how he wanted to capture these postcard worthy landscapes. "Having scoured images of this region for years, I knew that the landscapes were big. There are so many foreground elements to play with and huge backgrounds of granite mountains and glaciers that rise thousands of feet above where my camera sat. So I wanted to really let my viewers see all of it. And the best way to do this, I thought, was by using the built in High Res Shot in my OM-5 camera."
OM SYSTEM cameras have a number of conceptual photography tools built right into the body. Pro Capture mode is ideal for photographing fast moving wildlife, Live ND mode replicates an external ND filter, and Live Composite Mode is a game changer for capturing star trails, fireworks, and moving clouds.
For his trip to Patagonia, Smith was focused on using the OM-5's High Res Shot feature, which creates 50 or 80 megapixel, ultra high-definition images by compositing eight or 16 raw files. High Res Shot has two options for the photographer to choose from when initiated: handheld or tripod. While on a tripod, the OM-5 can capture gigantic 80 megapixel images, but for those moments when a photographer can't use a tripod, they can still capture 50 megapixel images using the handheld mode.
"As a fine art landscape photographer, I do sell a lot of prints of my work," Smith states. "So having those super sized images allows me to print my work at virtually any size, and be confident that the clarity and sharpness will look great. Also, having that much real estate in an image file allows me to make countless compositions by using cropping. For instance, I loved this wide, 80 megapixel image of the purple hues in the sky as the morning sun lit up the mountains in Torres del Paine. However, I was really drawn to the two peaks and the reflection that they cast. By cropping in and eliminating almost 50% of the image, I was able to create an entirely new experience for my viewers, while still having a crisp image."
Even with the ability to crop in tight, Smith says that one should not underestimate the need for a telephoto lens when they visit Patagonia.
"There were so many scenes in Patagonia that really came alive when I put my M.Zuiko Digital ED 100-400mm F5.0-6.3 IS on the camera," Smith describes. "Of course, if time was limited and the light was moving fast, I opted for capturing wide angle photos with the M.Zuiko Digital ED 8-25mm F4.0 PRO and relying on the megapixels that I got from the High Res Shot to get in tighter. However, if I had time, I would put the 100-400mm on to get a telephoto look at these incredible scenes. So instead of having a slightly downsized image of a tighter scene, I could maintain the 80 megapixels I was getting by using High Res Shot on my tripod, but with a close up view of the subject."
"When I first saw the way the clouds hovered over this mountain range, I wanted to capture the scene as I saw it, so I used the wide angle lens," he continues. "However, I couldn't stop looking at the way the sun was lighting up the rock face as the shadows consumed the snow and ice-covered peaks in front, so I quickly changed to the telephoto. I was standing in the same exact spot for both images, but they tell very different stories to the viewers."
Smith also says that the telephoto lens would come in handy while capturing timelapse clips in Torres del Paine. "Patagonia has some of the most incredible clouds I have ever seen, so I knew that capturing timelapse clips would add motion to the stories I wanted to capture. While there was nothing wrong with the wide angle timelapses that I captured, the telephoto clips seemed so much more dramatic. You can really feel the cold and the wind when you get in close to these peaks and watch the clouds dance around them."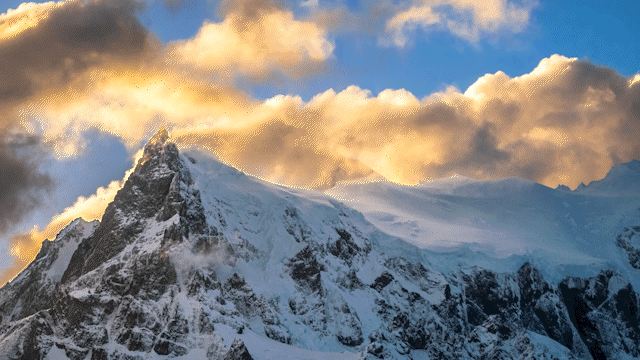 Wildlife is not something that Smith had expected to see while in Patagonia, but he was treated to some memorable sightings, even if the elusive puma never made an appearance. "These were just more moments that I was happy that I had my M.Zuiko Digital ED 100-400mm F5.0-6.3 IS at the ready in my backpack, like when I captured a guanaco posing for me in the setting sun. "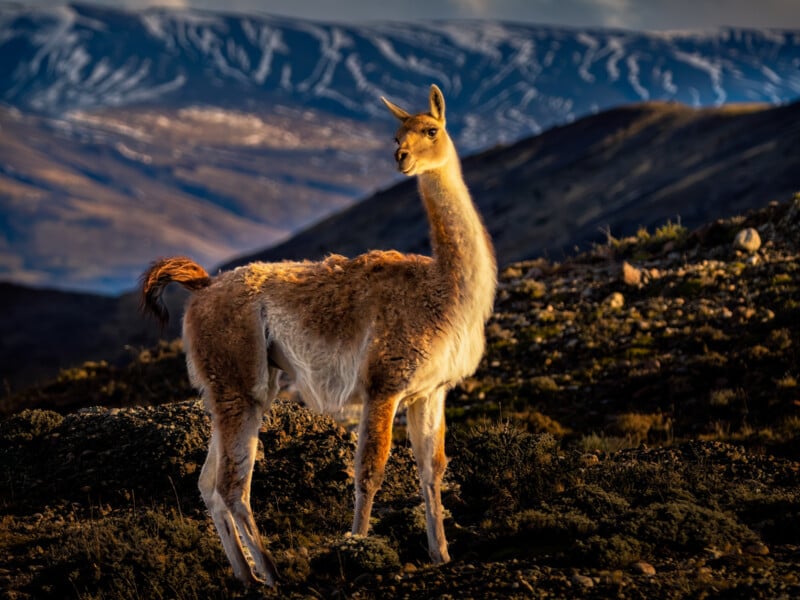 Smith relies on details to tell stories of the landscapes he visits, and a day visit to the Perito Moreno Glacier provided that opportunity. After crossing the border from Chile into Argentina, Smith arrived at the massive wall of ice that lies in Los Glaciares National Park. The ice formation is 19 miles in length, covers 97 square miles, and is one of 48 glaciers that extend from the Southern Patagonia Ice Field. The glacier is one of the most unique in the world, in that, as most of the world's glaciers are retreating, the Perito Moreno Glacier is not.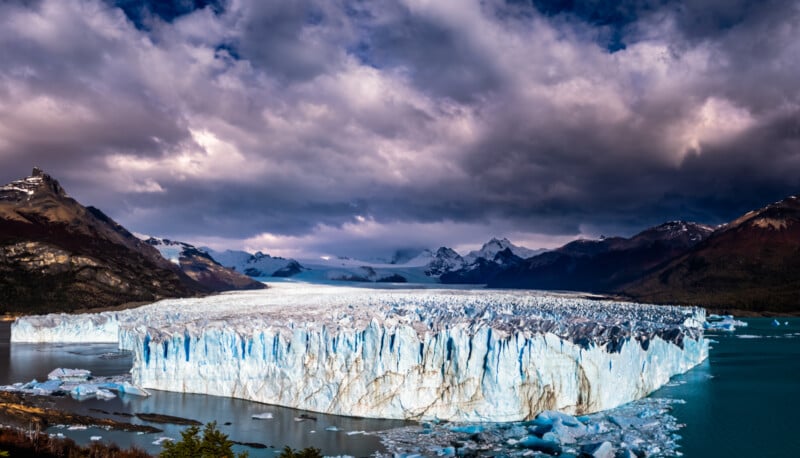 "The Perito Moreno Glacier was truly remarkable," Smith describes. "You really can't envision how big it is until you lay eyes on it. This was one of those times I had to remind myself to practice patience, as the majority of the time that we were there, the glacier was in deep shadows. I found the composition that I liked, had all of my settings dialed into my OM-5, and I waited. And waited. And waited. But eventually, the clouds behind me broke for just a minute or two, basking the glacier in sunlight as the surrounding frame was filled with moody black clouds and shadows."
"As soon as I captured it, I knew I had the shot that I wanted. However, even though I love that shot, it can't really convey the enormity of it. I knew there was more to the story, and being that the glacier is one of the rare ones that isn't retreating, I focused my lens on the chunks of ice that had recently separated from the glacier. While it is impossible to show the glacier replenishing itself in a still photograph, I wanted to tell at least half the story of the circle of life that occurs on this remarkable glacier."
From the Perito Moreno Glacier, Smith traveled north to the village of El Chaltén, which sits at the foot of the imposing and awe-inspiring Mount Fitz Roy. While some photographers who choose to visit this legendary mountain in autumn never actually see the mountain, Smith's run of good fortune continued.
"I couldn't believe how beautiful of a mountain it was the first time I saw Fitz Roy from the road. I know photographers who saw nothing but a wall of clouds on their visits to El Chaltén, so I was surprised to not only see the mountain, but there was not a cloud in the sky."
Smith wanted to convey the story of the adventure-filled rush that he was feeling, so he quickly stepped off the side of the road with his M.Zuiko Digital ED 8-25mm F4.0 PRO and captured a wide angle photograph of the remote S-Curve road leading to the iconic mountain range in the distance as the sun began to set.
Smith loved the location so much, he returned the next morning to capture the scene as the morning light lit up Fitz Roy.
"Once again, I couldn't believe I had this view without clouds covering Fitz Roy," he says. "Normally, I desire lots of clouds for drama in my photographs, but since this is such a rare sight, I decided to embrace the almost cloud free sky. As I was setting up however, I noticed this interesting looking fence off the side of the road, so I attached my M.Zuiko Digital ED 12-100mm F4.0 IS PRO and decided to tell a different story of Fitz Roy. Even though I was standing close to the same place that I was the night before, simply changing my composition and focal length created a completely different view that told a very different story than the road photo I had previously captured."
With most of the trip under his belt, Smith was hoping he had saved the best for last, even though he knew it would not come easy.
"I own both the OM-1 and the OM-5, however when I travel these days, especially to physically intensive trips like Patagonia, I find myself packing the OM-5 in my day pack," Smith says. "The lighter weight and more compact size, especially when you aren't sacrificing quality, makes a big difference. Especially on the third or fourth hour of a grueling hike, like we had early one morning to photograph sunrise at Fitz Roy."
Like Torres Del Paine in Chile, Argentina's Mount Fitz Roy and Cerro Torre are best photographed at sunrise. This led to a lot of early mornings, but none more difficult, or rewarding, than that 2:30 wake up call to start the hike from the village of El Chaltén.
"Our headlamps guided us as we slowly ascended the narrow and rocky trail," Smith describes. "Having never been to this region or done this hike, it was hard for me to envision exactly where we were going, but we trusted our local guide. Even if our guide was going to get us to a great vantage point, it was so dark, it was hard to tell what the weather would be like when the sun finally rose. Eventually, our guide had us stop, and we gladly took a much needed rest before setting up our camera gear."
"Sure enough, when the sun did rise, I could not believe what I was seeing. The fall colors that surrounded me were vibrant reds, oranges and yellow. The river flowed strongly right up to our feet, creating this incredible leading line that grabbed our eyes and directed them outward, to a perfectly framed, snow and cloud covered Mount Fitz Roy in the distance. This was the exact shot that I had been after for so many years."
As Smith's time in Patagonia came to an end, he couldn't help reflecting on the incredible experience, and the once in a lifetime photographs that he captured.
"I have taught a lot of photography in my career," Smith explains. "Whether it be a workshop or a local camera club, I have always told fellow photographers about my general lack of patience. But I've come to learn that, as a photographer, if you can't learn patience, you're not going to be successful. You have no choice. Whether it's waiting for an element to move into a scene or waiting for Mother Nature to cooperate, you have to be patient."
"However, I also tell them that having a plan is equally as important," Smith concludes. "All the patience in the world doesn't matter if you haven't put the proper plan into place to put yourself in the right place at the right time. All the patience in the world doesn't matter if you don't have the right photography gear and you don't know how to properly use it. Luckily for me, I had been planning for the moments that Patagonia graciously handed to me for decades. All it took was years of patience to finally make my dream photographs a reality."
More from Frank Smith can be found on his website, Facebook, and Instagram.
---
Full disclosure: This article was brought to you by OM SYSTEM Cameras
---
Image credits: All photos by Frank Smith