This 'Camera' Lacks a Sensor or Lens and Uses AI to 'Capture' Images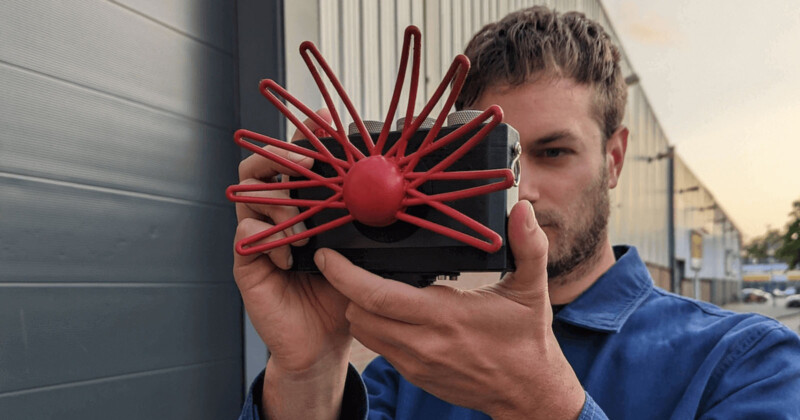 Danish designer Bjørn Karmann has built a prototype of a camera powered by artificial intelligence (AI) that is making people furious. The conceptual camera bends the idea of photography and what it means to capture a photo.
Paragraphica — The Camera That Isn't a Camera
As Karmann describes, "Paragraphica is a context-to-image camera that uses location data and artificial intelligence to visualize a 'photo' of a specific place and moment. The camera exists both as a physical prototype and a virtual camera that you can try."
Introducing – Paragraphica! 📡📷
A camera that takes photos using location data. It describes the place you are at and then converts it into an AI-generated "photo".

See more here: https://t.co/Oh2BZuhRcf
or try to take your own photo here: https://t.co/w9UFjckiF2 pic.twitter.com/23kR2QGzpa

— Bjørn Karmann (@BjoernKarmann) May 30, 2023
Karmann has built an actual prototype of the Paragraphica, a "camera" that can be held and used in the real world, but he's also built a virtual version.
The Paragraphica doesn't have a lens or an image sensor, but it still does camera stuff. The Paragraphica produces an image, but it's not an image that represents light rays that passed through a lens and struck a film or digital sensor.
No, Paragraphica uses location data and artificial intelligence to create an artificial, albeit possibly realistic, image of the place a person is based on real-world data.
"The viewfinder displays a real-time description of your current location, and by pressing the trigger, the camera will create a scintigraphic representation of the description," Karmann explains.
The camera has a trio of dials that allow the user to control data and AI parameters, which ultimately influence the final image.
Based on location data, the Paragraphica generates a text prompt, which is then fed into AI to create an image. Additional data, including time of day, weather, temperature, date and event, and points of interest, can influence the generated photo using text-to-image AI models.
"The camera operates by collecting data from its location using open APIs. Utilizing the address, weather, time of day, and nearby places. Combining all these data points, Paragraphica composes a paragraph that details a representation of the current place and moment," Karmann says.
The Dials
The first dial on Paragraphica acts like a zoom lens, controlling the radius (in meters) of the area the camera uses to search for location data.
The next dial ranges from 0.1 to 1 and is a "noise seed for the AI image diffusion process."
Rounding out the dials is a guidance scale dial. As the value increases, the AI model will more closely follow the text paragraph. Karmann argues that this reflects the "sharpness" or "blurriness" of an image.
Why?
"The star-nosed mole, which lives and hunts underground, finds light useless. Consequently, it has evolved to perceive the world through its finger-like antennae, granting it an unusual and intelligent way of 'seeing.' This amazing animal became the perfect metaphor and inspiration for how empathizing with other intelligence and the way they perceive the world can be nearly impossible to imagine from a human perspective," Karmann explains.
He adds that as AI language models "increasingly become conscious," it's interesting to consider and imagine how AI models "see" the world.
He believes that Paragraphica offers people a new and interesting way to experience the world that doesn't rely solely on visual perception.
However, arguably, Paragraphica does rely on visual perception because it generates images using an AI model built using real photos. While individual pixels may be synthesized in a novel way, the camera hasn't broken free of the chains of visual reality. However, it admittedly works within these existing constraints in an unusual way.
Karmann thinks his camera provides "deeper insight into the essence of a moment through the perspective of other intelligence."
People are Mad
If the measure of an artist's success is whether they generate an emotional response with their work, then Karmann has knocked it out of the park with Paragraphica. There's much chatter about his work and for a good reason.
The AI camera is a fascinating device. However, to some, it's outright offensive.
On Digital Camera World, Sebastian Oakley writes of Paragraphica, "Quite frankly it's the strangest and stupidest thing I have ever seen, yet I am in awe by its engineering — but this is NOT photography — or could it be?"
Twitter user Linus Ekenstam is a lot more excited than Oakley.
The future of photography is "lens-free"

This is an incredible project by @BjoernKarmann

The camera creates a prompt based on the geo data and that then turns into an AI photo 🤯

— Linus (●ᴗ●) (@LinusEkenstam) May 30, 2023
Again, it's essential to consider that Paragraphica is an art project, not a proposed commercial camera product.
"LOL, welcome to the future, humans. You hit the shutter button, and an image is generated based on your location and weather conditions," writes Marques Brownlee. "This is an art project but still hilarious," he adds.
Others ask what the point of Paragraphica is and contend that the camera makes no sense. Others enjoy its design, which channels the spirit of the star-nosed mole that Karmann references.
Photography Under Threat?
Is Karmann trying to come for photography and ruin everything? No.
"There are a lot of questions in the [Twitter] threads, so I'd like to clarify that this is a passion art project, with no intention of making a product or challenging photography. Rather, it's questioning the role of AI in a time of creative tension," Karmann writes on Twitter.
Nonetheless, there's something about Paragraphica that is inherently disruptive to the concept of photography and not necessarily in a fun and innovative way. There's something unsettling about it.
As AI rapidly advances and is fundamentally changing the ways that photographs look — and even threatening to upend the very concept of ownership over art — photographers are increasingly leery of AI.
Paragraphica builds upon AI in a way that disrupts the physical process of capturing a photo in the actual world. That's something not even the most powerful AI model on a computer has come close to achieving.
Paragraphica is interesting to look at and fascinating to think about. It also feels like a violation of the process of capturing an image, a process that has undoubtedly changed considerably throughout photography's history but has always dealt, at least in part, with the realm of reality.
---
Image credits : Bjørn Karmann