iOS 17 Adds New Features for Phone, FaceTime, Messages, and AirDrop
Apple's reveal of iOS 17 during the WWDC 2023 keynote shows a clear focus on enhanced communication for iPhone users with several impressive new features for the Phone, FaceTime, and Messages apps, as well as several new quality of life updates. These include improved contact cards, live voicemails, stickers, better autocorrect and dictation, and even a nightstand mode.
From the presentation, the company highlighted several improvements to the Phone that include a strong focus on "communication, sharing, intelligent input, and new experiences" that began with the addition of new personalized "Posters" for the Contact Book that allows users to control how they are represented when making a call to other iPhone users with customized Memoji or photo-based designs that even include vertical based text.
The Live-Voicemail feature launching with iOS 17 will allow users to see a live transcript of voicemails being left in real time so they can decide to leave the call unanswered or pick it up right away if it's urgent/important.
The iOS 17 update also includes the ability to leave a video voicemail when a FaceTime call goes unanswered so recipients can see exactly what callers were trying to show them at the time of the call.
Messages for iOS is also getting some impressive updates including the new and improved Stickers which allows users to create stickers from their own photos and videos and use them anywhere within the iOS system, not just the Messages app.
Messages users will now be able to access a more powerful search tool within messages through the addition of additional search terms to narrow down results. Another new feature added to Messages allows users to "Catchup" on missed messages by jumping directly to the last viewed/first unread message in a chain making it ideal for busy group chats, improved inline replying by swiping any individual chat bubble, as well as the ability to transcribe audio messages as to never miss a message as it happens.
An improved safety feature is also present in iOS 17 where users can share their location with "Check In" timing to let the people you care about know you've arrived safely when traveling. This also includes the addition of delays/updates in real-time for both senders and recipients that is entirely end-to-end encrypted. This feature also includes the ability to share the user's battery and cell service status to help avoid any confusion if they happen to be in a service "dead zone".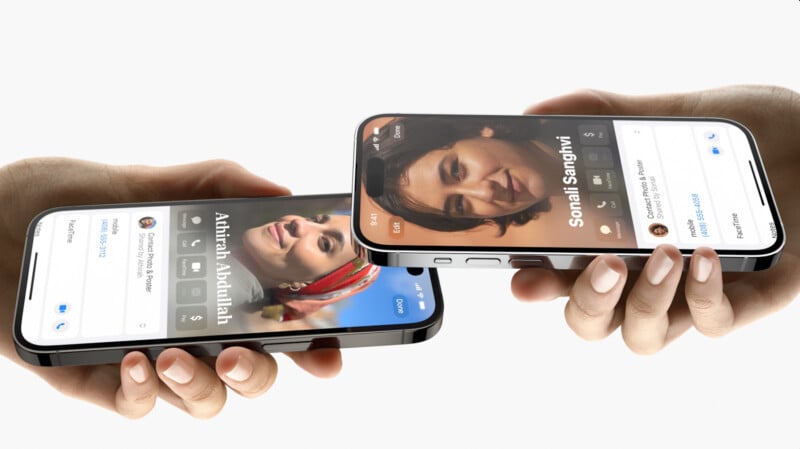 AirDrop will also be expanded in functionality with iOS 17 to finally include quick and easy contact sharing through "NameDrop" which will send selected contact information between iPhones simply by bringing them close to each other, (This also works with iPhone to Apple Watch). In addition to contact sharing, AirDrop functionality has been expanded to handle larger files by adding the ability to continue sending the files through internet connections when users step out of the AirDrop range distance of each other, ensuring constant connection to continue data transfers.
In addition to these core features of AirDrop, the service will be even further improved with the ability to share activities such as music/podcasts/videos with in-range devices of friends so you can listen to the same song(s) while jogging or working on a project together.
Autocorrect and Dictation will also be getting a significant update with iOS allowing users to send the "ducking" message the way they wrote it. Leveraging a new machine-learning language model for higher accuracy and an easy-to-access shortcut for reverting to the word typed-as-you-intended, the Apple iPhone should provide much faster and easier typing for users. This even includes a sentence-level autocorrection to capture more grammatical blunders even within voice transcribing. Yes, this even includes learning your favorite and most frequently used curse words as proven by Craig Federighi's on-brand joke during the presentation.
New Experiences
Finally, iOS 17 will bring two new experiences for iPhone users including an expansion to the Memories called Journal and a new Standby Mode. Journal gives users the ability to "practice gratitude" by taking the Memories and expanding its reach from just the photos and diving into location information, apps used, and music listened to during that time as well, even going so far as to add some writing prompts for a more personalized and expanded memory experience to mark important events to reflect on at a later time.
The new Standby Mode is designed to be used when the iOS device is placed horizontally (on its side) for a full-screen experience with information meant to be viewed at a distance like clocks, weather information, and even personal memories and widgets (which can all be adjusted and customized by simple swiping that adapts to low-light and adjusts the color temperature of the screen for an improved night/sleep experience.
iOS 17 on iPad
The improvements extend beyond just the iPhone as iPad users with iOS 17 will also have a better work experience through an improved widgets design that allows layouts and modules to be accessed and interacted with without actually opening up the individual apps. Additionally, Wallpapers on iPad can be personalized and customized to include live activities such as tracking food orders, sports scores, and multiple timers all at once.
iPad users will also get an expanded Health tracking experience with the larger screen, and a collaborative work experience with colleagues when working on PDFs and some other apps that even allow for team collaborations in real-time across multiple devices, even when not in "AirDrop" distance allowing users to follow along with collaborators as they work.
iOS 17 will be available as a Beta in July, and officially public later in the fall of 2023.
---
Image Credits: Apple