Anton/Bauer's New Mobile Battery is First to Replace Lithium with Sodium
Anton/Bauer has announced the Salt-E Dog mobile battery, a 9kWh power supply that uses salt-based power cells instead of lithium — the first of its kind for motion picture and television production.
One of the production industry's largest battery providers, Anton/Bauer says that its industry-first power source deliver consistent and reliable energy and addresses rising concerns over the carbon emissions associated with gas-powered generators or lithium-ion battery production. The company is positioning its Salt-E Dog system as a major milestone in sustainable power for the entertainment industry.
Sodium-ion batteries are being called by some as a major technological breakthrough that, if some hurdles are solved, can provide a solid alternative to lithium-ion. The technology isn't new — the concept behind sodium-ion batteries have existed for decades — but use of sodium was basically abandoned years ago in favor of lithium. As CNBC explains though, the technology is getting a second look though as it there are advantages to it over lithium.
For one, sodium-ion batteries tend to be a lot cheaper than lithium-ion. Secondly, the creation of the batteries doesn't require cobalt, copper, lithium, and graphite — all of these materials are mostly controlled by China. There are disadvantages, however. Sodium is considered to be less efficient at storing energy and can break down faster. They also have lower energy density overall, which means more battery is required to provide the same amount of power.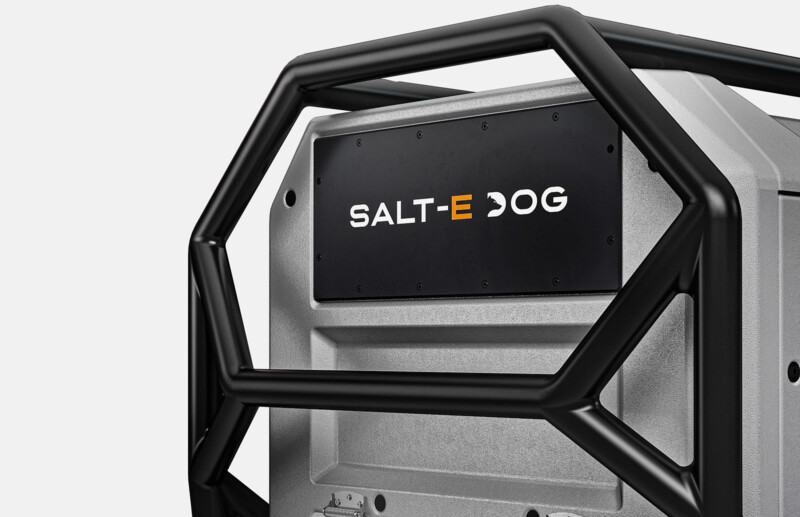 All that said, Anton/Bauer says that its solution provides some significant environmental advantages without compromising performance. The Salt-E Dog has a total of 9kWh that can provide up to 6000W of pure sine wave power, allowing for extended off-the-grid usage to run production equipment "for hours." Users can recharge the unit from AC outlets, solar PV, and CCS Level 2 (J1772) electric vehicle charge points. AC power is provided through four 20A 120V outlets or a 50A 125V Stage Pin connector. DC power comes through four 16A 28V XLR3, four 16A 48V, as well as two 5~20V, 100W USB-C ports.
The company says that with three Arri M8 lights attached, it can provide 100% output for three hours and 45 minutes. Three CreamSource Vortex 8 panels can last even longer: four hours and 32 minutes.
When attached to an AC adapter, the Salt-E Dog can recharge from 0% to full in about 10 hours. Using an EV charger takes 11 hours, and with a solar charger it takes 12 hours.
The Salt-E Dog is emission free, near silent to operate, is IP55 rated to handle almost any kind of weather, and it features a seven-inch color touchscreen display for real-time monitoring.
"Until now, productions have relied on gas generators, designed for heavy industries with less sensitive equipment. Or, lithium-based power supplies," Andrew Hutton, Product Manager at Anton/Bauer says.
"We are using a more sustainable and readily available option: sodium. Compared to lithium, sodium cells offer a safer, more efficient, and longer-lasting power solution. This makes Salt-E Dog the smart and sustainable choice for powering cine equipment."
The company says its sodium cells are 100% recyclable and have a lower Global Warming Potential (GWP) rating compared to lithium-ion batteries, which Anton/Bauer says makes it the most environmentally friendly choice on the market. The cells are rated to last 4,500 cycles and have a shelf life of 20 years. The 661-pound Salt-E Dog unit isn't light, but it is warranted for five years and comes attached to a cart for easy transport.
"Using sodium cells, rather than lithium, productions can safely place the unit near lighting, catering, craft and even on-screen talent without the risk of thermal runaway or fire, reducing the need for fire marshals and water trucks on set lowering insurance premiums," the company claims.
The company has officially launched the giant battery, but hasn't provided any information on how much it costs or when it will be available. Those interested in buying one can reach out to the company directly.
---
Image credits: Anton/Bauer