The New Fujifilm X-S20 Camera is Faster and More Powerful for $1,299
Fujifilm has announced the X-S20, a much more powerful camera than its predecessor that gets significant performance boosts thanks to a new processor.
"X-S20 is truly a dream camera for any content creator looking to take their photos and videos creation to the next level, but especially for the ones that are documenting their lives, traveling the world or streaming their stories online," explains Lisa Baxt, marketing director, Electronic Imaging Division, Fujifilm North America Corporation.
"It offers premium image quality and advanced portability, catering to a variety of image creation styles ranging from casual self-portraits to full-fledged photography and videography. With content creators turning to digital cameras more than ever before, we are confident that X-S20 will be well received by users pushing long-form content to platforms, like Twitch, especially since no fees are required to unlock the feature," continues Baxt.
Fujifilm X-S20 Combines Same Sensor With a new Processor
While Fujifilm has launched a pair of new fifth-gen X-Trans CMOS image sensors in the past year, a 26-megapixel stacked sensor and a 40-megapixel non-stacked sensor, the new X-S20 uses the same fourth-generation X-Trans CMOS 4 image sensor as the Fujifilm X-S10. The 26-megapixel image sensor offers a native ISO range of 160-12,800 and expands to 80-51,200.
The inclusion of the X Processor 5, which was first seen in the Fujifilm X-H2S camera last year, dramatically improves the X-S20's performance and fuels many of the camera's upgrades and improvements compared to its predecessor.
With the new processing power offered by the upgraded X Processor 5, the X-S20 can capture more than 1,000 JPEG or compressed RAW images when using the mechanical shutter (eight frames per second), compared to the X-S10's buffer of 105 JPEG frames and 23 compressed RAW frames — a massive upgrade. When shooting uncompressed RAW images, the X-S20 offers a 35-frame buffer, up from 18 shots.
Performance is significantly better when using the electronic shutter at 20 frames per second, which offers a full-size image file. The X-S20 can shoot 256 JPEGs at this rate, 79 compressed RAWs, and 28 uncompressed RAWs. The X-S10 fires 32, 17, and 17 frames at those image settings, respectively.
The camera's five-axis in-body image stabilization (IBIS) system is also better thanks to the improved processor. Whereas the X-S10 promised up to six stops of shake correction, the X-S20 ups that rating to an impressive seven stops.
Improved Autofocus: X-S20 Includes AI-powered Subject Detection
Another feature introduced in the X-H2 family has trickled down to the X-S20 in the form of AI-powered autofocus features. The X-S20 includes subject detection AF, a feature not included in the X-S10.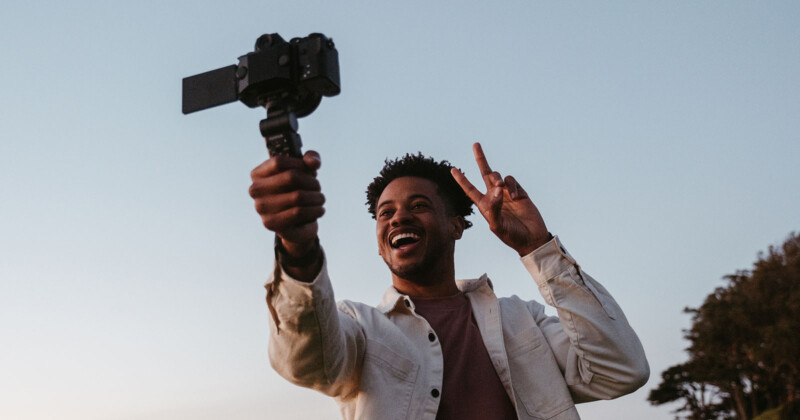 The X-S20 can automatically detect and track human face/eye, animal, bird, insect, automobile, bike, airplane, drone, and train subjects. Insect and drone are new additions. Another new feature is that the X-S20 can automatically swap between subjects in "Auto" mode, which is selectable from the camera's mode dial. While not related to AF, another new feature in "Auto" mode is the ability for the camera to switch between Fujifilm's popular Film Simulations automatically.
Design and Handling
The Fujifilm X-S20 may perform better than its predecessor, but it looks similar. However, the camera has undergone a minor facelift that should pay dividends when used.
The shape of the power lever has been changed to make it easier to rotate, Fujifilm has increased the diameter of some dials, increased the size of some buttons like the top ISO and Q buttons, included both a mic and headphone jack, and made the front grip a bit more comfortable.
The front grip is larger to fit a higher-capacity W235 lithium-ion battery, which results in about double the battery life of the X-S10. The X-S20 adds an "economy" mode that promises up to 800 frames when using the LCD and 750 frames with the EVF. The X-S10's best performance was in "normal" mode, which topped out at 325 frames. In normal mode, the X-S20 is rated for 750 frames using the LCD or EVF.
Concerning displays, the X-S20 has a 0.62x magnification EVF with 2.36 million dots and a 100 fps refresh rate. Both the X-S10 and X-S20 include a 3-inch rear display. However, the X-S20's display has 1.84M dots, whereas the X-S10's rear panel has 1.04M dots.
The larger grip adds about 1.7 millimeters (0.07 inches) of width and 26 grams (0.92 ounces) to the X-S20 compared to its predecessor. The camera's overall dimensions (width x height x depth) are 127.7 x 85.1 x 65.4 millimeters (5.03 x 3.35 x 2.57 inches), and the X-S20 weighs 491 grams (17.3 ounces) with its battery and memory card inserted.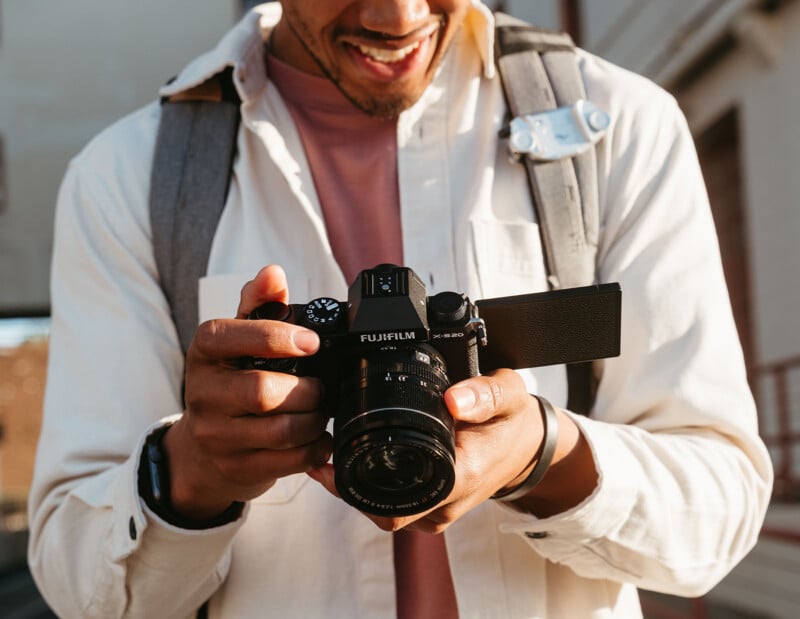 Another difference between the X-S10 and the new X-S20 is that Fujifilm's new camera is compatible with the cooling fan accessory (Fujifilm Fan-001) that was announced alongside the X-H2 camera. The $199 add-on significantly increases recording longevity.
X-S20 Video Features: Major Improvements
Video is an area of expanded focus for Fujifilm. The content creator market has grown significantly since the X-S10 hit stores in 2020, and the X-S20 responds to the burgeoning market sector.
With its increased processing power, the X-S20 can internally record 6.2K/30p 4:2:2 10-bit open gate video, alongside DCI4K/60p, 1080/240p, and 1080/60p (Long Play) recording modes.
When externally recording over HDMI, the X-S20 can record 12-bit Apple ProRes and Blackmagic RAW video at 6.2K/30p and 5.2K/30p.
The X-S20 includes F-Log2, which promises 13-plus stops of dynamic range. This is a one-stop improvement over the F-Log version available in the X-S10.
The X-S20 includes a new "Vlog" mode on its mode dial. This mode integrates vlogging-specific functions into the camera's touch menu, including self-timer, face/eye detection, product priority focus mode, IS mode, high-speed recording, and background defocus mode options.
Product priority mode disables face/eye detect autofocus, while background defocus mode opens the aperture of the attached lens to provide more background blur.
The X-S20 also includes HVC/UAC support to allow the camera to act as a webcam without a special app. Users plug the camera into their computer, and it acts as a webcam source in popular video conferencing apps.
Compared to the X-S10, the X-S20's video features are much more robust. New and improved performance includes 6.2K resolution, a 360Mbps max bit rate that is nearly double that of the X-S10, 4:2:2 internal recording, 12-bit RAW output over HDMI, and F-Log2.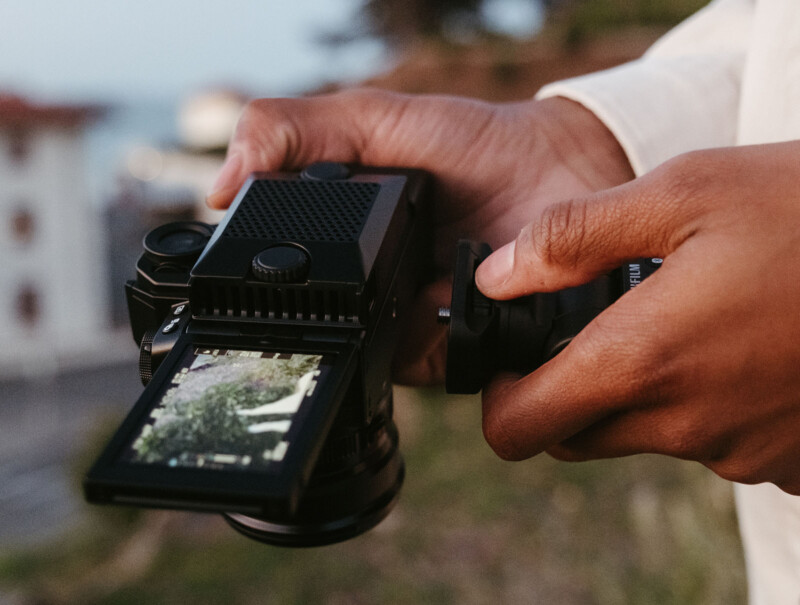 The X-S20 also offers expanded continuous recording time thanks to the optional cooling fan accessory. When using the fan, 6.2K video can be recorded for nearly 80 minutes at room temperature. That's more than double what's possible without the fan.
Pricing and Availability
The Fujifilm X-S20 will be available on or around June 29 for $1,299.95. Unlike some other Fujifilm bodies, the X-S20 is only available with a black finish.
The X-S20 will also ship in two kits. One comes with the Fujinon XC 15-45mm f/3.5-5.6 OIS PZ lens for $1,399.95. The other ships with the venerable Fujinon XF 18-55mm f/2.8-4 R LM OIS lens for $1,699.95.
---
Image credits: Product images courtesy of Fujifilm | Lifestyle images © Ryan Tuttle