Private Astronaut Gets Photo Training From Don Pettit Before Going to Space
A private astronaut and keen amateur photographer heading to space later this month has received photography training from prominent astronaut and astrophotographer Donald Pettit.
John Shoffner will pilot Axiom Space's second private astronaut mission to the International Space Station (ISS). He will be part of a four-person crew flying to space in SpaceX's Dragon spacecraft atop its Falcon 9 rocket to participate in a 12-day mission.
Before traveling to space, Shoffner spoke to PetaPixel about his lifelong passion for photography, what he hopes to capture while in space, and taking advice from legendary star photographer Don Pettit.
Much like space, #photography is a lifelong passion of mine. I'm excited to capture the colors and curvature of the Earth during my @Axiom_Space Ax-2 mission. Thank you @astro_pettit for the inspiration and guidance. #space #STEM #STEAM #education pic.twitter.com/VZut4CPckY

— John Shoffner (@johnpshoffner) April 10, 2023
"I want to capture some amazing pictures of the Earth. Not straight down like a Google image, but at interesting, oblique angles showcasing cloud and atmosphere pictures. I also want to show terrain and the curvature of the Earth like it can only be photographed from space," he says.
"You get a sunset or a sunrise every 22 and a half minutes. If you hang out long enough, you'll catch the sunrise. Angles of the sun come slicing across depending on where you are. Sometimes you'll get these huge clouds. If you're over some weather, then you get these awesome shadow structures."
Shoffner says that he will have to be prepared while photographing from the ISS which travels at 70,000 miles per hour meaning the scenery changes extraordinarily quickly.
"I'll have to be in position before something interesting happens so that I'm ready for it. Oftentimes, I'll be away from the windows doing work… but I'll always be thinking about what's outside of the window. If I want to capture a certain picture, I'll have to be there before that," he says.
Shoffner doesn't need to worry too much about gear; the ISS has over 20 Nikon D5 cameras with an assortment of lenses onboard. Although, he will be bringing two D6s with him anyway.
"Most of my work will be in the 24mm range. Don Pettit gave me great advice. My mission is 12 days long and he suggested leaning into the 24mm, as it won't replicate some of the things you can find on Google," he adds.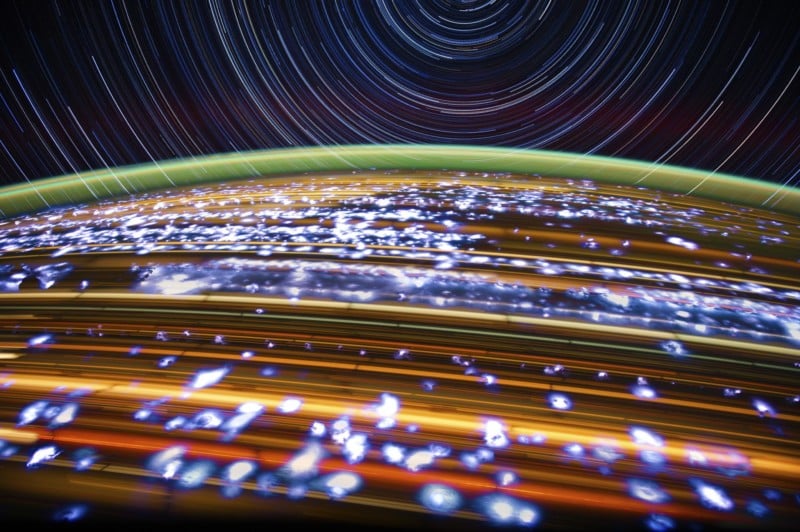 "Don has been a fabulous coach. He's given me an idea of expectations. Because I will be on a shorter mission, I won't have a long time to experiment. I need to pre-program myself with the shots that I want and target those specifically while I'm up there. 'Don't try to do too much…' — Don's words."
Past Photography Experiece
Shoffner is no professional with the camera but has long been an enthusiast buying a Canon F1 with money he saved from a newspaper round when he was 12 years old.
"I had a darkroom in my house as a kid, so [I] love it. I stopped for some reason… I'm not really sure why. Going to space and photography are both lifelong passions of mine that I set aside for too long. I couldn't drown them out any longer…. so here we are doing both," he says.
Shoffner has amassed over 8,500 flight hours and earned ratings for multiple aircraft types. He has fantasized about going to space since he was eight years old when he formed a young astronauts club with his friends.
"I've imagined this moment my whole life," he says. "It feels very real. It means everything to me to have a chance to do some of the things that I've always loved to do."
"It's a photographer's dream to go to the International Space Station and take pictures, even though I don't identify as a professional. I've only exercised it as a hobby and I've been working hard at it. Having advice from someone like Don has really helped."