'The Tuner' by Module 8 is World's First Variable-Look Cinematic Lens System
Photography accessory and equipment company Moment has announced The Tuner by Module 8. The Tuner products deliver the world's first variable-look cinematic lens system to "bring a classic film aesthetic to your mirrorless digital camera."
Available first on Kickstarter, The Tuner has been designed by Module 8, a company founded by award-winning optical expert Iain Neill and Mike Thomas, the technical founder behind Moment's lenses. Neill and Thomas have spent decades designing and building custom lens systems. Their extensive experience with optical designs pays massive dividends with "The Tuner" products.
What are 'The Tuners?'
Launching in three varieties, the Tuner is a "revolutionary optical device" that enables photographers and videographers to use standard lenses to achieve vintage-inspired cinematic looks.
The first three recreate the look and feel of famous cine lenses of yesteryear, including Super Baltars, Canon (R) K-35's, and vintage anamorphic lenses. The respective tuners are called L1, L2, and L3.
The worldwide patent-pending L-series Tuners utilize custom optical designs to faithfully recreate the look of vintage cinema lenses, allowing users to achieve the look and feel of old glass without paying vast sums of money for rare, vintage lenses.
Advantages of The Tuner Over Vintage Glass
Beyond the relative scarcity and high price of sought-after vintage lenses, users are also limited by available focal length and aperture combinations. Lens design has rapidly evolved, and modern lens designs deliver appealing focal lengths, zoom technology, and apertures that weren't possible during the era of K-35 and Super Baltar lenses.
In addition to achieving otherwise impossible combinations of modern lens technology and vintage looks, Module 8's Tuner system delivers another key advantage over vintage glass: the ability to control the strength of the effect.
One of The Tuner's most exciting features is that its optical effect is variable, allowing the user to manually adjust the strength, including a "neutral" option that renders the attached lens unaffected by The Tuner without the user needing to remove the accessory altogether.
From a practical perspective, the ability to adjust the strength of The Tuner is novel and distinctly advantageous compared to using a vintage lens or "de-tuning" a modern lens. De-tuning, or tuning, makes a new lens perform more like a vintage lens, which can include purposefully damaging a lens to make it softer or deliver more aberrations. This process can't be undone, and it's not especially scientific, so the ability to "disable" the tuning effect of Moment's Tuner with a simple mechanical control is immediately appealing.
Another advantage of The Tuner is that it promises an "in-focus look." The Tuner works with a lens's autofocus and image stabilization systems and doesn't rely upon incorrect focus to deliver softer cinematic looks. Further, The Tuner supports EF to E and EF to RF electronics, ensuring that users enjoy modern features and amenities without sacrificing a vintage look to their photos and videos.
Specifications
The L1, L2, and L3 are designed for full-frame cameras, although they do feature different magnification factors. The Super Baltar-inspired L1 magnifies the image by 1.08x, the K-35-inspired L2 by 1.1x, and the anamorphic L3 Tuner by 1.05x.
While each Tuner can be used on very fast lenses, Moment recommends a maximum aperture of f/1.4 to ensure accurate autofocus. PetaPixel spoke with Iain Neill and Mike Thomas ahead of today's announcement and was told that the team is testing various lens and Tuner combinations. So far, Canon, Tamron, and Sigma lenses have been tested on Sony E and Canon RF system mirrorless cameras.
The attached lens must be EF-mount, or adapted to EF-mount, with the first set of Tuners, but the team tells PetaPixel that it is actively developing additional mount options, including for Fujifilm X and L-mount lenses. An E-mount to E-mount adapter is also in the cards, although each option requires custom-built electronics, so development requires time and is far more complex than simply swapping mounting hardware.
Certain lenses may have limitations in particular situations, although time will tell. The Tuners feature USB ports to allow for firmware updates following launch. Moment has published a compatibility list, which will likely be updated over time.
Each Tuner features custom electronics and calibrated cam motors to move optical components, so it's reasonable to expect that performance will vary based on the attached lens. Autofocus speed is more likely to be noticeably affected for lenses with bigger optical groups that move a larger distance for focusing.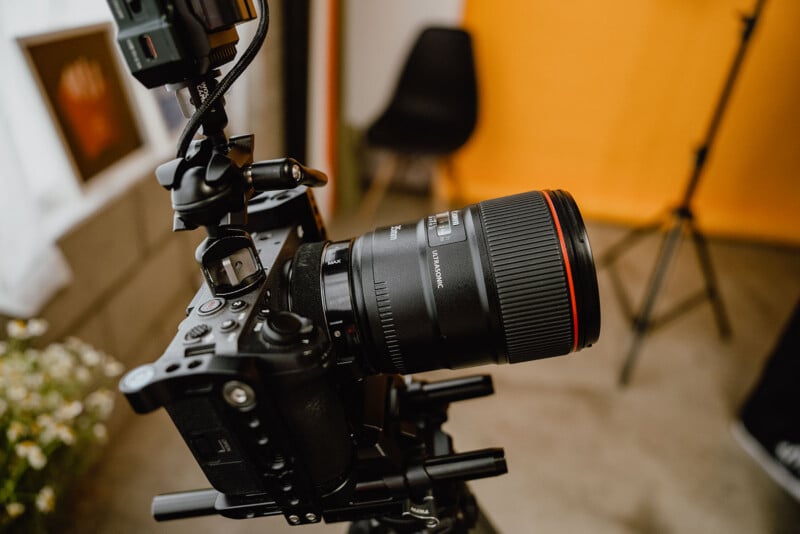 The Tuners are reasonably compact and lightweight. The L1 and L3 Tuners weigh 250 grams (8.8 ounces), while the L2 weighs 215g (7.6 ounces). The L1, L2, and L3 are 39 millimeters (1.5 inches), 36mm (1.4 inches), and 37mm (1.5 inches), respectively, so they're similar in size to a 1.4x teleconverter. For example, the Sony FE 1.4x teleconverter is 33.6mm (1.3 inches) long and weighs 167g (5.9 ounces).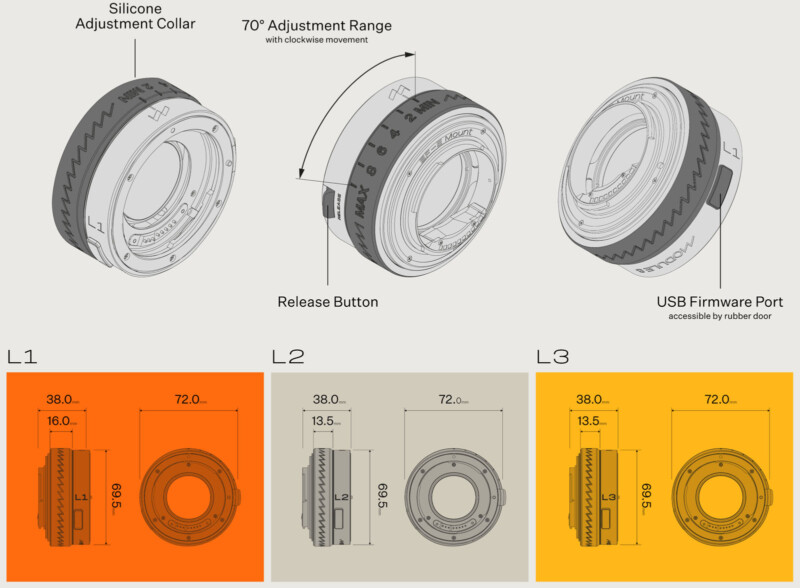 Each Tuner is constructed using aluminum and includes a silicon rubber grip. The Tuner dial rotation range is 70 degrees, ranging from neutral effect to maximum effect. The adjustment ring is labeled with "min" and "max" text at each extreme and individual markings for 2, 4, 6, and 8 intermediate strengths.
A Closer Look at The Tuner's Technology
Iain Neill has spent the past five years developing The Tuner and the patent-pending technology behind the system called "Vari-Tune."
The clever Vari-Tune technology allows users to "zoom" the look of a lens on demand, all while maintaining focus. The Vari-Tune technology requires optical elements within The Tuner to actively move in response to the user's input, which makes it much more sophisticated and versatile than just a vintage lens or a de-tuned modern lens.
"The Vari-Tune technology can be considered precision imperfection in that we can design any specific aberration into the lens or any combination of aberration for truly unique looks. We can add third and higher order spherical aberration and subtle chromatic to create the beautiful bloom and glow that is so sought after in today's projects," explains Moment.
Using a process of reverse engineering, precise computer measurements, software-based design, and studying old lens patents, Neill and Thomas can dial in specific aberrations, including coma and astigmatism, for each Tuner. While Moment is launching three vintage-inspired Tuners, the possibilities of other custom-built looks are endless.
"We can even add coma, astigmatism and other aberrations to render the edges of the frame in a softer way and create unusual depth of field effects. For example, our L3 Retroscope lens was designed with similar off-axis astigmatism found in vintage anamorphic lenses. This can be used in a number of new and exciting ways and can make your 2.35:1 crop of spherical footage look more anamorphic even though it was shot on spherical lenses," Module 8 says.
The Inspiration Behind The Tuners
A large portion of PetaPixel's meeting with Neill, Thomas, and Moment comprised the artistic motivation behind The Tuners.
Neill and Thomas have spent their careers building customized optical designs to achieve specific artistic looks for leading cinematographers, directors, and other clients. As digital cameras and modern lenses become sharper and more detailed, many users lament the loss of a "cinematic" look and feel.
In some aspects, a cinematic look depends upon a certain softness. Still, it goes beyond simply making video look worse or less detailed — a precise cinematic look depends upon specific interactions between light and optics. While that may include softness, it goes beyond softness to include bokeh, astigmatism, and color rendering. Each of these effects is very challenging to emulate using software and post-processing, and many users value capturing as much in-camera as possible.
Neill and Thomas wanted to go beyond custom lens shops that, while capable, rely more on luck than scientific, repeatable design and manufacturing processes. Customized cinema lenses rely heavily upon the intersection of science and art, something the duo wanted to replicate with the Module 8 Tuners.
They also revere vintage glass and want to ensure that cinematographers have access to the look and feel of classic glass, even if their pockets aren't deep enough to purchase their dream lenses.
Many vintage cinema lenses are not only hard to find, but their numbers are also decreasing annually, and at some point, they'll practically be extinct. Although admittedly "by accident," according to Neill, The Tuner system is sort of like a vintage lens preservation project, ensuring that the important "essence" of popular, vintage cinema lenses will remain available to modern photographers, even as these lenses become scarce.
At their core, The Tuners aim to channel the spirit of vintage lenses using accessible, versatile modern technology.
Pricing and Availability
The Tuner by Module 8 will be available first on Kickstarter starting today. Each Tuner costs $1,999, however, the Super Early Bird special is $999, and additionl backer options are $1,199 and $1,499. Discounts for buying multiple Tuners are also available. The Tuners will begin shipping at the end of August.
---
Image and video credits: Moment / Module 8
Disclaimer: Make sure you do your own research into any crowdfunding project you're considering backing. While we aim to only share legitimate and trustworthy campaigns, there's always a real chance that you can lose your money when backing any crowdfunded project.