Photographer Captures Biden Holding 'Cheat Sheet' During Press Conference
A press photographer captured President Joe Biden's "cheat sheet" which gives him advanced knowledge of a journalist's question.
The agency photographer caught Biden holding a piece of paper with the journalist's name and picture, the publication she is from, and the general question he was to be asked.
The photo was taken yesterday (April 26) during a press conference alongside South Korean President Yoon Suk Yeol.
The question was from Los Angeles Times reporter Courtney Subramanian which read: "How are YOU squaring YOUR domestic priorities — like restoring semiconductors manufacturing — with alliance-based foreign policy?"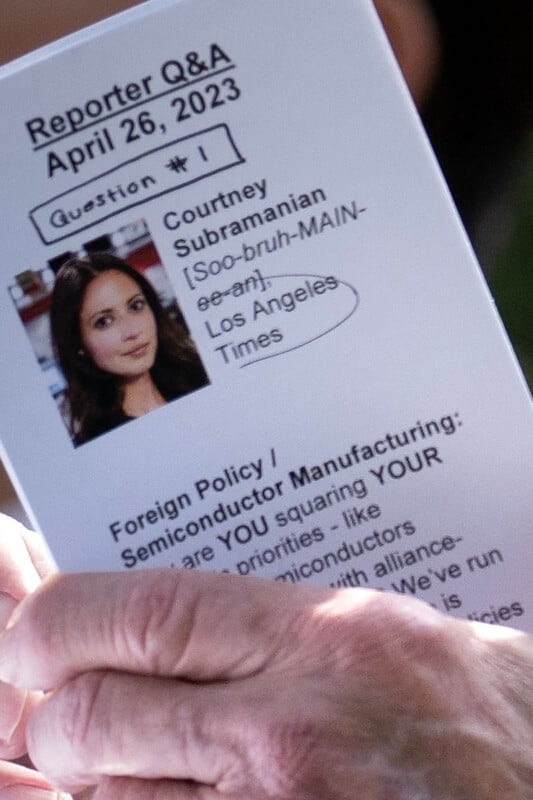 Subramanian did not deliver her question word-for-word as it was written down for Biden but rather paraphrased it.
Biden was also pictured holding a piece of paper with all of the names of the administration officials attending the conference, top of the list was "YOU," referring to Biden himself.
Cameras and Cheat Sheets
This isn't the first time a sitting president has been caught holding a cheat sheet by a press photographer.
In 2019, PetaPixel reported on Donald Trump's notes during a press conference that was scrawled in large capital letters.
Cameras have previously caught 80-year-old Biden's notes. In July 2021, the president was photographed receiving a note from a member of staff that read: "Sir, there is something on your chin."
Journalists Signaling their Questions
Many partisan commentators were quick to jump on the photo of Biden's cheat sheet as evidence of the president's failing mental acuity.
Critics have also pointed out that the commander in chief has appeared in the fewest press conferences in his first two years of office of any president since Ronald Reagan.
At the beginning of Biden's term, journalists raised concerns that they were being asked by then-press secretary Jen Psaki for their questions in advance.
However, some experienced White House journalists later said that it is normal to give the press office forewarning about a topic they want to raise, according to the Daily Telegraph.
---
Image credits: Photo by Brendan Smialowski / Getty Images.