Urban Wildlife Photographer Reflects on Journey Across Canada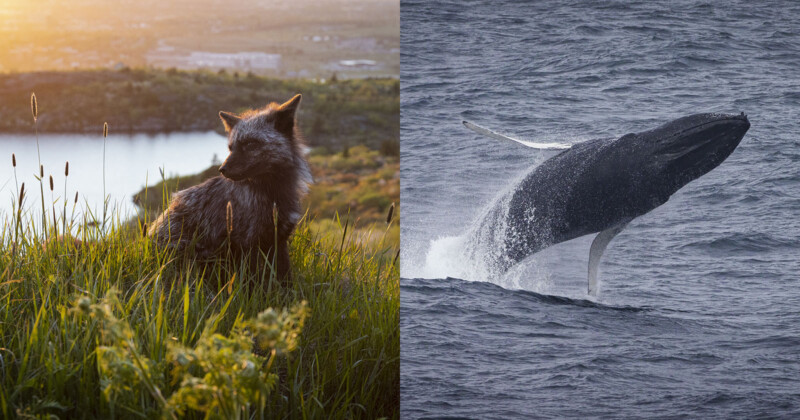 Canadian wildlife photographer Andrew Budziak has wrapped up his "Edge of Frame" urban wildlife photography video series with a pair of final episodes featuring whales in Newfoundland and Labrador and raccoons in Budziak's hometown of Toronto, Ontario.
The six-episode "Edge of Frame" video series, produced in partnership with Narcity, has seen Budziak photograph harbor seals in Vancouver, utilize camera traps in Edmonton, photograph beavers in Saskatchewan, and foxes in Montreal.
A common theme throughout the series has been opening people's eyes to how much wildlife lives in their backyards, even if their backyard is a dense urban environment. When the sun sets, cities come alive with diverse wildlife.
To recap Budziak's "Edge of Frame" series, PetaPixel spoke with the photographer, learning more about his experiences, his favorite moments from his cross-country trek of Canada, and his future urban wildlife photography goals.
The location of one of Budziak's final two episodes, St. John's, Newfoundland and Labrador, was "the most challenging episode to shoot," Budziak explains. His goal to photograph an urban whale was "maybe a bit ambitious," but he pulled it off.
"The crew and I were exhausted when we touched down in Newfoundland. We had been on the road for weeks with very little sleep. Shooting on the Atlantic coast is never easy. The wind is insane, it's foggy and rainy, and whales are a challenging subject to shoot," Budziak tells PetaPixel.
"There's a moment in the episode where I talk about just wanting to go home. That was very real, and the crew felt it too. When I got the final photo, we all just collapsed. This wild adventure was over…I think St. John's was my favorite episode to shoot and my favorite as a finished product. Elective suffering makes for great TV," Budziak jokes.
St. John's was also the location of Budziak's favorite photo from the series. "I like the animal, the light, the urban elements, and the composition. It checks many boxes for me," Budziak says. He adds that it's "not a perfect image," and he's excited to challenge himself to capture even better wildlife photos.
Although St. John's was the crew's final stop, it wasn't their final episode, which took place in Budziak's home, Toronto.
Toronto is known for its raccoons, called the "raccoon capital of the world." The city is home to a reported 200,000 raccoons. While the creatures are full of personality and interesting to observe, some Torontonians aren't too fond of the "trash pandas" due to their propensity for causing issues and digging through the garbage.
Budziak shows his city's raccoons in a beautiful light with some stunning photos, including some captured with his trusty camera trap.
Throughout "Edge of Frame," Budziak met with locals from the cities he visited and learned more about the area and urban wildlife. In Toronto, he met with ASL interpreter Kathy Munro, resulting in a beautiful scene where she signs Budziak's description of the sounds of a forest.
Budziak also met with Mike Digout in Saskatoon. Digout is affectionately known as "The Beaver Guy" because, as the name suggests, he is an expert on local beavers. Digout walked Budziak step-by-step through capturing a great beaver photo, and Budziak says, "It was a really lovely moment."
What's Next for Budziak's Urban Wildlife Photography?
Budziak visited six cities in "Edge of Frame." His original list of locations included more than 30 different city and animal combinations, so he has much exploring left to do in Canada. One of his goals is to visit a Canadian city to capture coyote photos, although he is still determining what the best place is.
Beyond Canada, Budziak wants to photograph raccoon dogs in Japan. "That would be mind-blowing," Budziak tells PetaPixel. "Cities in Japan are so unique, and raccoon dogs are a home run in terms of a subject."
To that end, Budziak is working on bringing "Edge of Frame" global and searching for a production partner. "I want to take what I did in Canada and do it worldwide. It's a perfect series to take globally. There is a lot of urban wildlife around the world, and I'm itching to photograph all of it," Budziak says.
More of Budziak's photography is available on his website and Instagram.
---
Image credits: Andrew Budziak