Coyotes Roaming the Streets of Ontario Wins Urban Wildlife Photo Awards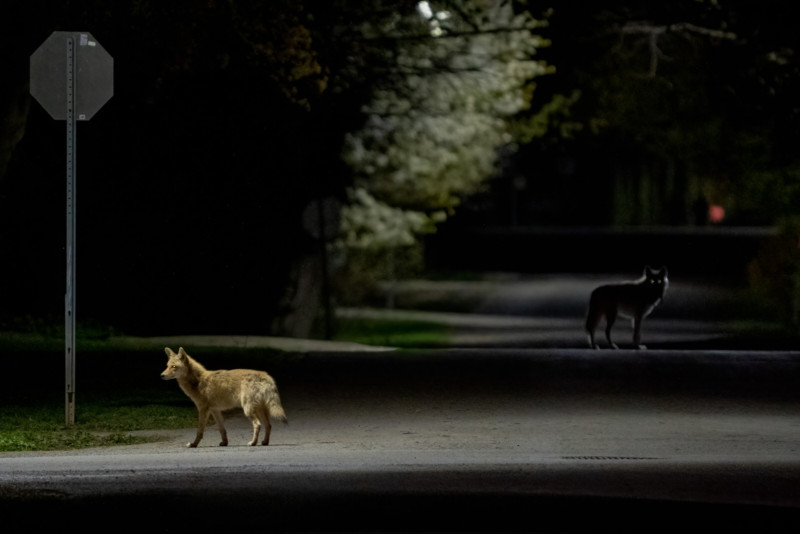 Online photography platform Picfair has announced the winners of its Urban Wildlife Photography Awards for 2022, which celebrates photos of those who turned to document their local wildlife when travel restrictions were in full force.
The Wild Finds Its Way Into Urban Areas
The free-to-enter photography contest received over 6,000 entries from amateur and professional photographers from all around the world. The submitted photos featured captured moments of wild animals in urban settings such as Melbourne, San Francisco, London, Toronto, Miami, and others.
During the height of the pandemic, wildlife found its way into the quiet urban centers, taking the opportunity to explore areas that previously may have been unapproachable. At the same time, this gave photographers an opportunity to document unique scenes of wildlife in urban areas
Picfair also saw the trend on its platform, after the number of submitted urban wildlife images quadrupled since 2019. Similarly, The City Nature Challenge — one of the biggest global databases of urban wildlife — made a record-breaking 1.2 million observations in 2021.
The awards featured four categories — Nightlife, Daylight, and Fancy Seeing You Here, and an overall winner. The prize pool for the overall winner included a Nikon Z 6II and 24-70mm kit, lifetime Picfair Plus subscriptions, and a framed print of their submitted photo. Category winners were awarded a range of photographic accessories, MBP vouchers, and other prizes.
Overall Winner
Andrew Interisano was crowned the overall winner for his late-night capture of two coyotes on the streets of Ontario, Canada as seen above. The photograph is titled "Date Night," and Interisano at first thought his car had caught the coyotes' eye, but soon saw them turn their attention to another group of howling coyotes in the distance.
"I parked, turned the engine off, and frantically went to work with the camera… however, in the rush of that moment I was soon compelled to put my camera down and soak in the scene," Interisano says.
Nightlife
American biologist Austin Montero, grounded by the pandemic, won the Nightlife category with a photo of a rat emerging from a city sewer in Mexico, titled "Life Beyond The Sewer". Montero had to stay in a small town for the last two years, which led him to come across several animals using different parts of the city.
"I have been surprised to see the number of urban structures that many species use," he says. "They shelter under bridges, move through aqueducts, or nest along roads. But usually, we don't notice it."
Daylight
Hungarian zoologist Mano Aliczki took the winning "Daylight" photo during a holiday in Italy. The photo, titled, "Window to the salt pan," shows a flamingo feeding and walking into a wooden frame in a levee on a salt pan, creating a unique composition.
Fancy Seeing You Here
Canadian photographer Jill Finney won the hearts of the public for his image of a raccoon in a ravine near a subway station, titled "Trash Panda." His photo was picked as the category winner based on a public vote on social media.
"I've dreamed of photographing wildlife since I was a kid and only started seriously shooting at the age of almost 50, during covid lockdown when I decided it was time to make my own Natgeo dreams come true, even if it was only squirrels in the backyard," Finney says.
Other Finalists
The judging panel consisted of Picfair's head of content Philip Mowbray and guest judges — professional wildlife photographers Melissa Groo, United States, Andrew Budziak, Canada, and Will Burrard-Lucas, United Kingdom, as well as the writer and urban wildlife author Florence Wilkinson from the United Kingdom.
The full finalists and winners' gallery can be viewed on the Picfair website, with profits from all print sales going to the global conservation non-profit Re:Wild.
---
Image credits: All photos individually credited and provided courtesy of Picfair.