How to Make a Wedding Photo Album Your Clients Will Love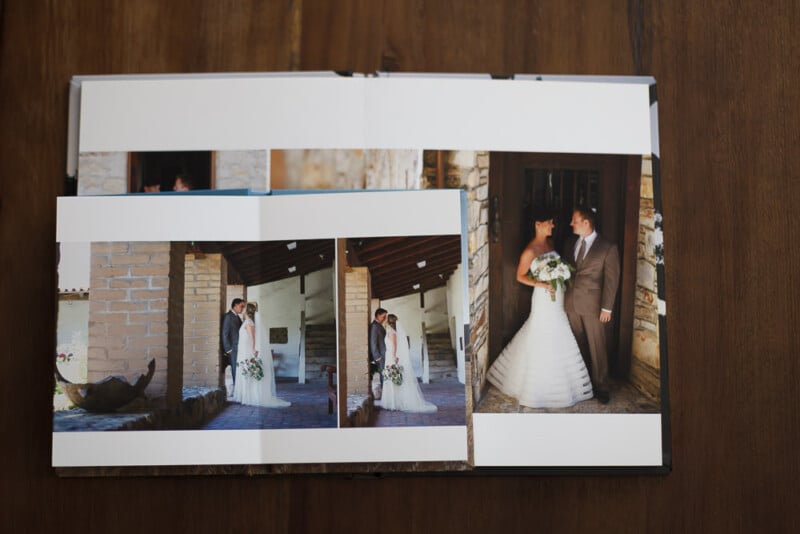 Wedding photography is arguably one of the most important parts of a wedding, of course (though I'm biased being a wedding photographer and all). But at the end of the day when the music stops, the cake is eaten, and the honeymoon begins, the photos are what helps our couples relive the magic of their wedding day. This is why it's important that you know how to make a wedding photo album your clients will love.

In the first few years of our business, we had wedding albums as an add-on, but now we include them in our packages and treat them as essential. Couples think they just need the digital files and that they'll do something with their photos eventually. But life gets busy and photos sit on a computer much longer than they should have to.
In this article, I'm going to talk through the strategy behind including wedding albums in your packages. Then, I'll talk about making the design and ordering process easy. And finally, I'll walk you through some aspects of my workflow that help me deliver wedding albums my clients love.
Including Wedding Photo Albums in Your Packages
The first and most obvious reason to include wedding photo albums in your packages comes from the business side of things. The more value you build into your photography packages, the more your clients will be willing to pay which positively impacts your bottom line. Truthfully, value is a win-win because it helps you charge more but by definition it also means you're serving your clients better.
Some photographers are experts at the upsell — they make a ton of profit after the wedding by selling prints, albums, and other products. For me, it works better to have my clients select a bigger all-inclusive package from the beginning. Then, designing a wedding album is simply part of my workflow and I know my couples will have something tangible after the wedding day. They want the wedding album, I just have to make it easy for them to purchase it by having them look at the whole picture and not the dollar signs.
With the state of the wedding industry, couples often pay a pretty penny for wedding photos so it seems silly for all those photos to just live on a hard drive without being seen or appreciated. And as much as we love our screen time, no one wants to come to your house and watch a slideshow of hundreds of images. There's still something timeless about grabbing a wedding album off a coffee table or special place on the bookshelf, holding it in your hands, and flipping through spreads that show the highlights of such an important day.
Choosing the Wedding Album
The first thing you'll have to do is narrow down your wedding album vendor. This is an important step because the books you choose will determine how your clients view them. You want something high quality that your couples can't necessarily do on their own therefore persuading them to trust your expertise.
There are a lot of wedding album companies out there that have different strengths, weaknesses, price points, and styles. You'll want to find something that fits your overall business strategy and your branding. That might be a weighty leather-bound album or a crisp photo wrap cover — what style of album will showcase your style of work and be appealing to your ideal client?
You'll want to see a physical example so that you can see it and feel it. Similarly, when at all possible you'll want your couples to be able to see it and feel it too. You know your wedding album choice is the right one if your couples want one and don't hesitate to order it.
Wedding Album Design
Many of the wedding album vendors are compatible with album design software. I use SmartAlbums, but there are a ton of other companies out there. This is life-changing to anyone who remembers designing individual spreads on individual Photoshop files. It's fast and easy to use for both you and your clients making the process quick and painless.
You'll be able to import the photos into the design software and then design spreads that tell the story of the wedding day. Utilize your eye for timeless design by remembering things like white space, repetition, and symmetry. Then, you'll be able to share that with your client in an online viewing platform where they can make comments allowing you to easily make changes.
Look for something that's easy to use on both your side and the client's side. Templates are a really nice time saver because I find that I love using certain layouts repeatedly anyway so why not make it easier? But customization is also important as you want to have the freedom to do something different.
Wedding Album Workflow
Wedding albums are a lot about design. I can't emphasize enough the importance of telling a story with your photos. Each image has a story and then as you put them together they tell a bigger story too. Your wedding album workflow starts on the wedding day when you start documenting the story.
It continues when you're culling and editing photos. You can rank or label your favorite images or the ones that help tell the complete story of the day. Then, when you import the photos into your design software, you can filter them to the most likely candidates to end up in the album and start there with your design. I choose the initial photos for the albums for my couples because they'll either be paralyzed by all the decisions or want every photo in there when sometimes less is more.
I design a first draft of the album for the couples to see and my goal is that as they flip through it they feel the story. Sometimes they might want to add some of their favorite photos that weren't on my own list of best photos. However, I use design techniques to both tell a story and highlight the style of photography they hired me for.
My style is photojournalistic but also emphasizes environmental portraits, Big dramatic landscapes that look great as full image spreads. I've seen beautiful albums that have a more editorial style and utilize the wedding details to help tell the story. Your couples hired you for your style, make sure that style continues into your album design and the result will be an album they love.
Wedding Photo Albums Your Clients Will Love
In summary, offering wedding albums with your wedding photography is a win-win. You get to add more value to your packages which serves both you and your clients. Be intentional about choosing the wedding album, designing it, and creating a seamless workflow.
Wedding albums are a tangible timeless product. It doesn't make sense to me to spend thousands on wedding photography and then not print any of the photos. Encourage your couples to print their work by designing albums that they'll love. Show them samples of what they'll be getting and then focus on telling a story not only in the album but through your photography.
Another bonus: what about when your clients have their newly engaged friends over for dinner and they fall in love with the album? It's happened before.
---
About the author: Brenda Bergreen is a Colorado wedding photographer, videographer, yoga teacher, and writer who works alongside her husband at Bergreen Photography. With their mission and mantra "love. adventurously." they are dedicated to telling adventurous stories in beautiful places.