Photos of the Hybrid Solar Eclipse that will only Happen 7 Times this Century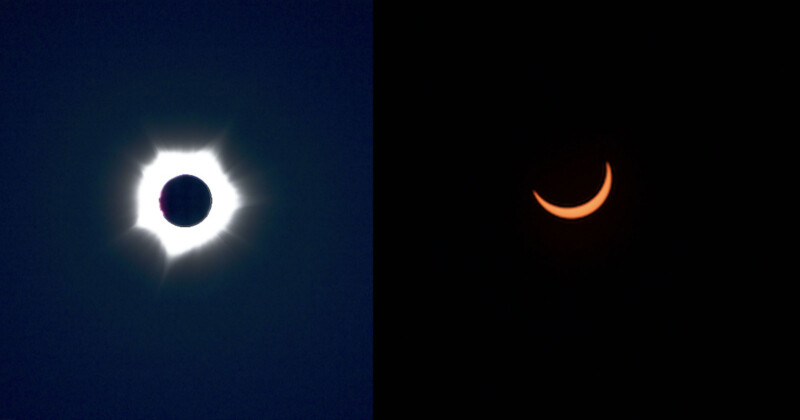 Skywatchers across the South Pacific witnessed a rare hybrid solar eclipse yesterday — two eclipses in one.
A hybrid solar eclipse is when the phenomenon changes from a total solar eclipse to a ring-shaped annular eclipse as the moon's shadow moves across the surface of the Earth.
Skywatchers in Australia, East Timor, and Indonesia were lucky to witness the 62-second event because the next one won't be until 2031 and there will only be seven hybrid solar eclipses this century.
Residents of Exmouth in Western Australia caught a glimpse of a rare hybrid solar eclipse pic.twitter.com/PsE3hWzhJS

— Reuters (@Reuters) April 20, 2023
People watch a rare hybrid solar eclipse https://t.co/v4CTFTONtt pic.twitter.com/ZZulhp4ant

— Reuters Pictures (@reuterspictures) April 20, 2023
Astrophotographer and author Greg Redfern was onboard a cruise ship to capture the hybrid solar eclipse. Over 2,000 people (mostly Australians) had joined him to find a point in the Pacific where the unseen new moon would block out the sun.
"The moon started to cover the sun at about 10:04 and it took almost an hour and a half to reach totality, or where the sun is completely covered," Redfern writes for WTOP.
"It was all over way too soon, as it always happens no matter how long totality lasts."
The solar #Eclipse shining through a palm tree – lots of little eclipses #Eclipse2023 pic.twitter.com/aTehbObpKK

— Gary McGhee (@gazmcghee) April 20, 2023
Partial solar eclipse through a colander. From the Nullarbor Plain, South Australia. pic.twitter.com/bIVoUJRZOn

— Andy Tomkins (@ProfAndyTomkins) April 20, 2023
As always with solar eclipses, people came up with creative ways to capture the crescent star using everything from palms trees to colanders to capture the celestial event.
As noted by Space, the Sun should never be looked at directly and specfically designed solar filters are the best way to view our nearest star.
---
Image credits: Feature photo courtesy of Greg Redfern.