Photographer Travels to Darkest Place on Earth for Stunning Milky Way Shoot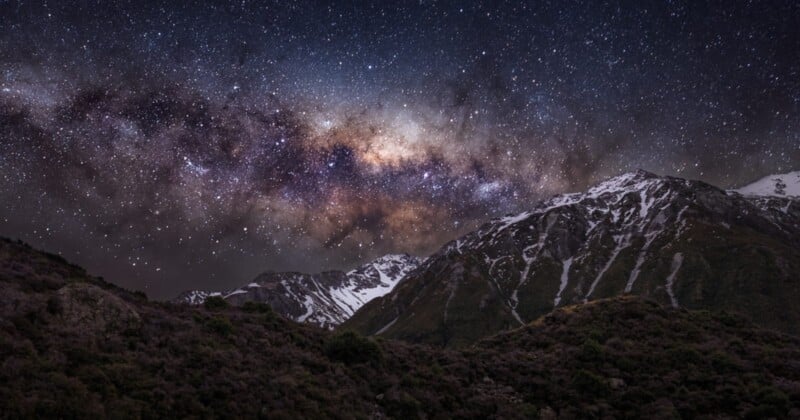 A photographer traveled thousands of miles to the darkest place on earth to shoot the night sky.
Professional landscape and astrophotographer Aaron Jenkin captured a stunning timelapse video of the milky way galaxy in Aoraki Mount Cook National Park in New Zealand — which is regarded as one of the darkest places on earth for night photography.
Jenkin's incredible and awe-inspiring timelapse videos racked up over 3.1 million views on TikTok.
"Aoraki Mount Cook National Park is one of the darkest places for night photography. The area is recognized by the International Dark Sky Association as a dark sky reserve," Jenkin, who is based in Cornwall, U.K. tells PetaPixel.
"It's Bortle Class 1, the Bortle Scale measures the brightness of the night sky from 1 to 9. 1 being the darkest available on Earth."
Jenkin, who has been a full-time photographer for almost a decade, traveled from Cornwall, U.K., to New Zealand to explore and photograph the beautiful landscape.
Jenkin, who offers night photography workshops in Cornwall, faced extremely chilly temperatures to film the timelapse clips.
"There are so many areas of New Zealand free from light pollution, it's an astrophotographer's dream," he says.
"It was winter when I captured the timelapse, so the main challenge was keeping warm. It can get really cold here, I ended up bringing a hot water bottle stuffed up my coat and a mat to sit on," he continues.
"Apart from briefly filming a Possum on the walk in (unfortunately an invasive species in NZ), I spent the night with all lights off.
"Just watching the stars above, in awe of how much I could see with the unaided eye. I could clearly see The Dark Horse Nebula, and could even make out the dust clouds of the milky way reflected in the water. I've never seen such a clear reflection, and after seeing that I knew my timelapse was going to be pretty special."
More of Jenkin's work can be found on Instagram, Facebook, TikTok, and his website.
Prints of Jenkin's image are available on his website shop.
---
Image credits: All photos by Aaron Jenkin.