The Solar-Powered 'Living Vehicle' Can Get You Off the Grid Indefinitely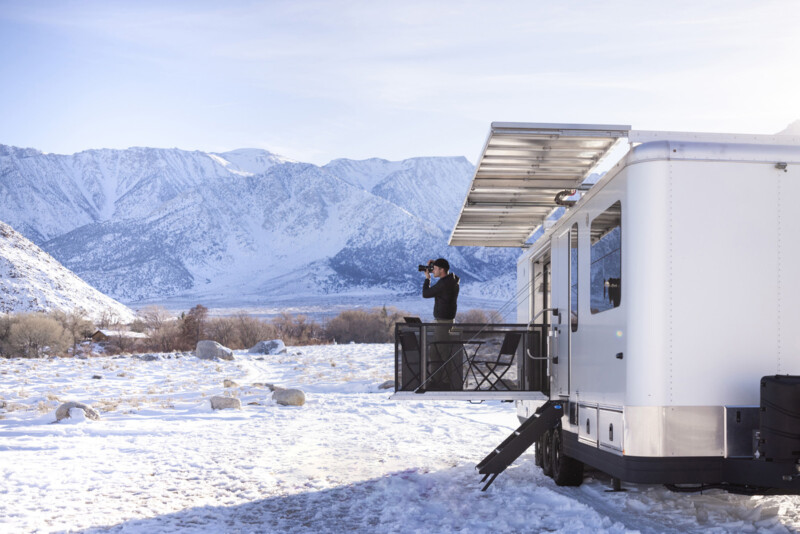 Living Vehicle has announced a new, all-electric luxury travel trailer that will let photographers live and work off the grid in style indefinitely.
The company, which already offers an Apple gear-filled travel trailer for no less than $324,000, is upping the ante and has created a solution that is capable of self-sufficiency thanks to its fully solar-powered electric system.
Living Vehicle says it is the most powerful, solar-powered, all-electric luxury travel trailer on the planet that offers unmatched off-grid capabilities. Equipped with more solar power than most residential homes, Living Vehicle boasts that the 2024 Living Vehicle HD is its most capable and powerful model yet.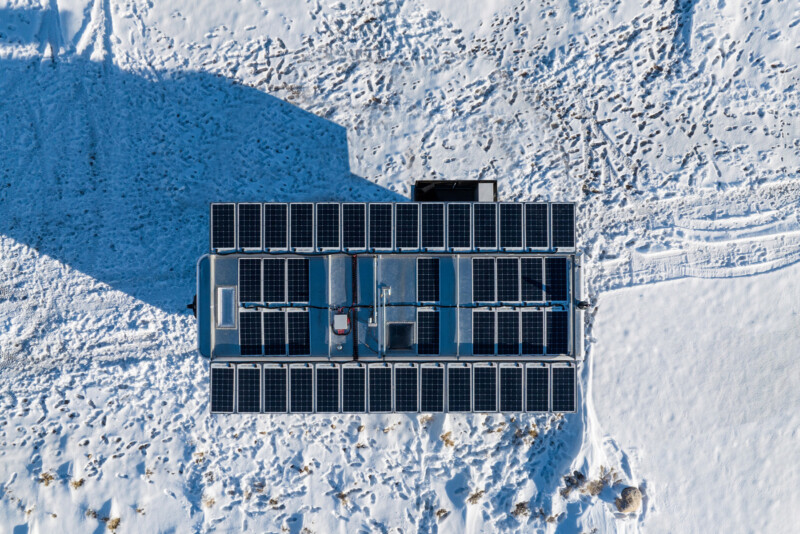 The trailer is equipped with a 4.4kW Dual Solar Awning and end-to-end dual-layer solar roof, which powers its 72kWh of energy storage and 18kW of power, which runs all onboard electrical equipment including electric heating and cooling.
The Living Vehicle can operate entirely off-grid, allowing users to enjoy the great outdoors without restrictions or limitations. Basically, the company indicates that if a user has to return to civilization, it won't be because of the trailer.
"The ability to generate resources and provide independence from the grid is one of the critical features of the 2024 Living Vehicle lineup," the company says.
"The luxury trailer uses an innovative water system to create an endless water supply while traveling off-grid by extracting humidity from the air and storing it in the freshwater tank, allowing infinite time away from the grid."
Living Vehicle says that the solar-powered trailer is also designed to work in any season and can operate down to -4 degrees Fahrenheit, thanks to the dual-zone 240V Mini-Split electric heating system.
"The Living Vehicle is fully insulated with 100% rigid closed-cell foam insulation, which keeps the inside cool in environments that reach 120 degrees Fahrenheit or higher using the 24K BTU air conditioning system with SEER-21 rating," the company adds.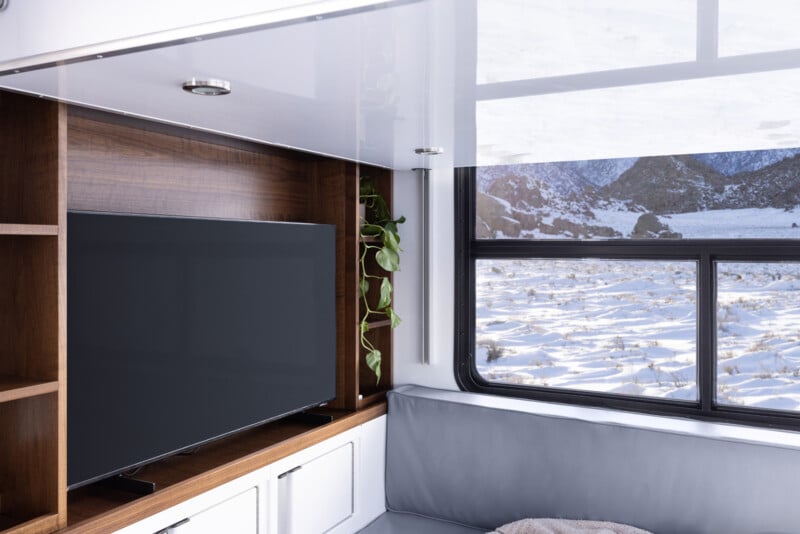 Each unit is custom made and Living Vehicle offers multiple bedroom configuration options in the trailer that can be equipped to sleep as many as eight adults. The flagship Queen or King Suites, for example, feature over 150 square feet of storage space and a six-foot full-height closet.
Of course, the trailer is equipped with the technology a mobile creative would need. It has the company's "Mobile Office" options that have an 80-inch dual workstation and folding bed system and is fully customizable to create a "Creative Studio" that is equipped with a suite of high-end Mac and Apple devices, just like last year's model. A Starlink Flat Satellite dish provides a dedicated WiFi network anywhere on Earth.
All this said, the trailer is still just that — a trailer. It can't drive itself to a location, so it still requires some tether to civilization until it is left in place.
The Living Vehicle HD line starts at $459,995 and is "fully committed" for 2023, and production is already underway. Any new orders would start shipping in 2024.