Digicam Finder is a New Resource That Replaces DPReview's Camera Library
Digicam Finder is a new resource that has successfully ported over a huge amount of information from DPReview in an attempt to keep a historical record of every digital camera released since the early 1990s alive.
Last month, after DPReview announced that it would cease operations on April 10 and eventually close, fans of the website scrambled to retain the site's massive library of content before it was deleted. One such endeavor kicked off almost immediately after the news broke and has already launched: Digicam Finder.
"Ever since the DPReview closure announcement there was a looming risk that we'll all lose the entirety of its 25 years of data," Peter Green, co-developer of the platform, tells PetaPixel.
Green, who is the co-founder of the private investment platform Republic, says that Digicam Finder is designed to be a new source of the most complete and accurate digital camera data on the Internet, which was built and maintained by him and a passionate group of users from the DPReview community.
"Many of us were thinking how to preserve [DPReview] and worked non-stop this past week. Well, now I'm happy to say that with the community effort, we managed to save it and it will keep being available for public access post-DPReview's closing," Green says.
Digicam Finder has mirrored the basic information of more than 2,500 digital cameras that date back to 1994. The site contains full specifications and is searchable by several parameters. Additionally, Green says that the site is built on "modern tech rails" that make it mobile-friendly and very fast to load — both advantages over what he admits were some downsides to DPReview which he says felt "like a 25-year old website" at times.
Open Source Data
Perhaps most importantly to Green, the data behind the website is open-source which he says allows it to stay alive forever.
"The best way to keep the data safe going forward is to have the photography nerds community own, guard, and maintain it, so it was decided to make it open sourced," Green says, adding that this method allows it to live on without the threat of being taken down again.
Digicam Finder also has avoided any possible copyright issues since it doesn't use any Amazon-owned materials.
"The entirety of the data we use is publicly available, manufacturer-published data about the equipment. We did not use any of the DPReview/Amazon proprietary data (such as their own gear reviews, articles, etc)," Green says. "We do plan to link to an archived version of it, as a way to give people easier access to it."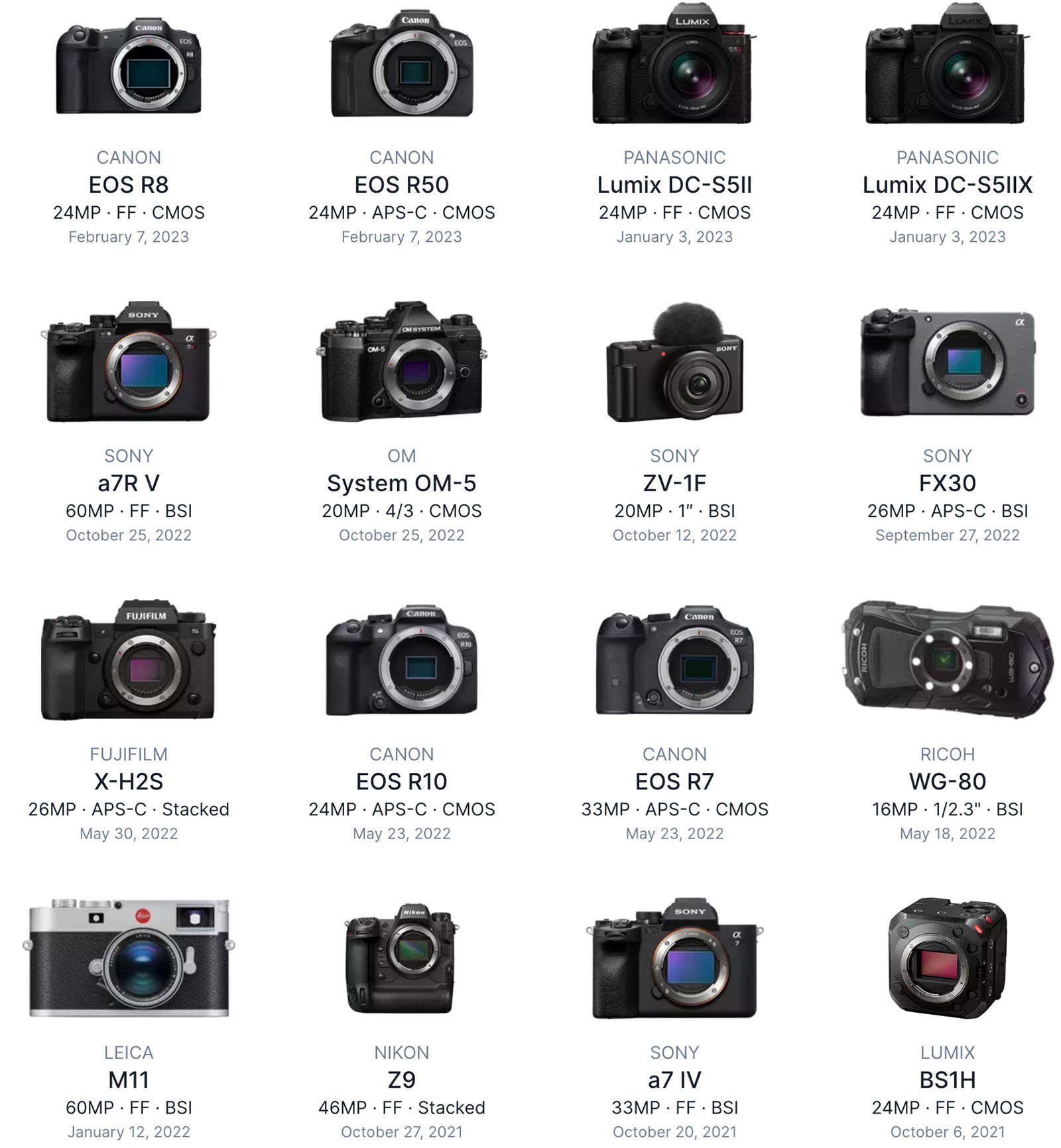 Perhaps the most surprising aspect about Digicam Finder's creation is how quickly it came to be.
"In terms of 'speed to production,' all I can say is that we really care and we worked day and night this past 10 days. Both of us are very (over 15+ years each) experienced in startups and tech and shipping MVPs to market (plus we've had some other community members supporting), so we can do things quicker," Green says, referring to himself and his partner who spearheaded the design of the Digicam Finder.
More to Come
The state of Digicam Finder isn't the end for the website either. Green says that the development roadmap includes adding over 1,000 lenses as well as other features. Those updates will come after they have finished and polished up the cameras, and Green says they are likely to add a comparison tool soon, since they have received a lot of requests for one.
"The roadmap for Camera Data includes allowing the community to suggest links to product reviews they find on various sites, and voting on the ones they find most helpful," Green says. 
"For example, looking at a Fuji X-T4 page, the viewer will see links to youtube reviews by various channels, links to published detailed reviews on PetaPixel, an archived review by DPReview, and vote on the ones they find the most helpful, so that the highest-ranked reviews go to the top," he explains.
"They will also be able to suggest a new link they found (or made!). We also plan to build our own, superior, user-review system over time."
Green says that right now, the goal of the site is to completely cover for the use=case of the gear search and research that users are losing when DPReview goes offline. He says that it's clear that this has been the biggest area that users fear losing, and they're doing their part to preserve it.
"The longer-term vision is to bring more relevant product categories, such as monitors, printers, hard drives, etc, under the roof of Open Product Data (community-generated) and provide the same quality of data and service around it," Green says.
The full amount of data powering Digicam Finder can be found on Github and the team's work can be followed by signing up for their newsletter from the Digicam Finder website.