The Duovox Ultra Monocular Camera Can See in Basically Total Darkness
The Duovox Ultra is Duovox's latest night vision camera, following up on the company's Duovox Mate Pro. The Duovox Ultra is a night vision monocular camera with image and video recording capabilities that can practically see in the dark.
The Duovox Ultra uses a 5-megapixel Sony Starvis high-sensitivity CMOS image sensor which delivers full-color Full HD (1,920 x 1,080) video in extremely low light down to 0.001 lux.
With an integrated 850 nanometer (nm) infrared illuminator, Duovox claims that its new Ultra monocular camera can provide a "clear vision" of a subject at up to 500 meters (1,640 feet) away, even in complete darkness. Infrared photos will be monochromatic, by the way.
The camera includes seven built-in infrared modes. The "modes" are essentially different strength levels that can be controlled via on-camera buttons.
With a 128GB microSD card, the camera holds up to 1,000 images (JPEG only) and up to 120 minutes of FHD video (AVI format). The Duovox Ultra's built-in 4,000mAh rechargeable battery promises up to 10 hours of uninterrupted use or up to five hours with the infrared illuminator enabled.
Alongside the specialized Starvis image sensor, low-light performance is also driven by the Duovox Ultra's built-in f/1.2 lens. Duovox doesn't specify a focal length, but it says the lens offers 5x optical and 10x digital zoom. Duovox claims that the Ultra's lens is long enough to determine the color of clothing worn by an average-height adult male from 1,500 meters (4,920 feet).
That's an unusual way to think about focal length, but it does offer some insight into the practicality of the Duovox Ultra for spotting wildlife from distance. Many wildlife photographers are in the field before sunrise, preparing for their subjects to arrive, and being able to spot distant wildlife in darkness could be a boon.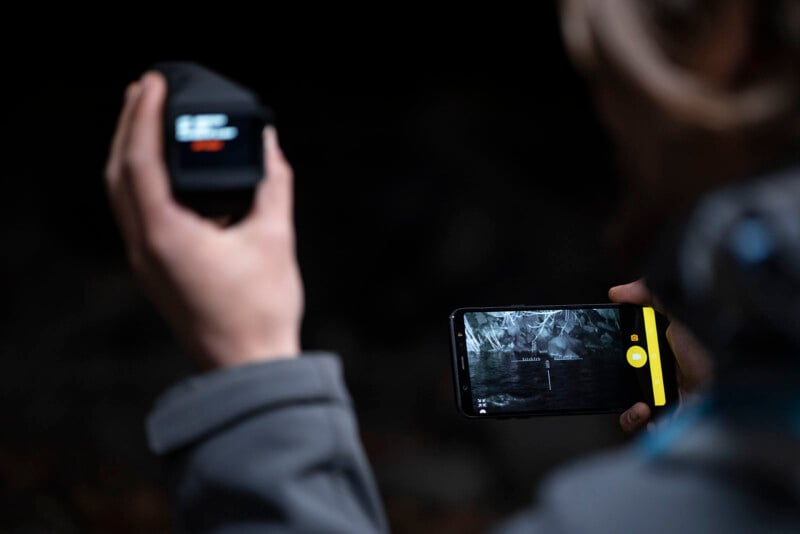 The Duovox Ultra includes a built-in 2-inch TFT screen. The pocketable camera weighs just 280 grams (9.9 ounces) and is IPX4 rated, so it's resistant to water splashes. The camera's ergonomic design makes it easy to hold and operate with a single hand.
If the name Duovox sounds familiar, that's because the company produced a compact night vision camera about a year ago that had similar promises but was packaged in a more point-and-shoot format. It didn't take particularly good photos, so the technology repackaged into a high-zoom monocular makes a lot more sense.
With over a month left in the Kickstarter campaign, the Duovox Ultra has vastly exceeded its original $5,000 goal. At the time of publication, the campaign received over $370,000 in pledges. The Super Early Bird backer option is $129, representing a 67% discount compared to the eventual $399 MSRP. Shipping is expected to begin in June.
---
Image credits: Duovox
Disclaimer: Make sure you do your own research into any crowdfunding project you're considering backing. While we aim to only share legitimate and trustworthy campaigns, there's always a real chance that you can lose your money when backing any crowdfunded project.