People are Paying $17 for Hundreds of AI-Generated Headshots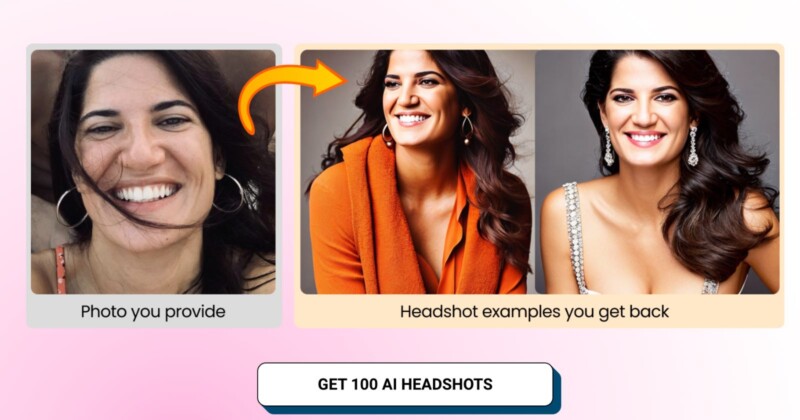 Social media users have started using artificial intelligence (AI) technology, to generate professional headshot photos for their Linkedin profiles.
In the last month, a growing number of social media users have revealed how they were able to use AI to create polished and realistic portraits — with some users paying as little as $17 for 100 headshots.
In a viral video posted on March 11, virtual interior designer Crystal D. Bright shared multiple professional studio-quality headshots that she created with a website called "TryitonAI."
@crystaldbright

How did they do? Would you post AI headshots on your LinkedIn?
Bright says she paid $17 for 100 headshots. According to TryitonAI's website, a customer needs to submit photos of their face to train the AI Model. Within a few days, the customer will receive curated headshots in a number of different settings and styles.
Bright's video amassed over 1.8 million views and TikTok users were left stunned by the AI-generated headshots. Viewers remarked that the images look like "real" photos and praised the inexpensive and convenient technology.
"Wow, they look great, AI coming for photography jobs too," a user comments.
Another viewer complimented the natural-looking headshots but lamented the technology: "These are nice but as a professional photographer this makes me sad. I fear our profession is in danger."
Other TikTok users also shared the impressive headshots that they generated using the TryitonAI website. Although some commented that the technology was not fool-proof and there were often several poor-quality headshots amongst the 100 images that were provided.
Just tried https://t.co/eagIrJPSaH 🔥

Looks like the job of a photographer might become a thing of the past soon! pic.twitter.com/GEB8Zk6ceM

— Damon Chen (@damengchen) March 17, 2023
Meanwhile, on Twitter, several social media users shared the professional AI-generated headshots that they created on a similar service called HeadshotPro.
According to HeadshotPro's website, the company can generate over 120 headshots for a customer for prices starting at $29. Each AI photoshoot includes 3 unique locations as backdrops for the portraits and HeadshotPro offers a fast turnaround of two hours.
Anddddd there ya go. Could see this coming from miles away. Headshot photographers are poised to become the first genre of photography to become obsolete due to AI. https://t.co/DnUcKPmiuX

— Jeremy Cowart (@jeremycowart) March 17, 2023
The emergence of AI-generated headshot companies reveal how the technology is increasingly disrupting/threatening traditional photography.
Earlier this month, an AI modeling agency that describes itself as a "photo studio" without cameras, real people, or a physical location opened its virtual doors.
There are also other services that offer Professional AI Headshots, like ProPhotos.ai, that delivers high quality headshots in 30 minutes for only $25.
---
Full disclosure: This article contains a sponsored link by ProPhotos.ai.
---
Image credits: Header photo sourced via TryitonAI.