The FALCAM F50: A Quick-Release System for Fast On-Set Changes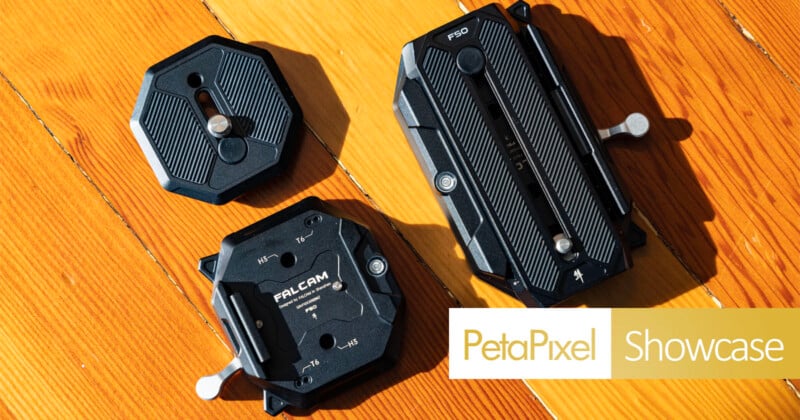 The FALCAM F50 by Ulanzi Group is a quick-release system has an incredibly straightforward value proposition. If you've got cameras that use multiple types of stabilization (gimbals, tripods, rigs, etc.), the FALCAM F50 is going to make swapping between them a breeze.
The FALCAM F50 promises to make it much easier to swap your camera between different support systems without interfering with stability. The company says that, traditionally, these kinds of swaps require you to screw and unscrew plates and heads in what is a cumbersome and time-consuming process. Speaking from experience as a guy who operated his own video production studio for over seven years, I can agree this process is usually the worst.
There have been previous attempts at making this relationship between a camera and the many different support systems a photographer or filmmaker needs less of a pain point, but what makes the FALCAM F50 stand out is that it's relatively inexpensive, it's well made, and it doesn't add much height to a setup. That last note means that the FALCAM F50 system avoids what I call the "totem pole" problem, which is where a setup gets so tall that stability is compromised.
FALCAM F50: Design and Build Quality
If you're like me, you've never heard of Ulanzi or FALCAM before, but that doesn't mean the product isn't high quality. I acquired three separate sets of the FALCAM F50 system and every single one of the six plates and mounts are extremely well-made. For a system that is designed to sit at the core of a photo or video workflow, that couldn't be more important.
The FALCAM F50 system is built on a couple of core tenants. First, the majority of the units are made from aluminum alloy which feels extremely tough and durable while also not weighing much. Each system is rated to withstand 110 pounds of vertical load capacity, which is way more than a vast majority of shooters will ever be put on it, even if you were to count a full-size movie camcorder, rigging gear, and an entire video tripod head.
The FALCAM F50 also includes non-slip rubber pads to assure the attached equipment stays firmly in place and it ships with a ton of screw sizes so that it can seamlessly fit into any photographer or filmmaker's physical workflow.
FALCAM F50: Usability
The way the system works is similar to the experience I've had with other similar devices. It's faster to attach a camera to it than it is to remove, but not by much.
To take attachments off the FALCAM F50, you need to pull back on the silver trigger on the side, which retracts a bar from the plate and allow you to pull whatever you have attached — in my case, an entire video tripod head — off. Pulling back the trigger and removing the plate leaves the base in a "prepped" position, with the trigger locked back and open. To re-attach, you just need to set the plate back on the base unit and push down, which clicks the whole thing back into place securely.
What I like about this particular approach is that once the equipment is clicked into place, you're done. There is no need to tighten anything or make sure that it's set in place. Nope, once it's in, it's not going anywhere. In exchange, you do have to pull back on that silver trigger pretty hard in order to release the powerful springs inside the head, so there is a bit more effort involved in the removal process than I'm used to.
Honestly, that's a tradeoff I'm willing to make. I would prefer to know that something is locked and not moving than have something easier to remove. Chances are, I don't want my camera to move once it's on this thing, so knowing that it's securely in place is better for my peace of mind than the alternative.
The FALCAM F50 isn't first and foremost designed to be a direct camera-to-tripod plate system but there isn't anything, in particular, preventing you from using it like this. It's basically like the top portion of any tripod head and can attach to a wide range of screw sizes and operate exactly as expected where needed.
For example, my webcam setup is pretty DIY, meaning that originally I was just attaching my camera behind my monitor by screwing the base into a light stand. But since the FALCAM F50 can attach to that screw instead, I was able to actually make a system that functions pretty much like a tripod.
Clearly, there are a lot of different ways you can use this system should the need arise.
One last note I want to make is that the FALCAM F50 plate is interchangeable with most other video plates on the market — you don't need to use FALCAM attachment points with FALCAM plates. The company says it's compatible with 90% of Manfrotto's standard quick-release plate systems, which makes it nearly universal across much of the industry. That's huge, because the whole idea of using this system is to reduce the friction it takes to attach one thing to another thing, and FALCAM didn't add any friction just for the sake of selling more plate systems.
The FALCAM F50 Just Works
So many products in photography and even general technology are over-engineered to offer way more features than anyone feasibly needs. As a result, the FALCAM F50 and products like it just feel like a big, deep breath of fresh air. They aren't complex and perform the job they are assigned with precision and without issue.
FALCAM is asking less for the FALCAM F50 than other options and it is available in two different configurations depending on your need (long for camcorders, or squared-off for more traditional cameras or for positioning under tripod heads). It is also able to provide a lot of the same functionality of other options on the market while being considerably more compact.
That last bit is the biggest upside to me. I like the ease of use products like the FALCAM F50 offer, but some of them are just too large to me and that size can seriously impede the overall stability of a setup. The FALCAM F50 doesn't do that while still giving me that functionality I want, and it's hard to explain how much value I get from that — certainly more than the $74 or $89 (depending on which plate you want) cost of entry.
---
Welcome to a PetaPixel Showcase, in which our staff gives you a hands-on with unique and interesting products from across the photography landscape. The Showcase format affords manufacturers the opportunity to sponsor hands-on time with their products and our staff, and it lets them highlight what features they think are worth noting, but the opinions expressed from PetaPixel staff are genuine. Showcases should not be considered an endorsement by PetaPixel.