Selfie Taken By U-2 Pilot Shows View Above Chinese Spy Balloon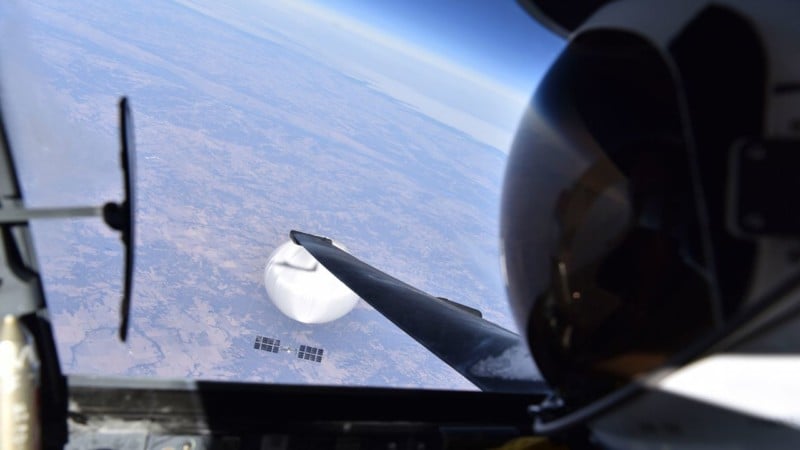 The United States Department of Defense has released a photo taken by a U-2 spy plane pilot that shows a perspective from inside the cockpit and above the Chinese balloon that was shot down earlier this month.
The photo had been circulating online before CNN confirmed its existence in early February after the Department of Defense (DOD) said that a pilot took a selfie in the cockpit of a U-2 that showed both the pilot and the balloon, an image that CNN says had "already gained legendary status in both NORAD and the Pentagon."
Today, the DOD released the photo to the press as a confirmation of that story, CNN reports. The photo, above, shows the U-2's shadow as it is cast on the giant balloon which had been earlier described as about the size of three buses.
The U-2 spy plane was deployed above the Chinese balloon repeatedly as it moved over the country and up until it was eventually shot down over the Atlantic Ocean. Those fly-bys "revealed that the high-altitude balloon was capable of conducting signals intelligence collection operations" State Department officials said earlier this month.
China originally claimed the balloon was a weather balloon and then later changed that story to claim it was a "civilian research craft" that had blown off course. The flying object's ability to starkly change direction led many to question those claims. And while government officials eventually decided not to shoot down the balloon while it was flying over the United States over concerns that it could cause damage to American-owned property below — instead choosing to wait to shoot it down until it was over the ocean — it's clear now that the military was keeping a very close eye on the craft from both on the ground and far above it in the sky.
The U-2 is described as a high-altitude surveillance and reconnaissance aircraft that features a single seat and a single engine and is able to provide signals, imagery, and electronic measurements and signature intelligence to U.S. officials. Describes as "glider like" in design, the U-2 also carries a signals intelligence payload. It has been in service since 1955.
"All intelligence products except for wet film can be transmitted in near real-time anywhere in the world via air-to-ground or air-to-satellite data links, rapidly providing critical information to combatant commanders," the United States Air Force explains.
"Routinely flown at altitudes over 70,000 feet, the U-2 pilot must wear a full pressure suit similar to those worn by astronauts."
Observations of the Chinese balloon concluded once U.S. fighter jets shot it down on February 17. The Pentagon confirms to CNN that the payload of the balloon had been successfully recovered.
---
Image credits: Header photo courtesy of the Department of Defense