Stunning Single Shot Looped Video Captured on an FPV Drone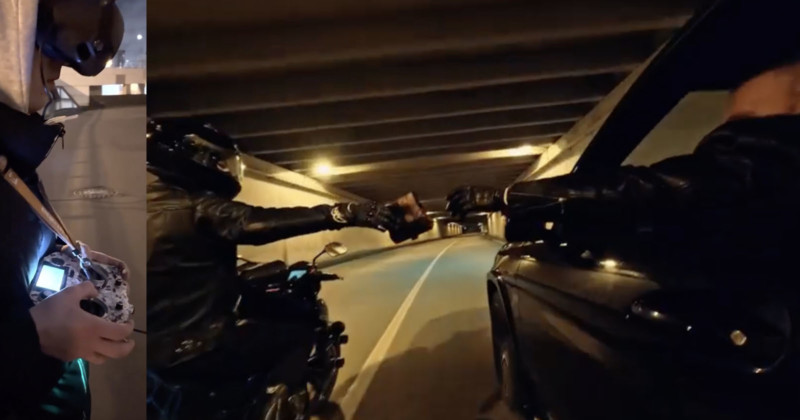 A photographer has revealed how he captured a stunning single-shot looped video that was filmed entirely on a First Person View (FPV) drone.
The ambitious footage, which was shot by drone cinematographer Emil Khaziev and directed by Mikhail Parkhomenko, starts with a man closing his laptop in an apartment.
The man then collects his motorbike helmet and gloves from his window ledge. As he does this, the drone expertly flies out of the window and down the exterior of a skyscraper.
The camera dives straight into a road tunnel and the drone then follows a car traveling through the tunnel. The drone films as the man, who is now riding on his motorbike, delivers a package to the passengers in the moving car.
The drone then goes into the vehicle and films as the front-seat passenger checks the contents of the delivered package.
The passenger is not satisfied with the package and gestures at the driver to kill the man on the motorbike. The driver pulls out his gun and shoots.
The single-shot video uses the laptop as a loop and the entire encounter in the road tunnel is seen finally on the computer screen. The man shuts the laptop again and the looped footage begins once more.
Challenging
In a behind-the-scenes video, Khaziev revealed the intricate process behind the video — which involved one of the actors grabbing the drone and taking the camera into the vehicle.
The cinematographer had to change position so that he would not lose the signal when creating the looped video.
"The main challenge from my perspective of our project was video feed reception. Overall distance was extensive with additionally diverse terrain so finding a proper spot to stay was quite an issue at the beginning," Khaziev writes.
"During the tests, we realized that if we start our sequence inside the room, I [was] almost losing my signal in the middle of the tunnel so we can't finish the final step of the video to make it looped.
"So the only option was my position change during the car shot since the drone hadn't been armed at that moment."
PetaPixel previously reported on a single-shot drone video that takes viewers on a journey through the full grounds of a wedding venue in the U.K.
---
Image credits: Header photo sourced via Instagram/ Emil Khazievs.