Photos of 'Toadzilla': World's Largest Toad Discovered in Australia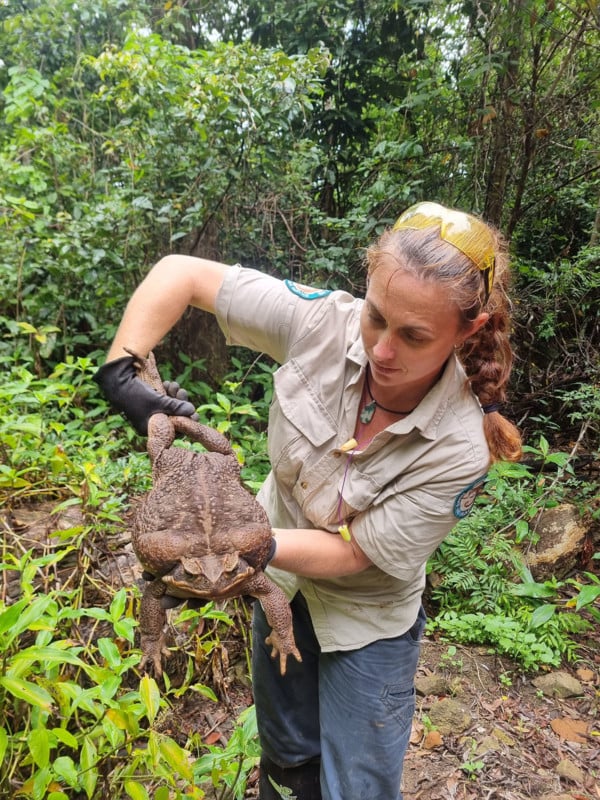 An enormous toad discovered in northern Australia is believed to be a record-breaker and has been dubbed "Toadzilla."
The cane toad weighs six pounds (2.7 kilograms). Australian park rangers were "shocked" when they found it in Conway National Park.
The Guinness World Records cites the largest ever toad as a pet from Sweden set in 1991 weighing 5.8 pounds (2.65 kilograms).
"I reached down and grabbed the cane toad and couldn't believe how big and heavy it was," ranger Kylee Gray says. "We dubbed it Toadzilla, and quickly put it into a container so we could remove it from the wild."
Cane toads are an invasive species that threaten the local ecology, they are native to South America and Central America.
"A female cane toad, like Toadzilla, would potentially lay up to 35,000 eggs," senior park ranger Barry Nolals tells Reuters.
"So their capacity to reproduce is quite staggering. And all parts of the cane toad's breeding cycle are poisonous to Australian native species, so prevention is a big part of how we need to manage them."
The massive toad met the fate of most captured cane toads; it was euthanized because of the danger it poses to native wildlife.
"A cane toad that size will eat anything it can fit into its mouth, and that includes insects, reptiles, and small mammals," says Gray.
"She was found at an elevation of 393 meters, which isn't unusual, but she has created a lot of interest among our ranger staff due to her size.
"I'm not sure how old she is, but cane toads can live up to fifteen years in the wild — so this one has been around a long time. We're pleased to have removed her from the national park."
Cane toads were introduced in Australia in 1935 to control cane beetles and other pests. However, with no natural predators their population has exploded and they have become a menace to Australian species.
Toadzilla is believed to be female because they typically grow larger than their male counterparts. After being weighed and subsequently euthanized, Toadzilla's body has been sent to the Queensland Museum for further analysis.
---
Image credits:Photo courtesy of the Queensland Department of Environment and Science.